When My Son Received a Note From Ruth Bader Ginsburg in the Hospital
---
Many doctors don't know how to help my 4-year old son because he's so medically complex and rare. However, that didn't stop Supreme Court Justice Ruth Bader Ginsburg from reaching out to him and encouraging him to keep fighting this past week while he was hospitalized.
The note reads:
"To Teddy, For the courage you have shown through terribly hard times, my applause and admiration."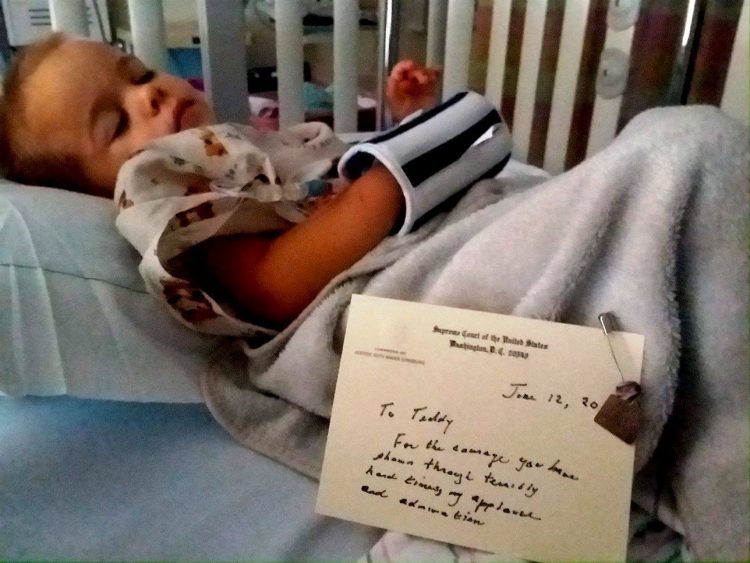 My son, Teddy, is suspected of having one of the rarest diseases in the world, known as pediatric monosomy 7 (MDS), which is caused by a SAMD9/SAMD9L genetic mutation. We are going to St. Jude's this summer to further see if we can determine if this is the primary cause of his systemic disease. Other differential diagnoses are currently severe immunodeficiency, or a chronic lung disease known as primary ciliary dyskinesia, which we will be able to confirm or deny later this summer as well.
Nevertheless, despite all he has endured, he has defied all odds and is a miracle. He has had countless hospitalizations and ICU stays, surgical procedures (including a five-hour brain surgery where his brain stem lost virtually all blood flow), blood transfusions, immunoglobulin infusions, bone marrow biopsies, months of fevers, countless infections, seizures, muscle weakness, and severe GI complications, including aspiration, pancreatic insufficiency, severe GERD, intestinal malabsorption, and poor growth. Despite it all, he wears the biggest smile and enjoys life to the fullest. His favorite things are goats, cows, and cars, and despite his struggles, he inspires me each day to keep going despite hardship and the unknown. Even if we never find answers, I know he has the whole world rooting behind him, including the "Notorious RBG."
He's a medical mystery. He's as rare as it gets — literally. And I truly think many don't know the pain and difficulty of not having answers for your child's suffering. But this little guy, my "Taco-Teddy," as he's affectionately known to his family, friends, and doctors, never gives up. And one day, we hope to find a cure for him so he can lead a fully healthy life. Even if it's not possible, he has taught me more about life and joy than I could have ever learned without him in these last three years.
He's also experienced such joy out of this world than I believe most adults have. Most importantly, he appreciates it all. He appreciates all the simple, beautiful things in this world that most just take for granted –like goats. And with all the negativity in this world, we should all take some time to appreciate the simple things in this world.