27 Comfortable Pillows That Help People With Chronic Pain Sleep Better
---
Editor's Note
We hope the products below, all recommended by our Mighty community members, help you or a loved one in your health journeys. Just so you know, The Mighty may collect a share of sales from the Amazon links on this page. Prices and product availability are accurate as of last update on December 14, 2019.
If you struggle with a chronic pain condition, then you've probably experienced the difficulty of finding a pillow – or a combination of pillows – that allows you to lie in bed and sleep comfortably.
The type of pillow you require will largely depend on what you find comfortable and what accommodates the specific type and location of your pain. Some people prefer firm pillows, others like ones that are soft and squishy, and there are even some who don't use pillows at all. But if you have yet to find a pillow that allows you to sleep through the night, perhaps the following list can give you some options.
To help out those who are still searching for the perfect pillow, we asked our Mighty community to share which pillows best accommodate their chronic pain. Here are their recommendations.
1. MyPillow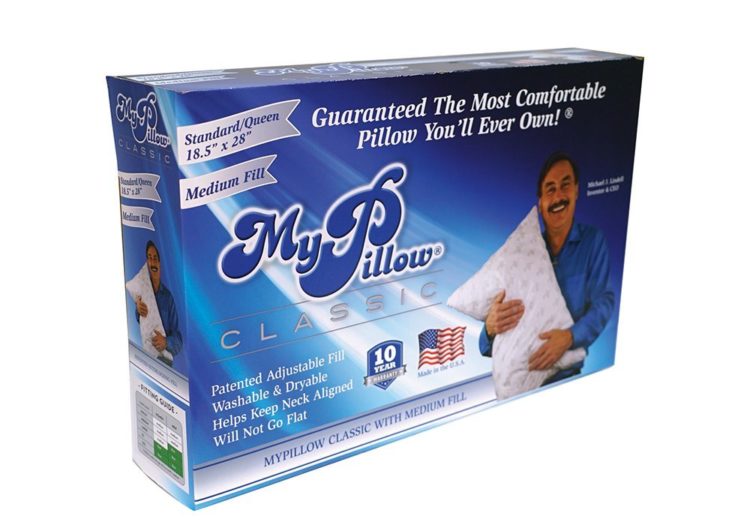 Kira King wrote, "It doesn't look comfortable or feel comfy to touch at first, but sleeping on it is magic. My neck and back pain is almost gone at night now!"
Emily Winkler added, "I use the My Pillows. They keep their shape and you can arrange them the way you need to support different areas of your body."
Sandra Reed said, "I have been using MyPillow for several years. Well worth the money! It stays cool. It supports. They have a wide variety of soft to firm. Washable and goes right back to its shape."
Buy the pillow above for $39.67 from Amazon.
2. Memory Foam Shoulder Pillow for Side Sleepers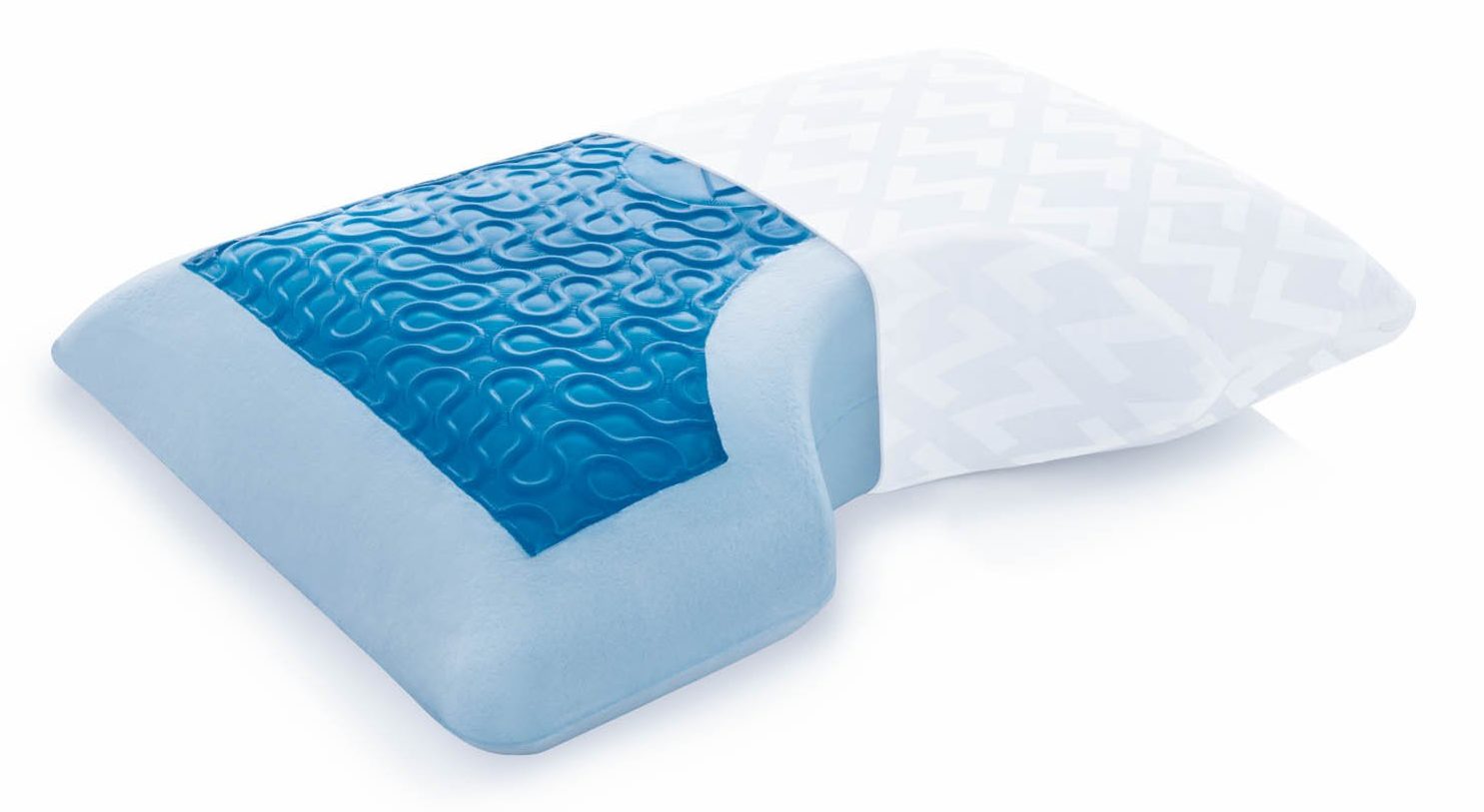 Trena Renee Seymour told us, "I have tried so many pillows of all price ranges. The only one that has been comfortable, held its shape and provided proper support is BioSense Side Sleeper. I've had this one for a year and it's still like the first day I bought it! They also make one for back sleepers. I've had brain/neck surgery, occipital and trigeminal neuralgia, Chiari malformation and also have bursitis in my rotator cuff. A good pillow is critical for me to get decent sleep."
The BioSense pillows have been discontinued, but you can buy a similar pillow for $109.99 from Amazon.
3. Panda Life Pillow With Shredded Memory Foam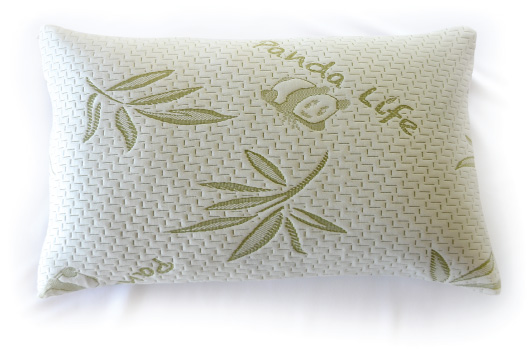 "The Panda Life pillow," said Tara Hendrickson Brooks. "It's shredded memory foam so you can sculpt it to what you need. You can flatten it really low or fluff it up as high as you need. I normally switch between different pillows every couple of days but since buying the Panda Life, I haven't had to change."
Buy the pillow above for $54.99 from Amazon.
4. Cool Pillow Mat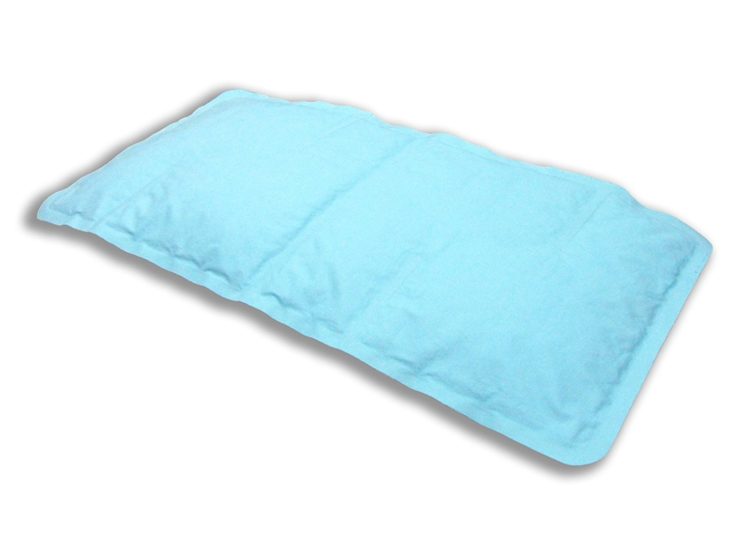 Katherine Otto said, "Not a pillow, but the Gel'O Cool Pillow Mat is an amazing pillow addition, especially for those who [have] chronic headaches or migraines (which I do). It can be put in a fridge or freezer, but is really rather cool on the cheek even without that, and it is very helpful in avoiding hot spots on a pillow during the night. And, as indicated in the name, this one is filled with gel, not water that you have to worry about leaking out!"
Buy the pillow mat above for $29.99 from Amazon.
5. Snoogle Body Pillow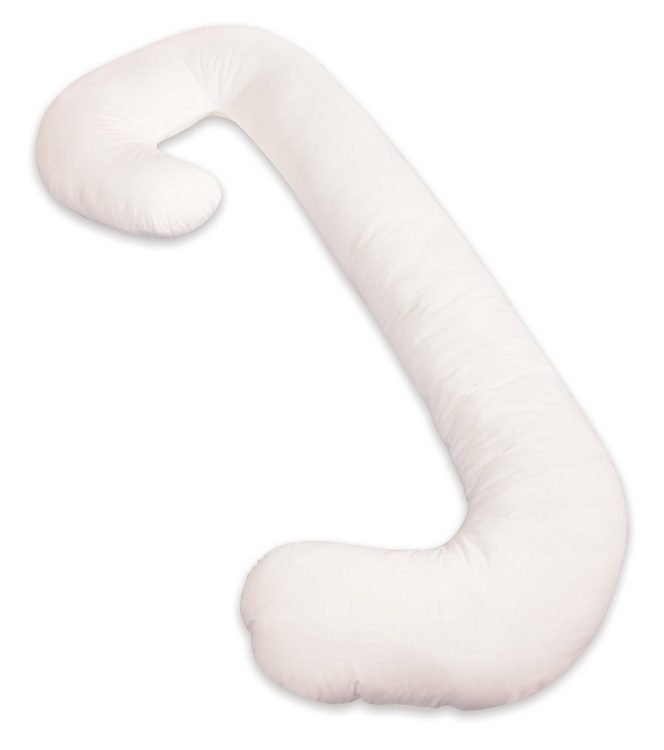 Kate Grimsley told us, "Recently I bought a Snoogle body pillow. With my condition, I manage pain in my lower extremities and my back, this pillow supports my whole body! I was shocked to find that since getting the pillow, I've been able to sleep longer at night feeling more supported."
"I have lupus and endometriosis and the Snoogle pillow is a lifesaver," said Shannon Murphy. "Well worth the money!"
Buy the pillow above for $59.99 from Amazon.
6. Memory Foam Pillow With Cooling Gel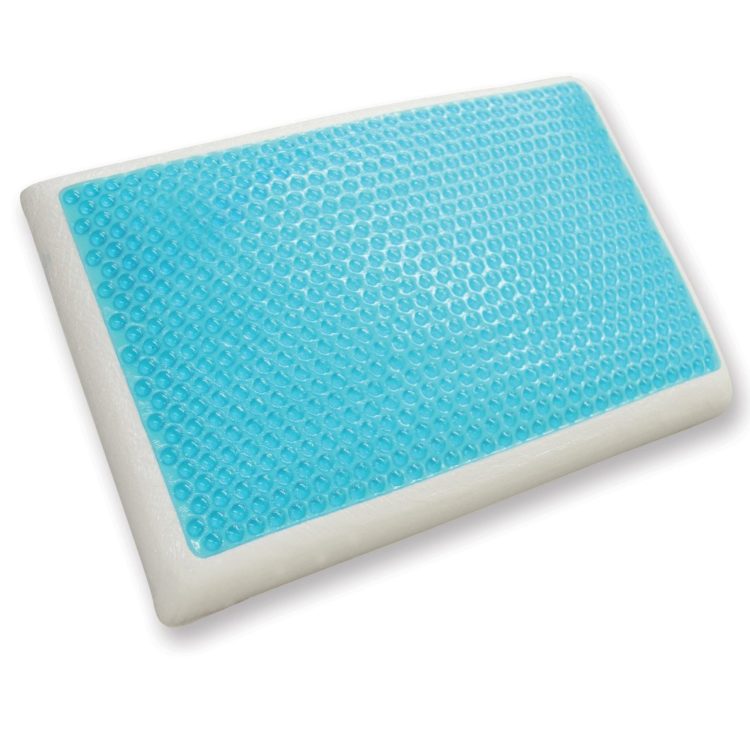 Normala DeLaney said, "For my head, I use a memory foam pillow that has a cooling gel pad on it. It helps to cool off my head for better sleep."
Buy the pillow above for $49.99 from Amazon.
7. Buckwheat Hull Pillow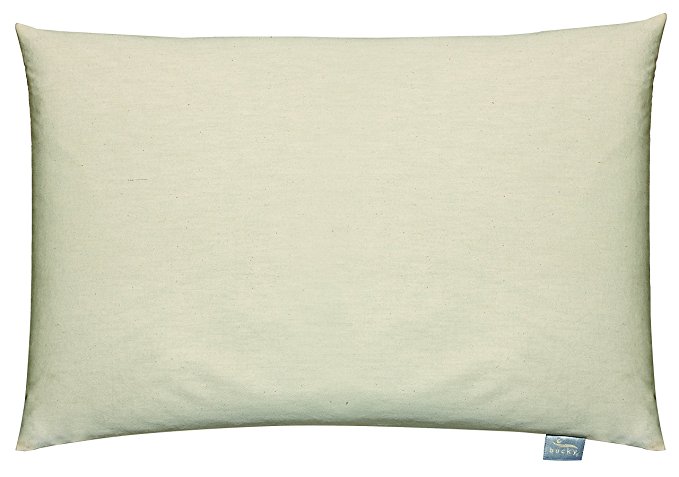 "A buckwheat hull pillow," said Carlie Park. "It molds to the shape of your head and neck, you can add and take out hulls to adjust the height, it's good if you have allergies and the hulls can be composted when it's worn out (supposedly 10 years)."
Stacy Hultgren added, "I love Bucky buckwheat pillows! They conform to any shape to support and you can heat them in micro!"
Buy the pillow above for $49.99 from Amazon.
8. "Bone" Neck Pillow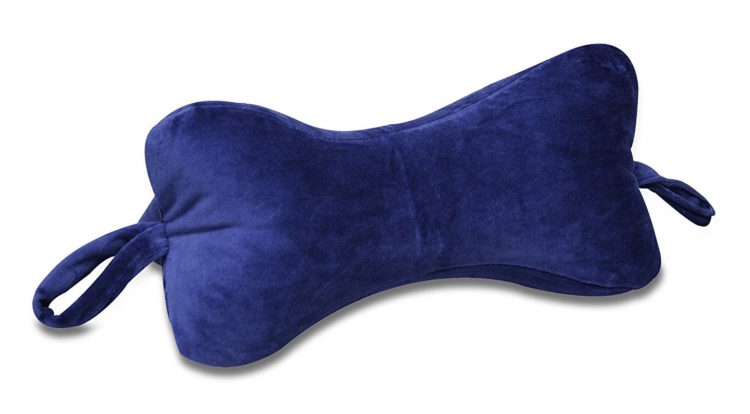 Allison Renee Peterson said, "For chronic migraines and neck pain I have to sleep with a 'bone' neck pillow. One night without and I will be in horrible pain."
"Bone pillow over my memory foam for me! If I don't I'll have a stiff neck, back pain for days! It's a must!" added Elena Marlene Santistevan.
Buy the pillow above for $24.58 from Amazon.
9. Zen Bamboo Ultra Plush Gel Pillow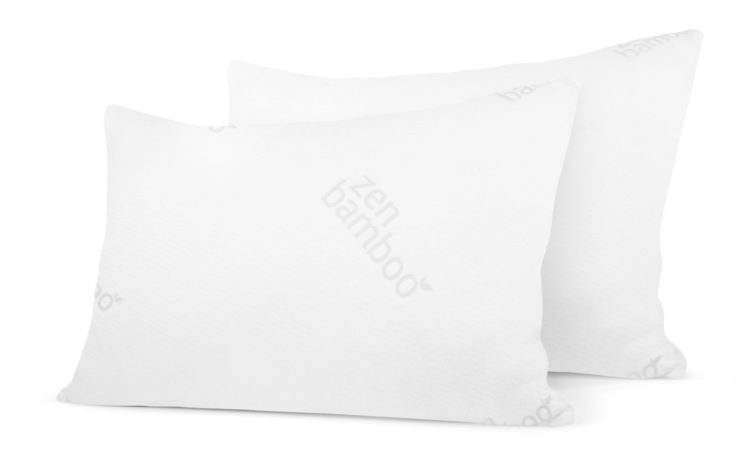 "Zen bamboo ultra plush gel pillow," wrote Amber Shaw. "It has made all the difference with my neck pain. It's gel memory foam with bamboo cloth so it's cool and you can mold it however you need. I also use a silk pillowcase for extra coolness."
Buy the pillows above (pack of two) for $34.99 from Amazon.
10. Memory Foam Pillow With Contour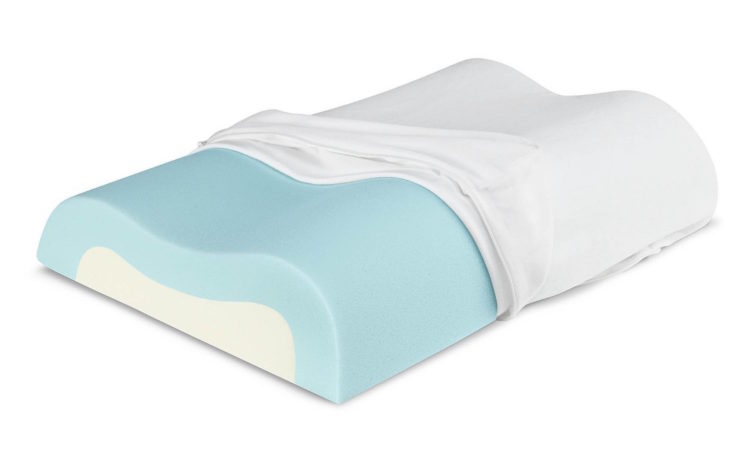 Lori Cummings said, "I love the memory foam pillows with a neck support roll built in to them. I have whiplash damage from a car accident and am prone to migraines and headaches. The neck roll built into my pillow gives me the support I need without having to have a second pillow and has greatly reduced my migraines and headaches. I use it with a flannel pillowcase that is softer and cozier than a traditional pillowcase: even in the heat of summer."
Cassandra Paquin added, "The only pillow I can use is a Tempurpedic memory foam pillow with contour. It causes no pressure point pain. I take it with me when I travel too. It was without a doubt the priciest pillow I've ever bought, but I think because life with Ehlers-Danlos syndrome and congestive heart failure is challenging enough, one of the most important things my body needs is a good night's rest each night. There's no way to put a price on that."
Greg McBain said, "I have a memory foam shaped pillow for neck problems and a ordinary one for between legs if sleeping on my right side, as it is to painful to lay on my left side because of nerve pain."
Buy the pillow above for $43.13 from Amazon.
11. Travel Neck Pillow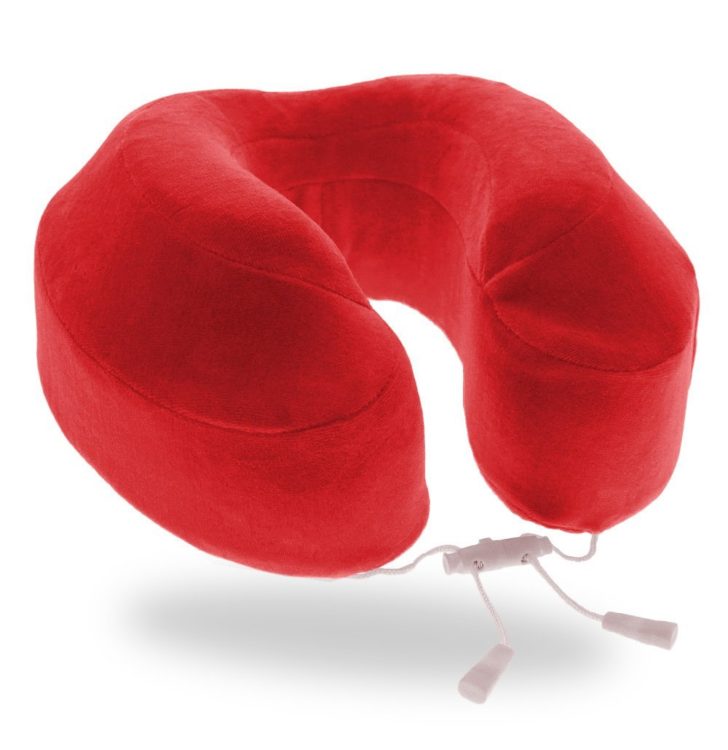 Savannah Pittsley said, "I sleep with a couple different pillows and rotate them but I have one of those u-shaped travel pillows that work really well especially when it hurts to move my neck because the pillow keeps my head and neck in place."
"The little neck pillows people use for airplanes! My best friend bought me one when I first got sick and two years later I still cradle it when I don't feel well. I love the shape and how firm it is and half the time I don't even use it as a neck pillow, or if I do I move it in others ways around my head," added Madison Daniels.
Buy the pillow above for $39.99 from Amazon.
12. Miracle Bamboo Pillow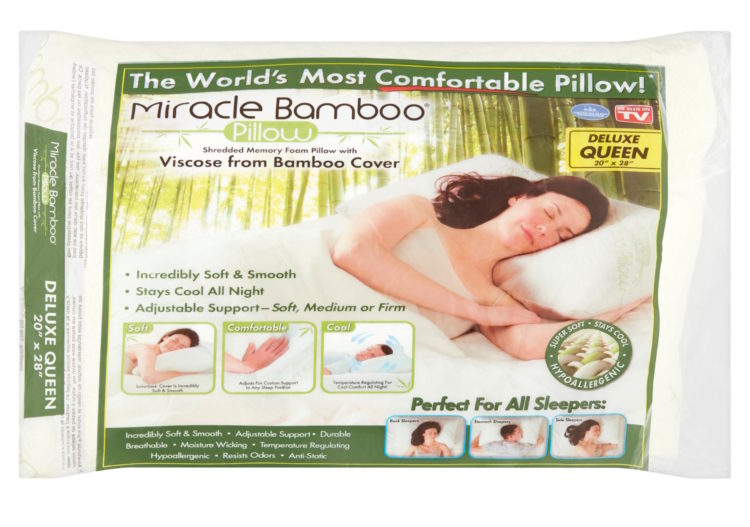 Candi Moretz wrote, "I swear by this one! I bought one at the drugstore when I was traveling and had forgotten my own pillow (couldn't bring myself to use the hotel pillow). I was so surprised at how comfortable it is, and I actually slept! Now it's the only one I'll use."
Buy the pillow above for $48.99 from Amazon.
13. IsoLoft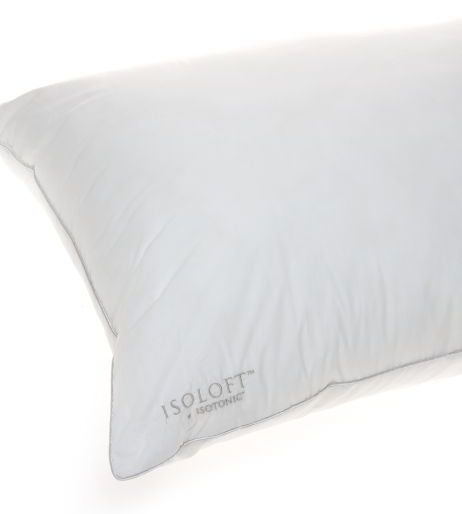 "I love my IsoLofts by Isotonic. Have four standard size I can tuck anywhere for extra cushioning or cradling. Yes, pricey… but nothing else worked for me and when it comes down to relief, money became a minimal hurdle. I've not regretted buying them at all," Lisa Hoult told us.
Buy the pillow above for $29.99 from Belk.
14. Quilted Body Pillow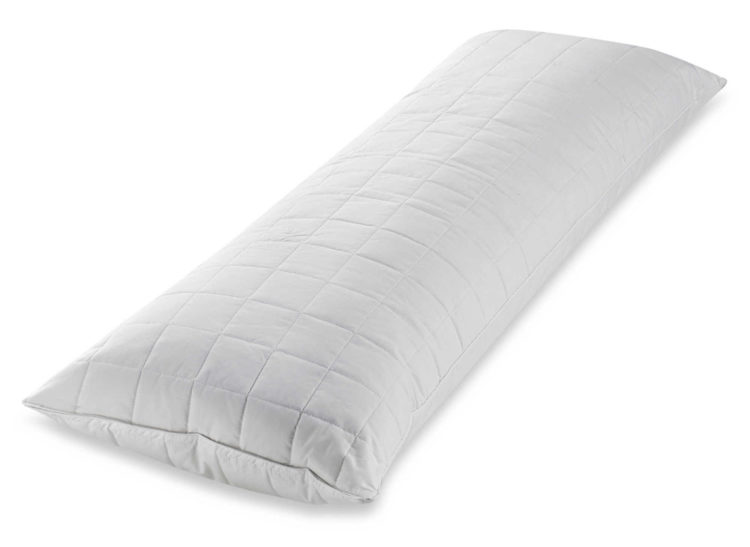 Suzi Ra wrote, "I bought this about a week ago. It's a higher quality body pillow than I ever bought before and it has helped a lot. I have fibromyalgia and seven herniated/bulging discs in my neck and lower back. I haven't slept this well in over five years since a bad car accident. It's the perfect height and lighter than it looks. I bought a furry plush cover, so it's just perfect to wrap my arms and legs around or to prop behind me like it's the big spoon."
Buy the pillow above for $19.99 from Bed Bath & Beyond.
15. Yogibo Support Pillow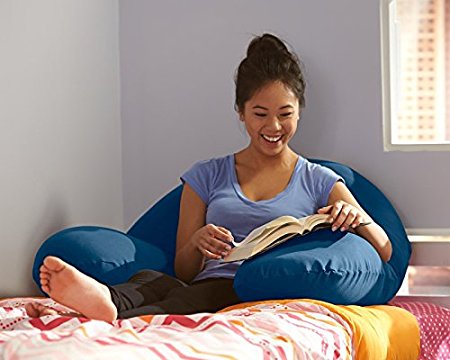 "Yogibo support pillow," said Gayla Smith. "It's like a giant neck pillow. I can rest my head on it, my arms, leg or however I need to lay. The great thing about the microbeads is if they start to get flat, you can 'feed' your pillow by ordering more beads."
Buy the pillow above for $99 from Amazon.
16. Side Sleeper Contour Pillow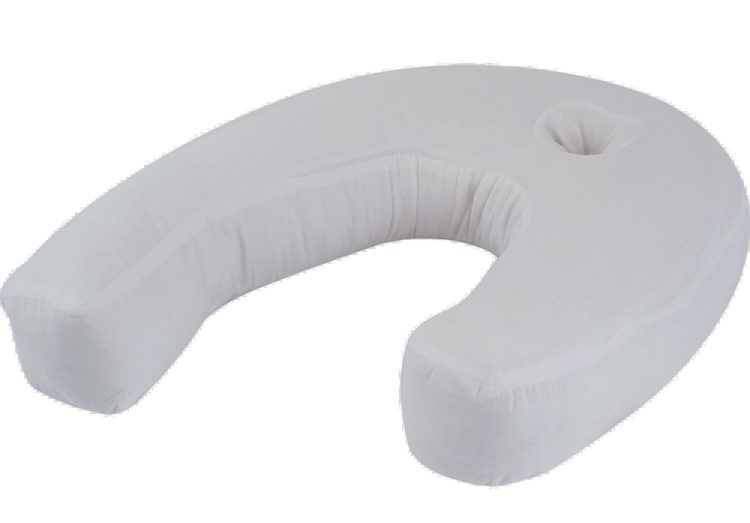 Janelle Fernandez said, "Side Sleeper Pro (designed to help you sleep with corrected posture). I find when the fibro in my back is acting up and I'm getting really bad tension headaches, sleeping with the Side Sleeper Pro for a few nights helps take the pressure off my back and neck and makes the tension headaches go away."
Buy the pillow above for $22.07 from Amazon.
17. Chillow Pillow
Doni Palmer-Stanback wrote, "I was given a Chillow that works wonders. It doesn't get hot nor does it lose its integrity. It is amazing."
Buy the pillow above for $18.99 from Amazon.
18. V Pillow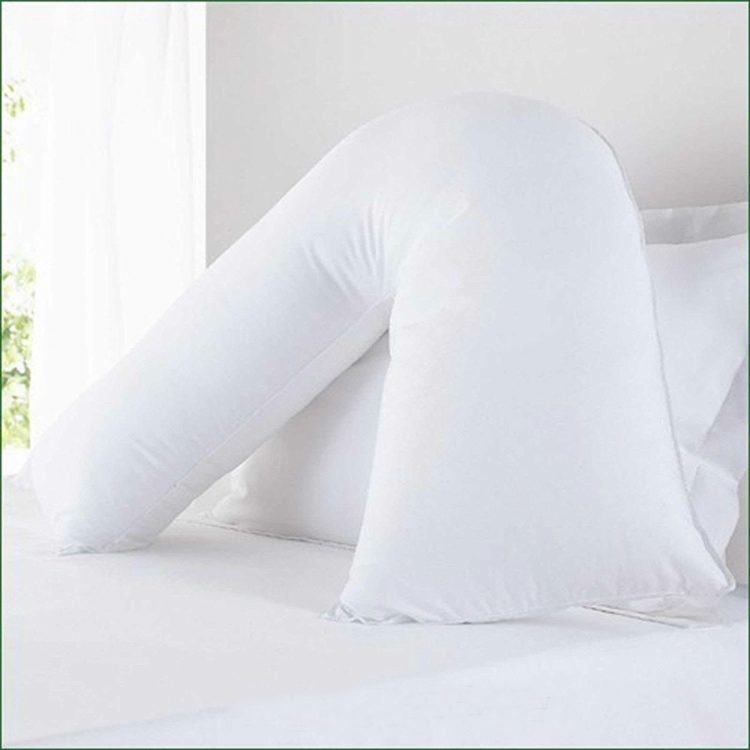 Lisa May Shepherd said, "V pillows are a godsend if you [struggle] with bad hips/knees! You can put it under your knees (if you sleep on your back) and between your legs (if you sleep on your side). I use two and have one by my shoulders. Also helps if you struggle to sleep flat. Wish I'd found them sooner!"
Becky Claire added, "V pillow! They give you so much support for lower back pain."
Buy the pillow above for $24.99 from Amazon.
19. Boppy Nursing Pillow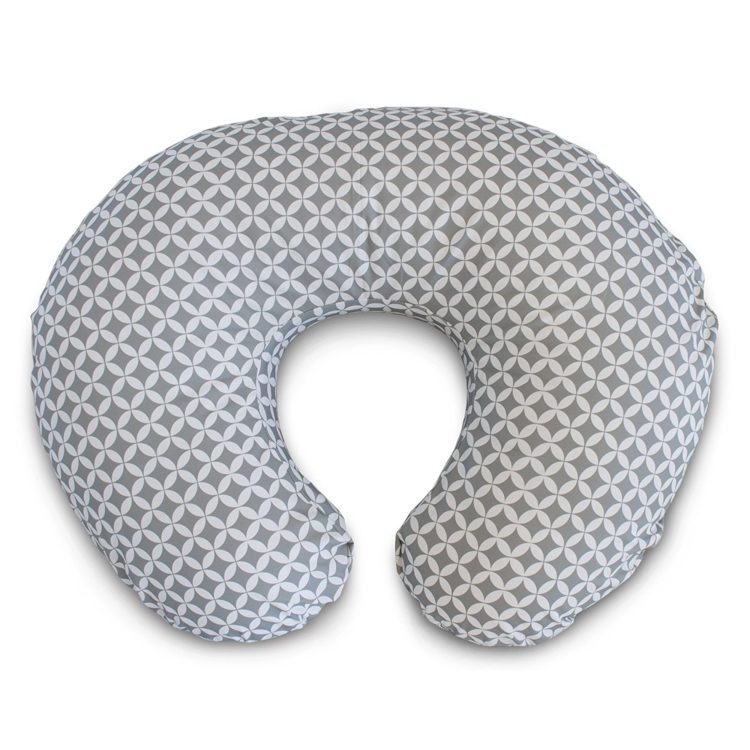 Lin WallBon told us, "I have found that the Boppies people use when nursing a baby are great pillows. They are U-shaped. Your head fits in the middle. It kind of goes over and under your shoulder. It works really well."
Buy the pillow above for $39.99 from Amazon.
20. Microbead Pillow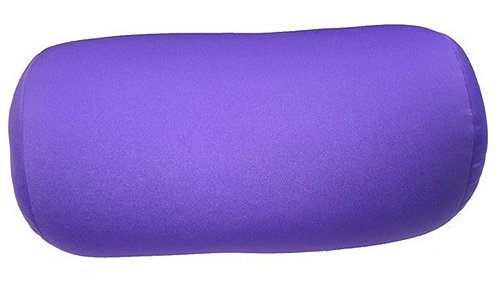 "Microbead pillows. They're hard to find because the fad faded out, but they're still around and I love how they fit to your body," said Liberty White.
Buy the pillow above for $15.95 from Amazon.
21. Pregnancy Pillow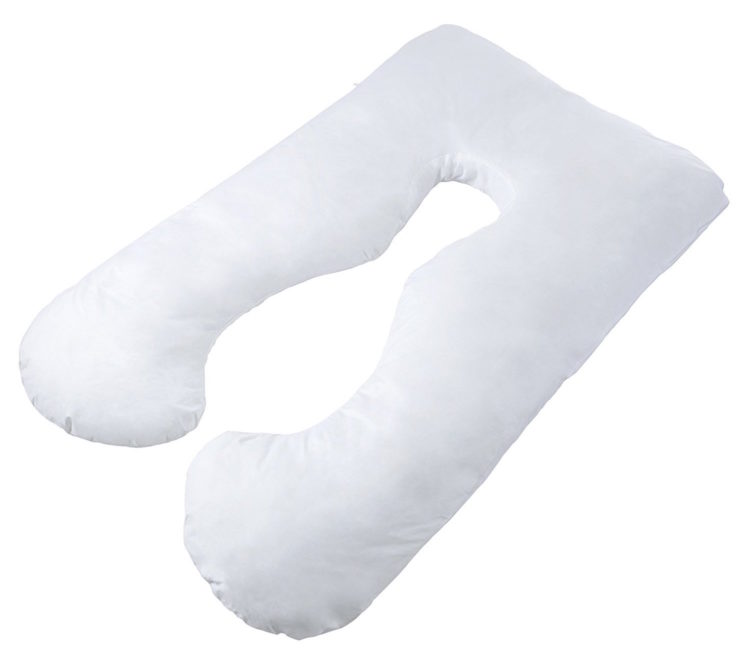 Jayne Flanders wrote, "Pregnancy pillow 100 percent. I'm now to the point where I can't sleep without it. It's perfect for whatever position you sleep in and whatever part of your body is hurting."
Ashleigh Be told us, "I may not be pregnant but the pregnancy body pillows are perfect to support my sore back and hips to aid me getting comfortable enough to sleep."
Buy the pillow above for $30 from Amazon.
22. Bed of Nails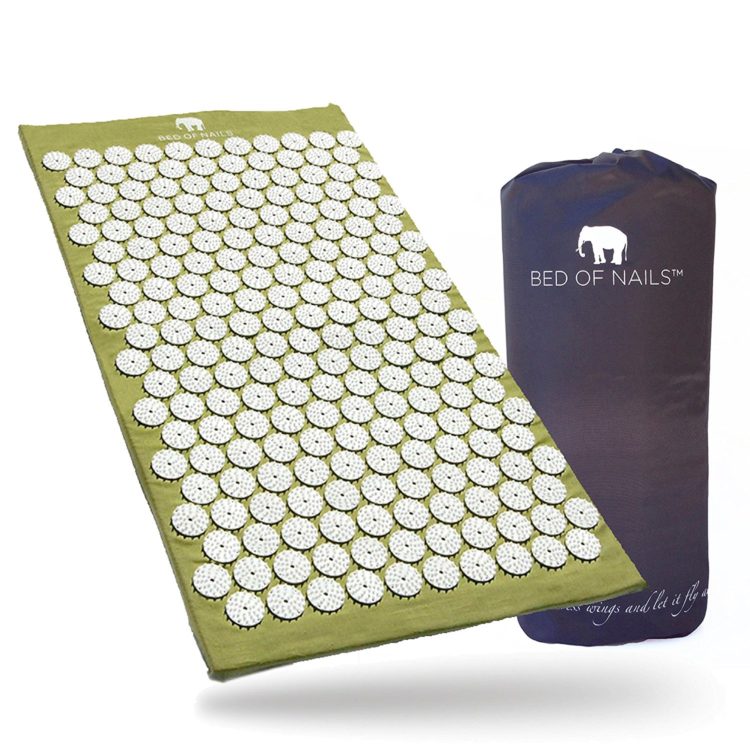 Savannah Frizzell recommended, "Bed of Nails! The mat and the pillow. Help relieve my back pain and ease migraines."
Buy the mat above for $79.95 from Amazon.
23. Wedge Pillow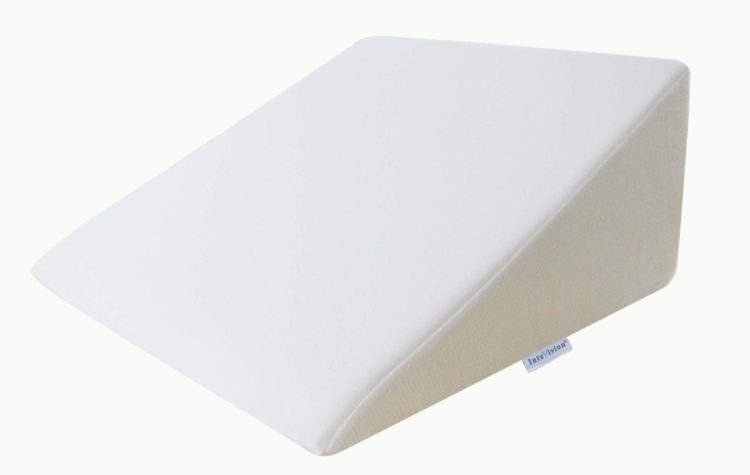 Shawna Reeve wrote, "I personally needed a wedge pillow when my ulcerative colitis was flaring badly. I couldn't lie flat without immediately causing a bathroom run, and using the wedge let me sleep in bed rather than sitting on the couch."
Jessica Aebly added, "A foam wedge is a must for anyone with reflux. Then I have two super squishy down pillows on top."
Buy the pillow above for $47.98 from Amazon.
24. Purple Seat Cushion
Masha Polinski told us, "I use the Purple Seat Cushion for work or on flights. I was hesitant but my legs feel 100 percent better than without it."
Buy the cushion above for $89.95 from Amazon.
25. Water Pillow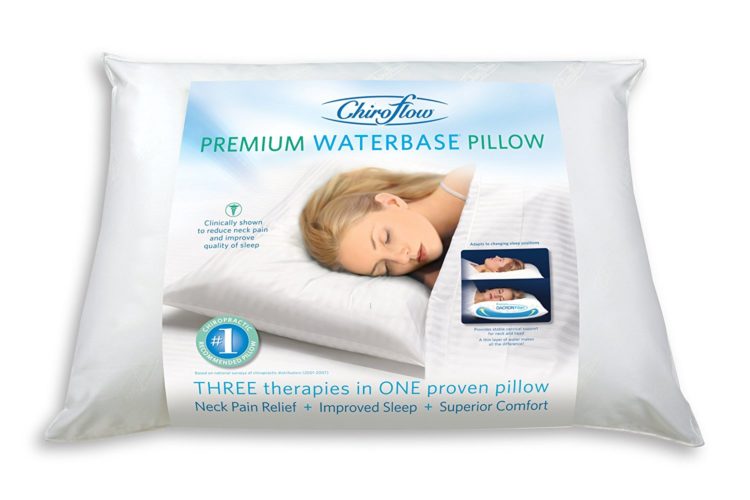 Dannell Rasmussen said, "I have a water pillow. You fill it to the perfect level for you. It keeps me cool in warm weather as well."
Stacy Liddick Laney and IGalen Emulin Stacy Laney recommended the Chiroflow water pillow (featured above).
Buy the water pillow above for $56.95 from Amazon.
26. Tempur-Contour Side-to-Back Pillow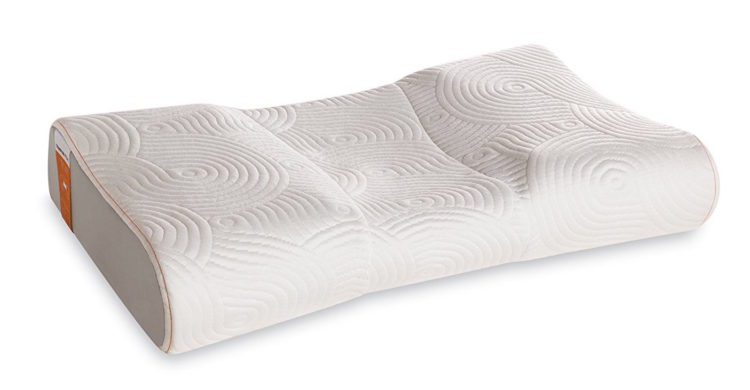 "I have full-blown fibromyalgia and lower back and hip injuries and this is great to sleep on my back and side. I have fluffy memory foam pillows I hug and one between my knees," wrote Lara B. Turner.
Buy the pillow above for $111.14 from Amazon.
27. Hydraluxe Gel Dual-Sided Cooling Pillow

Nicole Condarco Cantu said, "This cooling pillow I found at Bed Bath & Beyond. It's memory foam that pulls the heat away and always feels cool. It really helps with my neck and head pain. And when I have a migraine, it's well worth the [money]. It's also heavy so when I'm sitting up I place it on my legs for cool pressure. Keeps its shape. Easy to clean. It's changed a lot for me."
Buy the pillow above for $99.99 from Amazon.
Looking for other bedding products? Check out our community's recommendations for alternative pillows, blankets, bedding and mattresses.
Originally published: October 23, 2017