11 Seat Cushions to Use If Sitting Is Painful for You
---
Editor's Note
Any medical information included is based on a personal experience. For questions or concerns regarding health, please consult a doctor or medical professional.
We hope the products below, all recommended by our Mighty community members, help you or a loved one in your health journeys. Just so you know, The Mighty may collect a share of sales from the Amazon links on this page.
Article updated March 9, 2020. 
For many people, sitting down is a way to rest and relax — but for others, it can be highly painful and uncomfortable.
"The act of sitting, which we take for granted every single day while we drive, work, eat, and watch television, can be a tremendous source of distress and poor quality of life for those that experience pain while sitting," Liron Sinvani, M.D., assistant professor at the Feinstein Institutes for Medical Research at Northwell Health and geriatrician-hospitalist, told The Mighty.
Sitting can aggravate a number of health conditions, especially those linked to chronic pain, such as:
Chronic pain in your back, hips or tailbone
A spinal injury
Hemorrhoids
Fistulas
Abscesses
Sores in your posterior region
Herniated disc with sciatica or arthritis
Other musculoskeletal disorders
Most people might not think about how much sitting plays into your day-to-day activities, but between sitting at your desk, sitting in the car and sitting at a restaurant when you go out to dinner with friends or family, being able to sit comfortably for a prolonged period of time is often expected, and standing isn't always an option. That's where seat cushions come in.
Seat cushions come in a wide variety of shapes and sizes to accommodate you and your specific needs. Not only can they help relieve pain, seat cushions can also improve your posture, maintain circulation, reduce pressure and help prevent serious injury, especially for those who have mobility disabilities or sit for extended periods of time. Your options to choose from, according to Sinvani, can include:
Shapes (e.g. square, circle, donut)
Sizes
Filling types (e.g. gel, fluid, foam, air)
Contours (e.g. smooth)
Thickness
Compressibility (ranges from hard to soft)
Mechanics (alternating pressure)
"When choosing a seat cushion, one must consider factors that affect comfort, functionality and safety," said Sinvani. "The best type of seat cushion may depend on the pain source. It is always important to speak with your health care professional to determine what product may work best for you."
Whatever health issues you're struggling with, you know having difficulty sitting can have a major impact on your life. To help those with sitting disabilities be able to sit a bit more comfortably no matter where you go, we asked our Mighty community which seat cushions they use to relieve chronic pain while sitting.
Here are our community's recommendations:
1. Kieba Coccyx Seat Cushion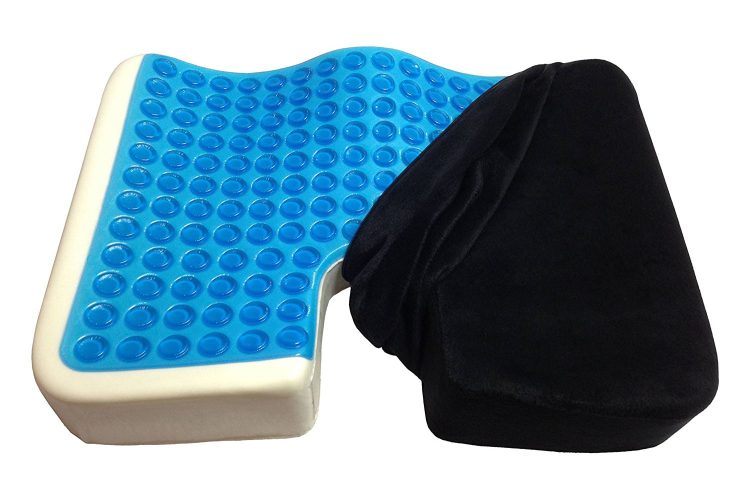 Made with cool gel memory foam, the Kieba coccyx seat cushion orthopedic pillow can help relieve pain and tension from the lower back, coccyx (tailbone), hip, spine and sciatic areas. The cushion has a non-slip bottom to make sure it stays in place whether you're using it in a standard chair, car or wheelchair.
I use [the Kieba coccyx seat cushion] at work. — Natalie D.

Buy the cushion above for $23.95 from Amazon.
2. Aylio Donut Seat Cushion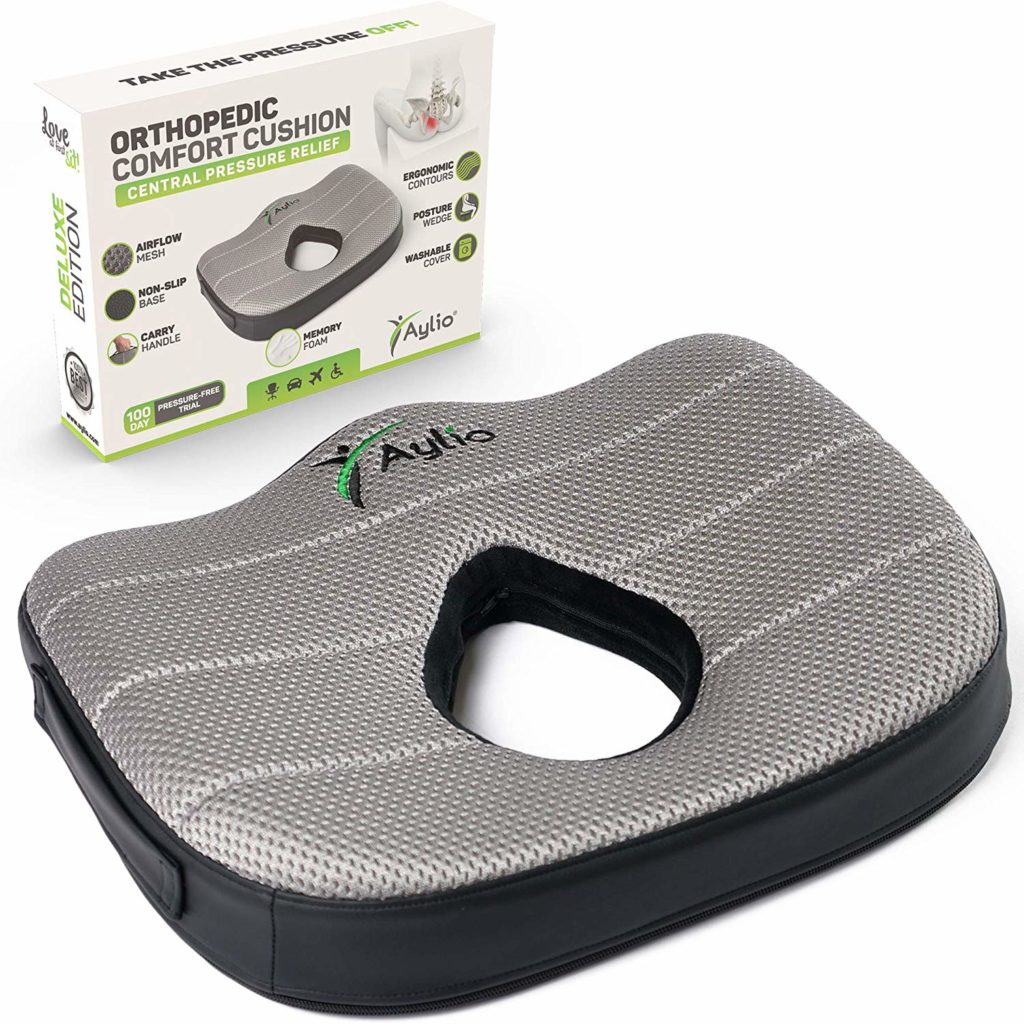 The contoured donut shape of this Aylio cushion is intended to reduce pressure on the tailbone, legs and hip bones while sitting. It is made with firm foam and has a removable and machine-washable outer cover for easy cleaning. It's also had a redesign, no longer the traditional circular donut cushion shape.
I've had two surgeries on my posterior region due to my Crohn's disease that has led to the placement of two seton drains. I can sit for extended periods OK in comfy couches and such, but something like a desk chair gets quite painful quickly. I purchased the cushion in the photo after my first surgery and it's made things more manageable for me. — Jim T.
Buy the cushion above for $59.99 from Amazon.
3. Purple Seat Cushion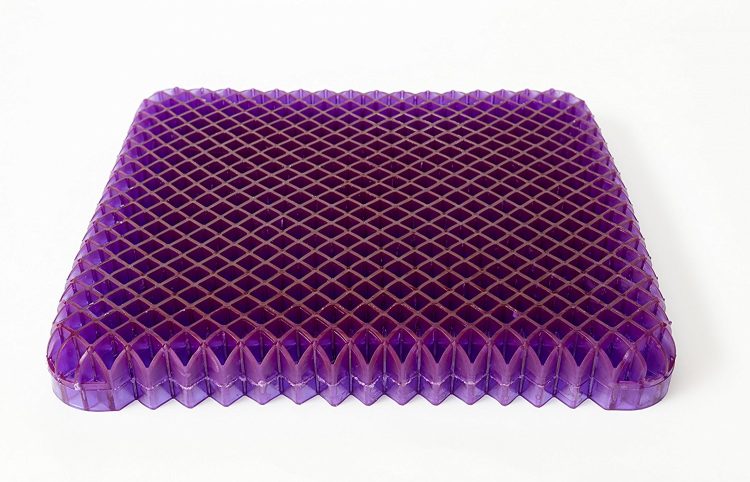 The Purple seat cushion is made with Hyper-Elastic Polymer and has free-flowing air channels that can provide even support (without putting pressure on your hips or hindquarters) and keep your seat cool. It can help relieve back, seat, hip, leg or sciatica pain, comes with a black case that has a handle for carrying and is machine-washable. There is also a Purple portable seat cushion ($39) and a Purple back cushion ($39).
I use the Purple Seat Cushion for work or on flights. I was hesitant but my legs feel 100 percent better than without it. — Masha P.

The Purple no-pressure seat cushion! Pricey but so worth it. — Wish Circle. 
Buy the Royal Cushion above for $79 from Purple.
4. Professional Trucker Auto Cushion Seat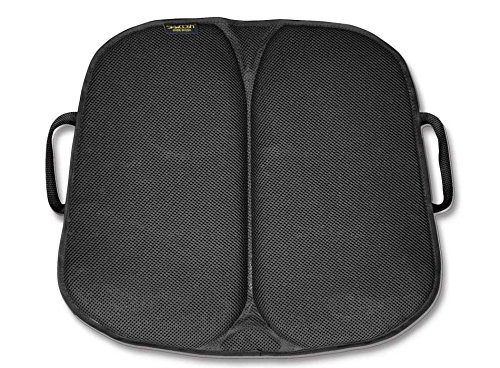 Designed for truckers who are seated for long stretches of time, this seat cushion is made with gel and mesh fabric and is designed to relieve pressure, reduce lower back pain and maintain circulation. Since it's made for use in the car, it's only 1.5 inches tall so as not to interfere with seat height, pedal distance or leg angle and is very portable, with two handles on either side.
Professional Trucker Auto Cushion Seat with gel. It is amazing. It stands up to a trucker's 14-hour work day or a spine's worst short day. — Michelle H.
Buy the cushion seat above for $94.97 from Amazon.
5. ROHO Mosaic Cushion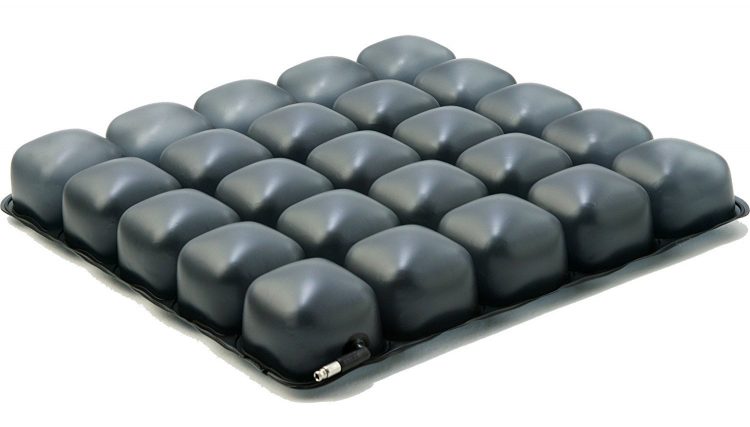 The ROHO cushion is inflated with air, allowing you to sink into it as it matches the unique shape and contours of your body. It's available in a range of sizes to fit your seating surface. The 3-inch air pockets can be inflated with a hand pump, which comes with the seat. It has a non-slip bottom so it will stay in place and is lightweight for easy movability.
ROHO Cushion. I've had my tailbone removed with a skin graft that breaks open in its place. It's really comfy and I keep it in my car! — Becky V.
Buy the cushion above for $68.99 from Amazon.
6. Kabooti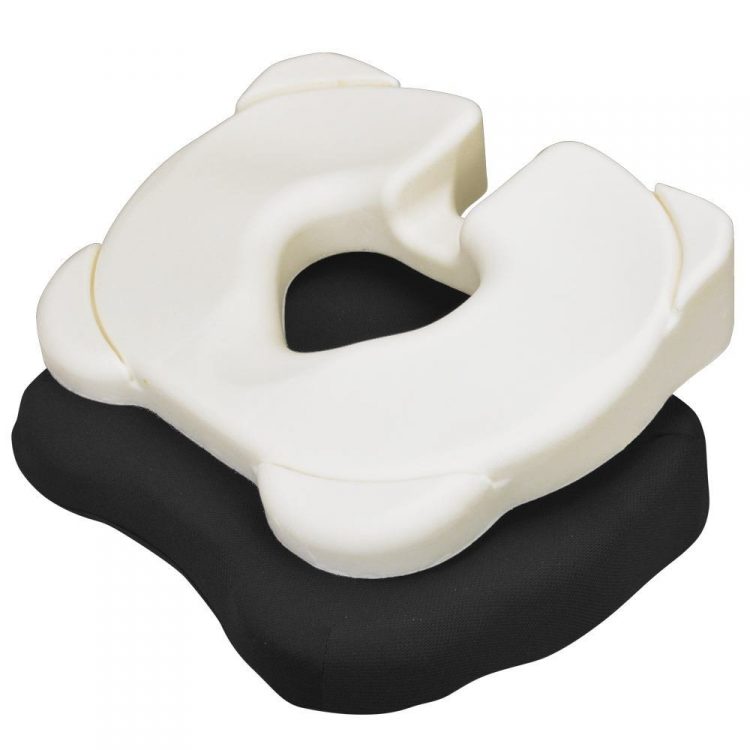 This "three in one" seat cushion functions as a donut cushion, wedge seat and tailbone relief cushion. It's designed to reduce pressure, comfort sore areas and relieve pain from hemorrhoids, sciatica, lower back pain, surgery recovery, and more. The cushion also comes with a discreet two-way mesh cover that can disguise the donut shape.
There is no perfect one, but I've had success with the Kabooti. I have also found that a very thick neck pillow works but only if it's foam and not bean bag filler. — Lea D.
Buy the cushion above for $29.95 from Amazon.
7. ComfiLife Memory Foam Seat Cushion
The ComfiLife gel memory foam cushion can help provide relief from lower back pain and sciatica, improve posture and reduce pressure on the coccyx/tailbone. It has a non-slip rubber bottom, a handle for carrying and a machine-washable velour cover. The gel layer on top of the memory foam also helps keep things cool.
This one is amazing. I just ordered a second so I can have one at home and one at work." — Sheila M.

Their coccyx cushion is great. — Amber M.
Buy the cushion above for $29.95 from Amazon.
8. Flash Furniture Grandstand Comfort Seat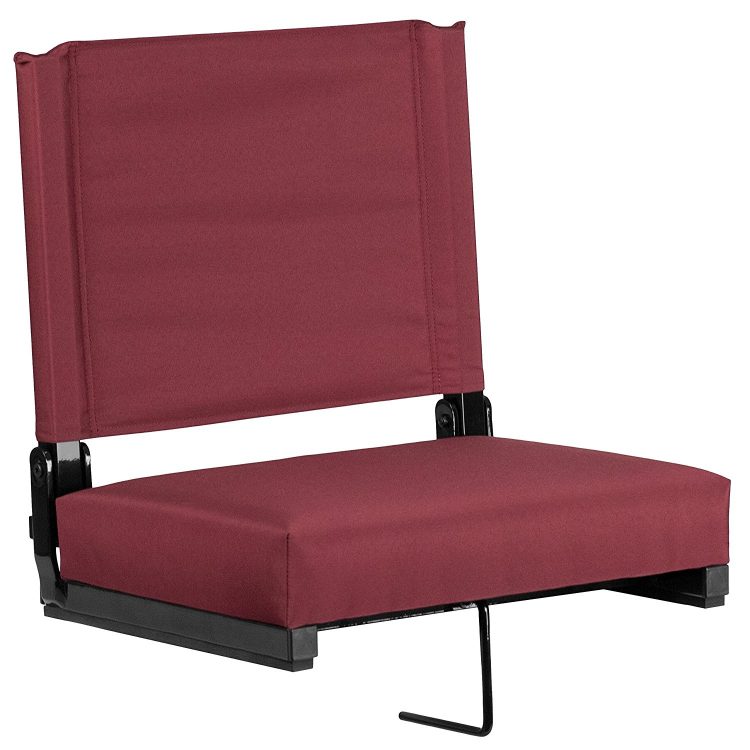 If you're going to be sitting somewhere that has benches, bleachers or even ground seating, this Flash Furniture Grandstand Comfort Seat foldable, lightweight chair can make sitting less of a pain — literally. It has a thick foam padded seat, canvas covering and a handle for carrying.
I just ordered this so it will be easier to sit at sporting events. I used one my sister-in-law let me borrow and it was better than sitting on hard bleachers. It still hurts a bit but it was better with the cushion. — Rebecca G.
Buy the seat above for $50.44 from Amazon.
9. Pelvic Pain Solutions Foldable Seat Cushion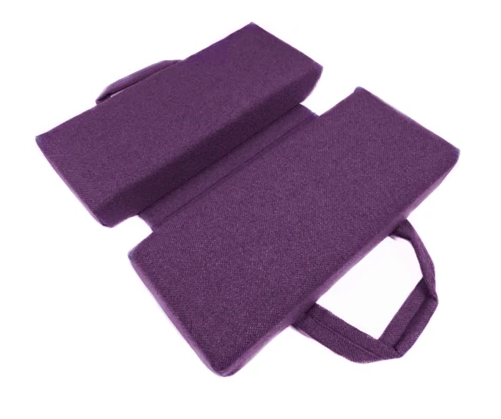 This Pelvic Pain Solutions foldable cushion is perfect for travel or bringing with you on the go. It's made with superior grade foam and Super Crypton fabric. It's available in a variety of colors, two foam depths as well as three compressibility strengths: firm, medium and soft.
Mighty community member Jill Fuersich said she uses this cushion for traveling or eating out at a restaurant.
Buy the cushion above for $79.95 from Pelvic Pain Solutions.
10. Aylio Coccyx Seat Cushion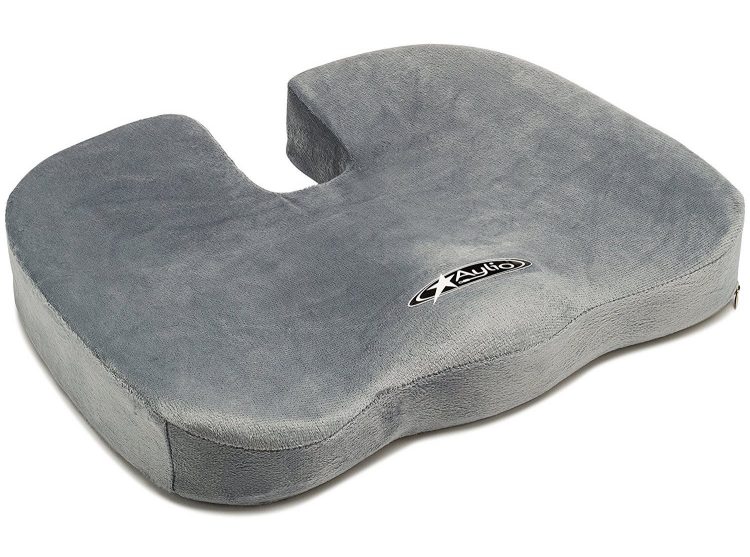 This Aylio ergonomic pillow is designed to take pressure off your spine, prevent soreness in your tailbone and promote proper posture and spine alignment. At one pound, it is very lightweight and portable, and has a hygienic velvet cover that can be removed and machine-washed.
I use this one. I have an old coccyx injury and most exam tables and hospital beds tend to aggravate it. So I usually bring this with me if I know I'm going for an infusion or a trip to the ER. — Michelle M.
Buy the cushion above for $39.99 from Amazon.
11. Boppy Pillow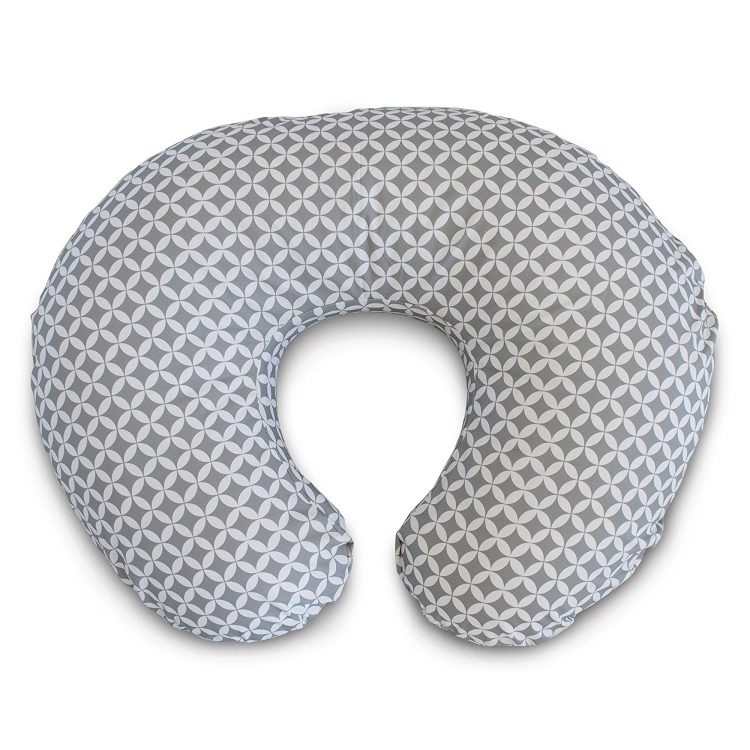 Although designed as a supportive positioner for babies, some may find that sitting on a boppy pillow relieves pain and pressure and is more comfortable than sitting on a hard chair. They often come with a removable, washable cover and, unlike many other seat cushion options, are often more affordable.
A boppy might be a good option, you can find them very cheap and abundant in secondhand stores because babies outgrow them so quickly. Plus, if you're unable to work and thusly pretty broke, saving the money matters. — Laura G. 
Buy the pillow above for $39.99 from Amazon.
What seat cushions do you find most helpful? Share below in the comments.
Originally published: March 20, 2018