The Void My Service Dog Fills That I Didn't Know Was There
---
It's in the quiet hush of dawn when hope is but a whisper that the first stirrings of possibility take flight. It had been an interminable wait, rife with more discouraging health challenges than I'd care to admit. I'd halfway convinced myself that a service dog was a desert-induced mirage, my thirst for relief too potent a poison to quench.
Over the years, I'd come to learn that the opposite of longing is despair, the certainty that what you want will never come. Yet despite all odds, here I was, safely ensconced in a fully accessible guest room at the dog guide school, on tenterhooks to meet my future service dog.
When chronic pain becomes the architect of your life, tearing you down at the first sign of complacency, it's hard to hold onto your optimism and your independence. In a world where seeing is believing and perception is reality, an invisible illness harbors a polarizing stigma that can't be shaken. Not visible enough to slap a label on and place in a box. Not well-enough understood to empathize with. Not tangible enough to be real.
Explanations are wasted on the stubbornly faithless, but the truest measure of harm is how this skepticism rent my trust in humanity. Asking for help became anathema, admitting my limitations even more so. A service dog was a loved one's solution to my conundrum.
I'd never before believed in fate, too fond of the idea of being the master of my own destiny. But that morning, my service dog burst into my life like a prayer heard and answered. I'd long ago given up on finding a panacea for my pain but I'd secretly hoped for some kind of assistance, however small it may be.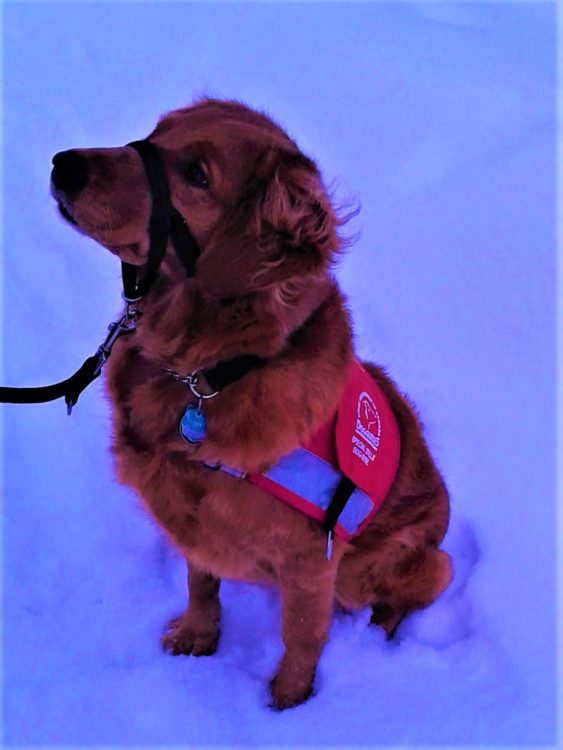 My service dog – like all of the service dogs trained at the dog guide school – is a true professional, responding to task-work commands with an ease that still impresses me. But what makes me smile is how much she clearly enjoys working. Tail wagging, ears cocked at attention, there's no missing that being asked to help me is not a burden or an inconvenience. In fact, she takes her training to the next level with her special gift for sensing when I'm unwell and struggling. Without my having to ask, she immediately jumps at the opportunity to help. She has no use for spreadsheets that tally all she gives, no hidden agenda for favors granted in the here and now.
Strangers at first, we quickly became inseparable, spending every waking moment learning each other and learning from each other. Her task-work bridges the gap between the possible and the impossible, where my own extensive efforts at managing my health would otherwise fall short. Part guardian angel, part lifeline, she's seen me through every flare-up, every health setback.
But beyond all the practical ways in which having a service dog is immeasurably helpful, are all the ways in which she's made my life rich beyond compare. My service dog fills a void I hadn't known existed, the part of me that yearned for the kind of easy acceptance that had seemed lost to me forever. She has no vocabulary for what others perceive as different, as lesser-than, as repugnant flaws that ought not to exist. She only sees the person she loves most in the world, her affection not measured in ability or inability.
Maybe it's because she's a dog without the burden of human prejudice, but there's a purity to her worldview that so few humans can cultivate in an entire lifetime. She has kindness – something that costs nothing and yet is worth everything. There is no currency for that.
The contrast is jarring when I forget that not all shackles are fashioned of iron, but of the beliefs we hold about ourselves and the beliefs we hold about each other. The pursuit of equality is a utopian fantasy as conformity and the pretense of benevolence are exclusively rewarded.  The safeguards that are meant to protect the vulnerable and preserve their dignity are more lip action than real action. Being forthcoming about disability becomes a game of Russian roulette where honesty comes at a cost.
There will be some people who will use your honesty as a weapon to hurt you, to press on your weak spots, to demand the impossible from an already-ravaged body simply because they possess the power to do so. Seeking atonement is a pipe dream when disability is a convenient whipping post for every bigoted sadist bloated with hatred, selfishness or moral cowardice.
On the best of days, my mobility is a tightrope. But when my body is pushed beyond its limit at the hands of others, the price for my honesty is my health.  Most recently, my ability to stand and walk was deliberately jeopardized.  Through every indignity that was forced upon me, my service dog stood sentinel, holding me up when my body failed me, nudging me repeatedly to keep me conscious and marching us slowly back to a place of safety, of sanctuary.
To be helpless in my own body was an atrocity that stole my voice. Yet somehow, my service dog sensed exactly what I needed – a hero. Someone valiant enough to champion me, someone steadfast enough to support me and someone kind enough to comfort me. Her initiative was a credit to her intelligence and training. But most of all, it was a testament to our unbreakable bond.
Staring into the abyss, I knew my greatest adversary was my uncertain health and precarious mobility. A true test of mettle that can't be circumvented, but must be met head-on. Through the months of physical rehabilitation, when my body couldn't even bear its own weight, walking was a freedom I feared I might never regain.
Finding the courage to confront the unexpected unearthed a well of strength, an unrivaled power that arose from my service dog's singular belief in my ability to endure. I had always thought that heroes were the Sir Galahads of times past, when King Arthur's knights of the round table won epic battles with might and fury, pomp and circumstance. But heroes are not just fictional characters in myths and legends. They live in each one of us, in the stillness of the dark, where the only witness to our feats of heroism is ourselves. Twin heroes bound by circumstance, disability is not our death knell, but a doorway to a life that celebrates the beauty in the fragile ordinary.
Originally published: December 2, 2018