The SSA Wants Your Feedback About How It Considers Pain for Disability Benefit Claims
---
As many of those who live with a chronic illness or disability know, applying for social security disability insurance (SSDI) is no simple task. The process can often be lengthy and rigorous, and it's not uncommon for disabled applicants to be denied benefits, even if their health imposes limitations on their ability to work.
Applying for SSDI can be extra challenging when you live with a subjective condition such as chronic pain – but the Social Security Administration (SSA) is taking steps to ensure fairness in their evaluation process.
To ensure the process is fair for those with pain conditions, the Social Security Administration is requesting public feedback about how it considers pain and the documentation of pain in both adult and child disability claims. Responses will be used to determine whether the SSA should revise its current policy regarding the evaluation of pain.
Currently, there is a two-step process for determining a claimant's pain. First, the SSA determines whether there is objective evidence of a medical condition that could reasonably explain the claimant's pain and impairment. If there is sufficient evidence, the SSA proceeds to stage two, where the intensity and persistence of the claimant's pain are evaluated.
A potential problem with the current process is that pain is largely subjective, and many chronic pain conditions lack a definitive diagnostic test. This can make it difficult for applicants and doctors to provide "evidence" of the person's medical condition, and lower the chance of receiving benefits.
Share your experience with disability benefits below: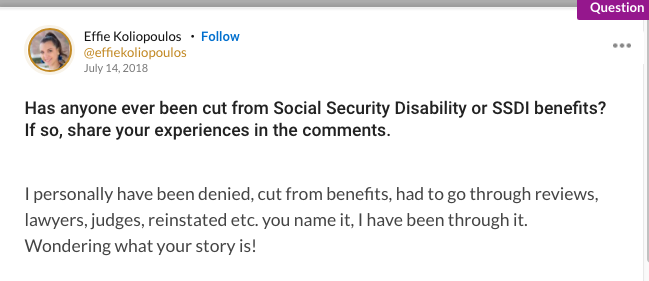 One Mighty contributor, Christiana Ares-Christian, lives with the chronic pain condition fibromyalgia. She explained in a recent essay that misconceptions surrounding the largely "invisible" illness often make it difficult to receive disability benefits:
It is extremely hard to advocate for and receive disability benefits. Visible disabilities are seen as more legitimate than invisible ones like fibromyalgia. My good friend tried three times over the course of three years to get disability benefits, and she was denied each time. She was initially denied because she was told that fibromyalgia alone isn't considered a disability because "it's not something a doctor finds — it's a condition made up of symptoms the patient reports." With this mentality, how would it ever be possible for my friend to get the help that she needed and rightfully deserved?
With over 50 million Americans living with chronic pain, Ares-Christian and her friend are not the only ones facing this issue.
In addition to feedback from people living with chronic pain, the SSA is asking for any relevant data, studies or research that may offer guidance as to how pain should be evaluated. The SSA is seeking responses to questions including:
Are there changes that we should consider about how we consider pain in the disability evaluation process? If so, what changes do you suggest we make? Please provide data, research, or any other evidence supporting your suggestions where applicable.
Within the United States, which standard scales, questionnaires, or other methods to evaluate the intensity and persistence of pain that are commonly accepted in the medical community do you recommend we consider and why? What information exists about the efficacy or accuracy of those scales, questionnaires, or other methods?
Should we evaluate chronic pain differently than acute pain? If so, why and how?
Should we evaluate nociceptive pain differently than neuropathic pain? If so, why and how?
What information and evidence is available on the effectiveness and side effects of the traditional and alternative modalities for treating pain that we should consider?
Comments can be submitted via internet, fax or mail and must be received by Feb. 15, 2019.
To submit via internet: Visit the Federal eRulemaking portal and use the Search function to find docket number SSA-2018-0017.
To submit via fax: Fax comments to (410) 966-2830.
To submit via mail: Address your comments to the Office of Regulations and Reports Clearance, Social Security Administration, 3100 West High Rise Building, 6401 Security Boulevard, Baltimore, Maryland 21235-6401.
For more information about submitting a comment, visit the Federal Register.
Getty Image by AndreyPopov
Originally published: February 6, 2019