17 Products That Help People Manage Joint Pain
---
Editor's Note
We hope the products below, all recommended by our Mighty community members, help you or a loved one in your health journeys. Just so you know, The Mighty may collect a share of sales from the Amazon links on this page. Prices and product availability are accurate as of publication.
Whether you live with a chronic pain condition or have experienced an injury, most people struggle with joint pain at some point in their lives.
One of the most common causes of joint pain is inflammation, says Dr. Amy Myers, MD.
"When your body is inflamed, joint nerves become more sensitive to movements," she explains on her website. "This can lead to a dull ache, a burning sensation, stiffness, swelling, and other symptoms, and you may feel worse in the morning or when you perform certain activities."
However, a number of other factors can also lead to joint pain, from the "wear and tear" aging to various chronic illnesses, including autoimmune disease, hypermobility disorders and arthritis. In 2014, researchers from the U.S. Centers for Disease Control and Prevention found that more than 14.6 million Americans were living with severe joint pain.
So if you're one of those struggling daily with joint pain, how do you cope with it? To answer this question, we turned to our chronic pain community, who shared their favorite products and strategies for managing joint pain. Of course, we always recommend talking to your doctor about which coping techniques are best for you and your unique health situation. But hopefully some of the following can provide you with a few ideas.
Here are our community's recommendations.
1. Compression Wear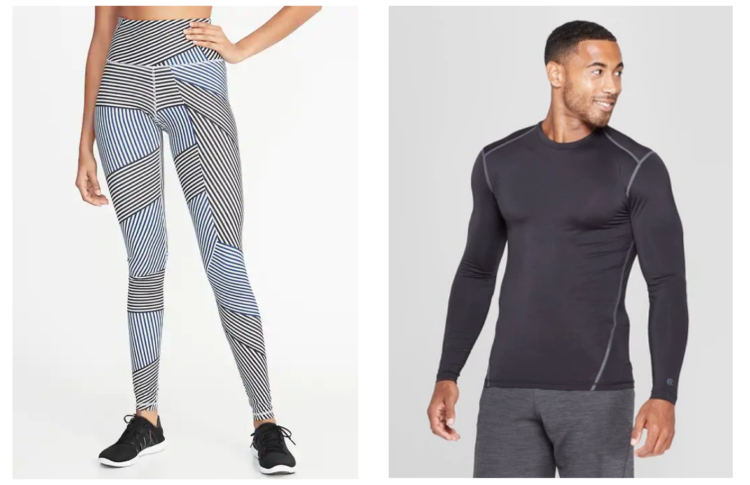 Compression garments are designed to help increase blood flow, which can decrease pain and swelling in the joints. The tight fit can also help keep joints in place if you are prone to subluxations or dislocations. Compression wear comes in all shapes, sizes, patterns and colors, so you can find pieces that suit your needs and style.
"Leggings and tight long-sleeve shirts under clothes really help, especially in the cold weather," explained Nicolas Garcia. "They help support the joint a little, like a compression sleeve, and keep you warm if you live in cold climates! (Or just get cold very easily)."
"Check out arthritis compression gloves!" added Kathryn Wallace. "Amazon has lots, and I use them when I want to cross-stitch as a distraction."
Buy the compression leggings above for $19 from Old Navy. Buy the compression shirt above for $16.99 from Target.
For more recommendations from our community, check out the 20 brands of compression wear people with chronic illness swear by.
2. Blue Emu Cream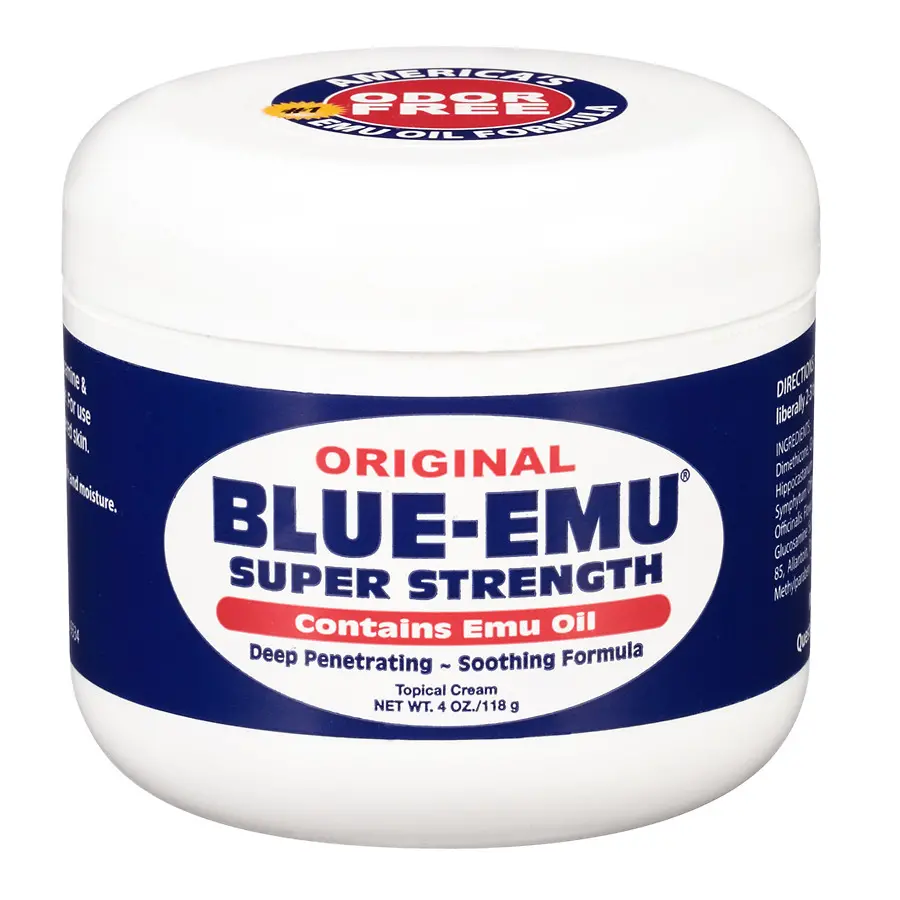 This cream contains aloe vera and emu oil, which allows it to penetrate deep into the joints and deliver glucosamine – a naturally occurring chemical often found in the fluid around the joints. Some researchers believe that glucosamine sulfate (one of the ingredients in Blue Emu cream) can help increase the cartilage and fluid surrounding joints, which may be especially helpful for those with arthritis.
"Blue Emu cream," recommended Carol Kane. "When the joints are so swollen the skin hurts to touch, it goes on so smoothly."
Buy the Blue Emu cream above for $18.99 from Walgreens.
3. Portable Cane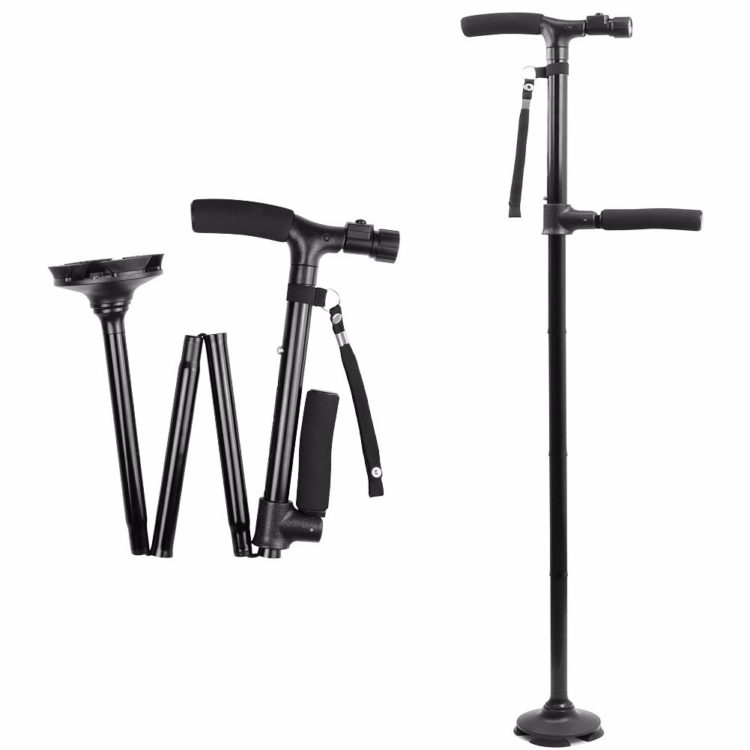 A cane might not take your pain away, but it can help you avoid further exacerbation or injury. If you experience a lot of joint pain in your hips, knees or ankles especially, a cane may add some extra stability, and even help take some pressure off painful joints while you walk. There are a number of portable canes available nowadays that can be folded up and stored in your purse or backpack when you're not using it.
"Making sure I use mobility aids when I need to [helps me manage joint pain]," wrote Lexa Morrigan Van Hel Blu. "I have a collapsible cane and wheelchair. It may be hard to adjust to at first, but nothing beats being able to go shopping without dislocations and extreme pain for a couple hours."
Buy the portable cane above for £15.99 from Amazon UK.
4. Weighted Blanket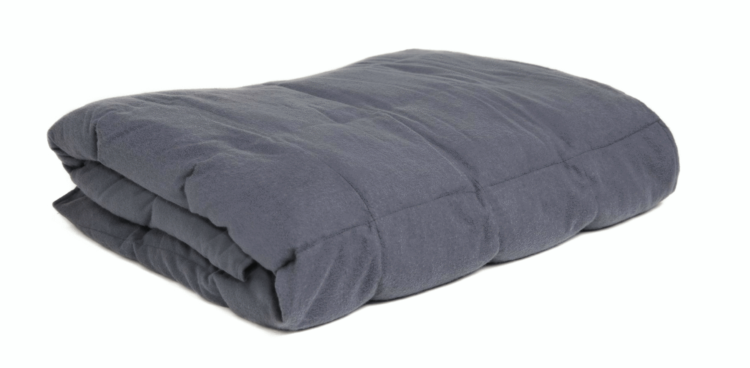 Many swear by the various health benefits of weighted blankets, whether they're using one to help with anxiety, insomnia, sensory issues or pain. The heaviness of the blanket could serve multiple purposes for those with joint pain: Some may enjoy the "compression" on their joints supplied by the weight, while others may find that the blanket helps soothe them to sleep on nights they're kept up by painsomnia.
"My new weighted blanket… It's incredible…" said Merri Evelyn Skinner.
Alesha Brown added, "A weighted blanket can be very helpful as it helps with joint compression."
Buy the 10-lb. weighted blanket above for $195 from Weighting Comforts.
5. Biofreeze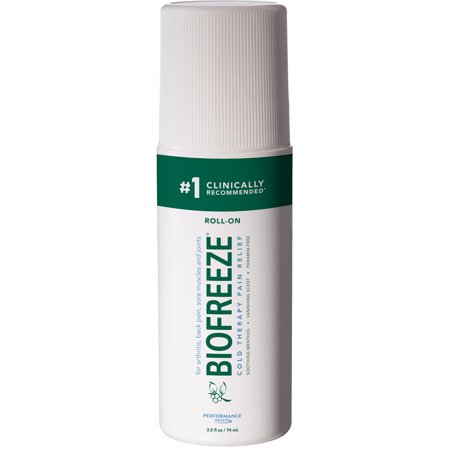 For those who prefer using cold therapy to manage their pain, Biofreeze is a topical analgesic designed to help relieve aches and pains. It contains menthol and camphor so it provides a cooling sensation without numbing the skin.
"Biofreeze is my go-to for muscle pain and nerve pain. I have been using it for about four years and the smell doesn't stay around, it leaves in a few minutes. And doesn't stain clothes," Mary Anne Mckay told us.
Buy the Biofreeze roll-on above for $11.98 from Walmart.
6. Pinky Ball
The Pinky ball is a portable massage aid that can help loosen trigger points and relieve pain and stiffness. It may be especially ideal for those who have pain in their heels, feet, back, neck or shoulders.
"Pinky ball on a stick!" wrote Kylee Piquette. "My physical therapist gave me this to put behind my back and lean against the wall! It works for shoulder and back pain and it's incredible."
Buy the Pinky ball above for $5.95 from Amazon.
Want to see more recommendations from our chronic pain community? Download our app to more easily discover stories and connect with other pain warriors.
7. All Terrain Recovery Rub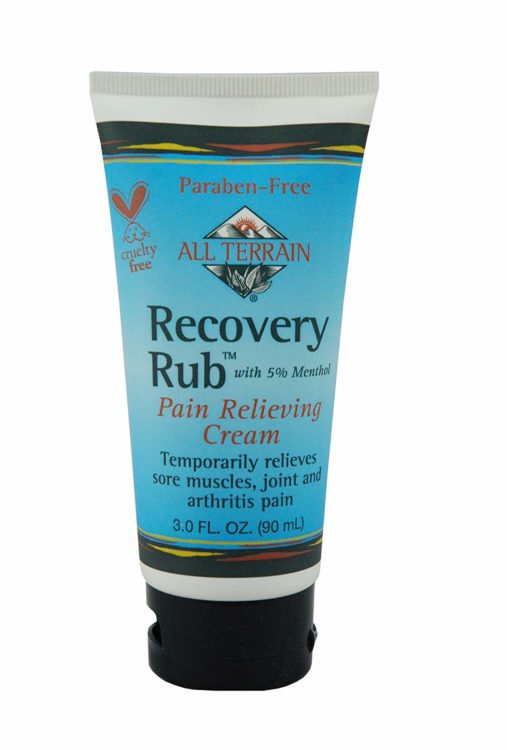 All Terrain Recovery Rub is a natural muscle salve with 5 percent menthol and arnica. It is designed to help relieve minor aches and pains in the muscles and joints. Massage some around painful joints to help loosen up tight muscles.
"All Terrain Recovery Rub. It is the best topical pain relief that I have ever used," said Kathryn Wallace. "It has menthol and arnica, but no camphor which, for me, is a major migraine trigger. It isn't smelly and I also rub it on my neck and back."
Buy the All Terrain Recovery Rub above for CDN$14.58 from Amazon Canada.
8. Heated Throw Blanket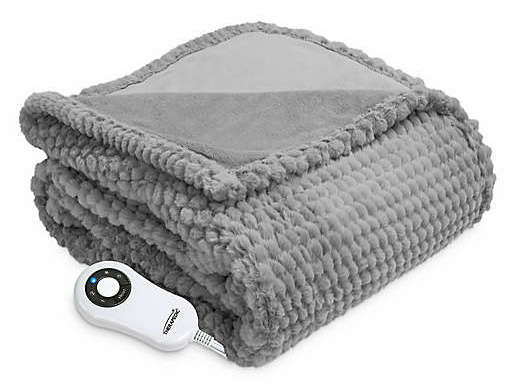 Stiffness in the joints can lead to a lot of pain and difficulty navigating everyday tasks, like walking or cooking. Many find that heat therapy helps loosen up stiff joints, and nothing is cozier than curling up with a toasty electric blanket.
"Heated throw," said Krista Itzhak. "Days when everything hurts, it's nice to melt it all."
Ashley Torres added, "I've said it before and I'll say it again: electric blanket. The heat soothes achy joints and muscles to the point where – if I'm lucky – nothing hurts. You will be shocked."
Buy the heated throw blanket above for $69.99 from Bed Bath & Beyond.
9. Tea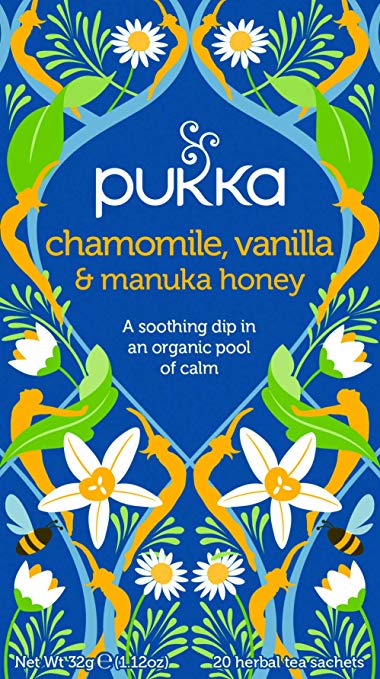 Though a cup of tea can certainly be soothing, studies have shown that tea (specifically black, green, oolong and white) may also have anti-inflammatory properties. This may be helpful for those who struggle with joint pain and inflammation due to conditions like arthritis.
"Chamomile tea is said to help with inflammation so I've been drinking it for awhile now. So far I think it's helping along with heating pads and constantly staying warm. I also sit beside a heater most of the day," Nicole Ruth explained.
Buy the tea above (20-ct.) for AUD$6.95 from Amazon Australia.
10. Tiger Balm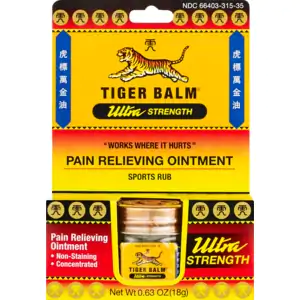 Tiger Balm contains camphor and menthol and is designed to help relieve soreness and stiffness. Rub some into the joints that ache whenever you need soothing warmth.
"Tiger Balm is my life saver!" Catherine Anne Millard told us. "It is small enough to take anywhere that I need and is always useful, even if just to take the edge off!"
Buy the Tiger Balm rub above for $9.49 from CVS.
11. Wiccy Magic Muscles Massage Bar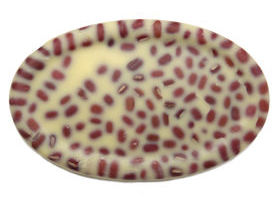 This massage bar from Lush is made with peppermint and cinnamon essential oils, both of which are said to be natural pain relievers. If your joints are achy from tight, overworked muscles, try massaging in all the oils from the bar for some relief.
Sharna Edwards recommended, "Wiccy Magic bar from Lush! I didn't think it would help much as strong painkillers don't touch my pain whatsoever. But it does help! And gives a relaxing scent too! Perfect after a hot bath."
Buy the Wiccy massage bar above for $12.95 from Lush.
12. CBD Products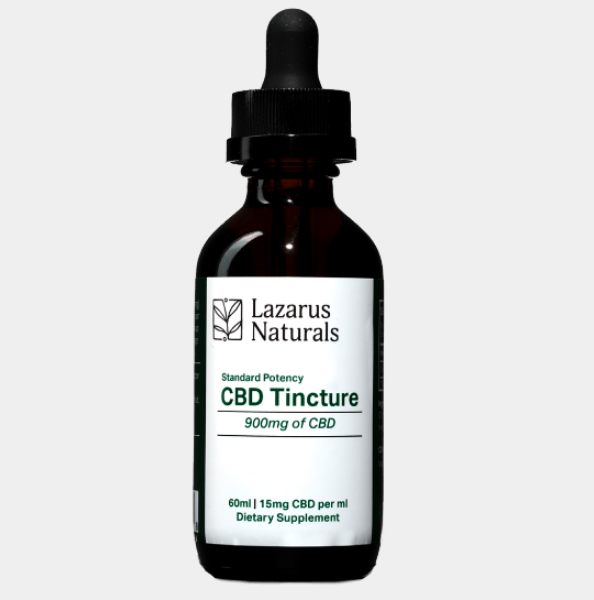 Though medical marijuana is still illegal in many states and countries, in the past few years there's been an explosion of products containing CBD, the compound in cannabis that can help relieve pain without the high. While it doesn't work for everyone, many of those with joint pain use CBD balms, tinctures, edibles and oils to help manage their symptoms. Be sure to check with your doctor and be aware of the cannabis laws in your state or country before purchasing.
"I couldn't live without CBD balm from The Original Alternative at the moment. It's the only thing that seems to give any relief," wrote Vikki Johnson.
"I use all the things when it's really bad," sad Pam Frazier. "My rheumatologist suggested CBD oil. If I can get my hubby to massage it into my back after a hot-hot bath, I can get some good relief."
"CBD/THC products," recommended Tawnee Torres. "Edibles, tinctures, salves, bath products. They are my first line of defense in managing my pain."
Buy the tincture featured above for $38 from Lazarus Naturals.
For more recommendations from our community, check out the 15 CBD products people with chronic pain swear by.
13. Epsom Salt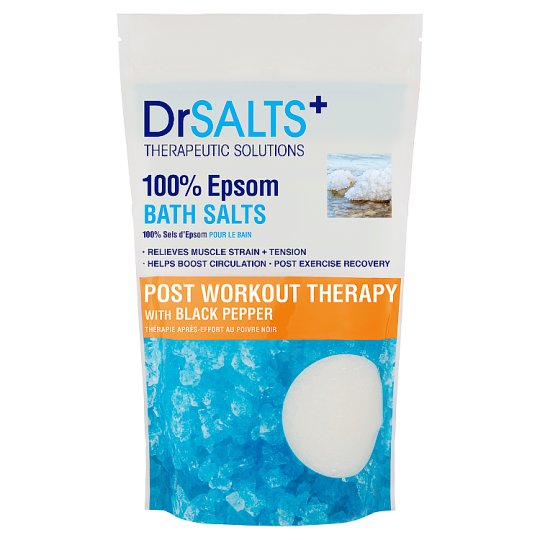 Adding Epsom salt to a warm bath can have various health benefits, including relieving aches and pains. The heat of the bath can help your muscles loosen and relax, while the salt can help reduce inflammation in your joints.
"Epsom salt baths, my heat pack, ice packs and rest," Becky Dawn told us.
Amy Van Camp Bobbitt added, "Epsom salt baths, Arnica ointment, heating pad and weighted blanket. Physical therapy and my exercise. My daily devotional, prayers and my journaling. Curable app and mindfulness. Recognizing my pain and listening my body by letting it rest. Pacing!!!!"
Buy the Epsom salt above for £5 from Tesco.
14. Kinesiology Tape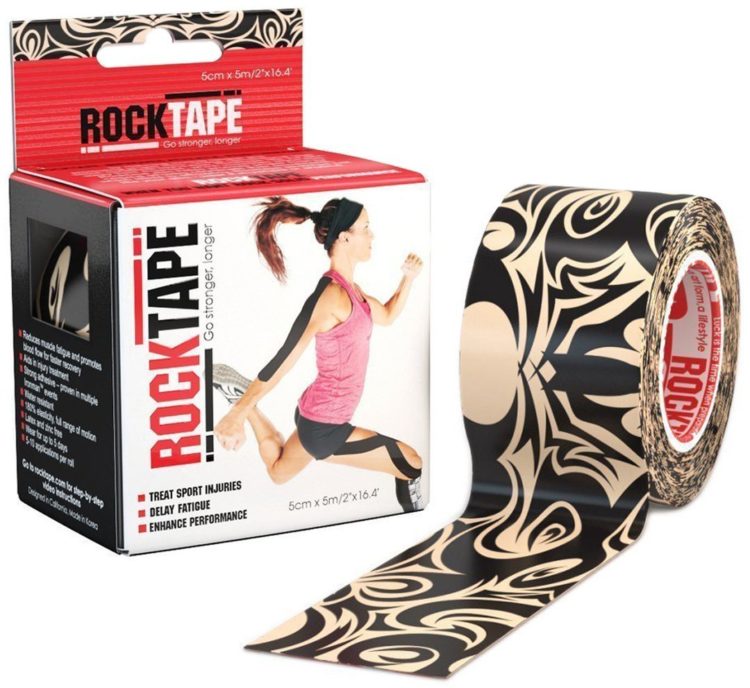 Kinesiology tape is taped around joints in a specific way to provide support while still allowing for movement and flexibility. It can help relieve joint pain and swelling while also providing stability.
"Kinesiology tape is great for EDS [Ehlers-Danlos syndrome]. Not only does it help with pain a lot, it actually stabilizes my joints and makes them dislocate less often," wrote Amber Bloomfield.
Ansley DeLeah Morris told us, "KT tape, compression wear, tiger balm and a tens unit are my go-tos."
Buy the kinesiology tape above for $17.88 from Amazon.
14. Aspercreme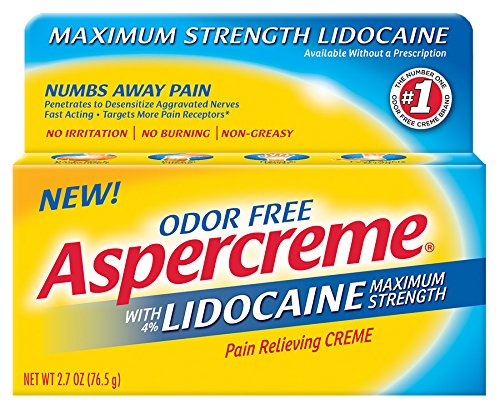 The Aspercreme featured above is made with 4 percent lidocaine to help numb away pain when applied to sore and achy joints. It's also odor-free for those who are sensitive to scents or need to use it discreetly at work or school.
"Aspercreme," said Brigette Hartman. "I put it on my sore joints daily and it helps take the edge off of the pain."
Buy the Aspercreme above for $6.48 from Amazon.
15. Bolster Pillow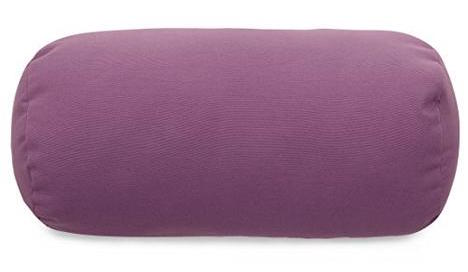 Bolster pillows are often presented as purely decorative – but they can have some practical purposes, too. You can slide one behind your back, stick it under your knees, or use it to prop up your head or feet. They come in many different shapes and sizes and can be tucked anywhere to help support achy or unstable joints.
"Epsom salt baths, heating pads, a TENS unit, a rolled up towel for under my neck, one of those bolster pillows for under my knees when I lay down, and a warm, purring cat in my lap works wonders," said Andria Koons Jones.
Buy the bolster pillow above for $34.47 from Sears.
16. Heating Pad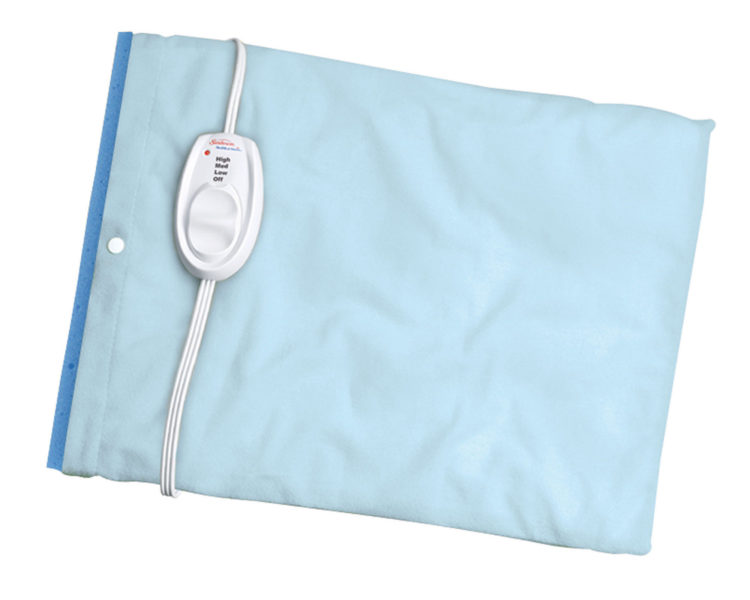 For many with joint pain, the number one form of relief is heat. Heat can loosen up tight, painful muscles and ease stiffness, helping to relax and soothe achy joints. Heating pads are flexible and come in a variety of shapes and sizes, allowing them to be wrapped around virtually any part of your body.
"A heating pad," Tatum Genevieve Parent told us. "I have one in the bedroom and the living room. I absolutely depend on them." 
"My heat packs (microwavable, electric and the disposable ThermaCare ones) are life-savers for me!" said Sasha Worth.
Buy the heating pad above for $13.98 from Walmart.
17. TENS Unit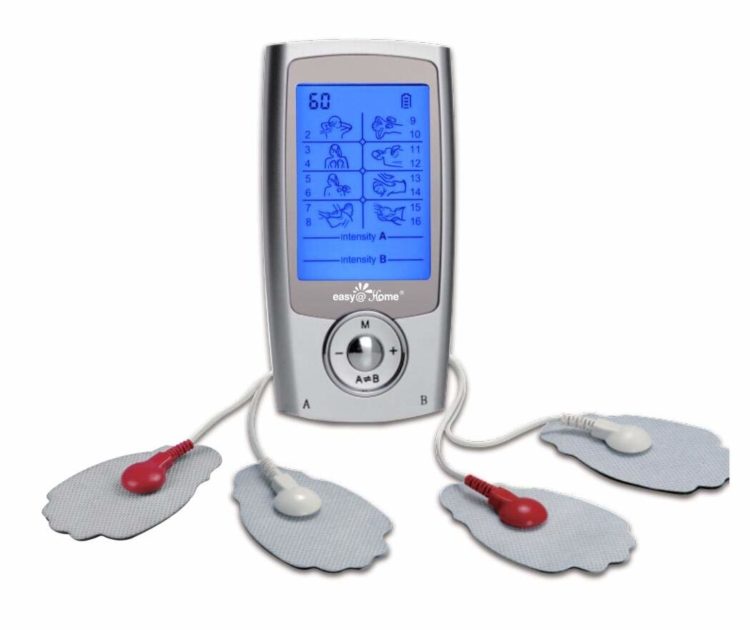 A TENS (transcutaneous electrical nerve stimulation) unit uses electric currents to stimulate the nerves in the area where you're experiencing pain. This creates a different sensation in the hopes of "overriding" some of your pain. Stick the pads around painful joints whenever you need some relief.
"Tiger Balm, TENS unit, heated mattress pad," wrote Dawn Wrucke.
"Hot water bottle and TENS machine," suggested Abi Holmes. "My TENS on my back is the only way I can walk some days."
"My TENS machine," added Amber Bloomfield. "Every time I explain to someone who hasn't tried one just how well it works, they tend to assume that it must be a scam because it sounds unreal."
Buy the TENS unit above for CDN$59.75 from Amazon Canada.
Originally published: January 25, 2019