To the Mother Terrified for Her Newborn's Future
---
It's June 5, 2006. You're going to have this baby today. You're afraid. People tell you her condition won't be as bad as you fear after these past four months of worsening prenatal reports. You want to know, you want to see into the future. So I write this to you from five years in the future.
It will be as bad as you fear and worse. At one minute, her Apgar score will be 3. At 30 hours old, she will stop breathing in her daddy's arms. You're going to lose more than you can guess. She's going to suffer. You're going to see terror in her eyes when she's suffocating on her own vomit. You're going to suction the choked airways. As she begins to breathe again, you'll see relief in her eyes but not peace or happiness. It will be a long time until you see her happy.
You're going to see your first daughter afraid and hiding under the table as this scene plays out again and again, day after day, month after month. And you're going to lose quite a lot because of all this – quite a lot of who you are, of the relationships and community you belong to, of your family's present and future.
So that is how this will start. But who will she be at 5 years old?
She will be charming. You'll nickname her Sparkle. Yes, she's alive at 5! She's intentionally getting into mischief, making sure you see her and then scampering her fastest away with the biggest glowing grin.  Yes, you caught that too – she'll be walking! Not quite running yet, but the bigger her mischievous grin, the faster she'll move. And oh, her laughter! She doesn't speak, but you call laughter her first language.  
I know how horrible this is to you, how badly you want her to learn to talk and drink and eat. She did learn to drink at 15 months old, but at 33 months old, to protect her deteriorating lungs, you had to take drinking away from her. At 5 years old, she's occasionally on oxygen and mostly gastrostomy tube fed, but she does enjoy eating yogurt.
A break for some happy news: she can see! For a couple years now, the very nearsighted rascal has been refusing to wear her pink glasses. However, you've been wearing pink glasses. You got pink glasses so she would see that wearing pink glasses is fun. She won't buy it.
Look, this is just hard: she won't grow up to live independently, as you're still hoping on June 5, 2006.  After her 3rd birthday, by a strange serendipity, you'll come into the knowledge that she has a rare syndrome, Coffin-Siris. This will crush you just when you were starting to get back on your feet. You'll come to understand how this will limit her future far more. You will be devastated all over again.
Perhaps it's ironic, considering all the loss and heartache, that you will have become an optimist five years from now. You will be intensely grieved, angry and sad to lose the old dreams you're holding tightly to now. But you will come to love the new dreams and even find yourself working harder to make those come true. You will become sure and determined, but also humbler, extremely aware that you know and understand very little. This baby you are about to have, she will distill everything in your life: your relationships, your dreams, your faith, your purposes. Loving her is going to be a fire through all of it, and much will not come through. You will build new good, purposefully, peaceably.
Oh honey, I'm sorry. You on June 5, 2006, you're not going to know how to rejoice that your 5-year-old can eat yogurt and knows a few colors. Your heart is shattered by this news of her profound developmental disabilities and medical needs. But listen, on the eve of this baby's 5th birthday, you will be someone else (I know, someone you don't want to become, I know!). But even so, you will have a sense of anticipation and hope and possibility. When you think of her on the eve of her 5th birthday, your heart will beat high and happy because you will be in love with her.
She will be born soon, your second baby, and after the months of bad news from the prenatal ultrasounds and fetal MRI, you're wondering how you will feel about her. Here is great news for you on June 5, 2006: you will feel like you did holding your first baby in the birthing pool. No, you won't get to hold her and look in her eyes, but yes, the instant you see her across the room, it will be all you have for her. Though you'll be numbed from the waist down and strapped to the operating table, you'll try to go to her. Just as before, motherhood will overtake you, fierce and sudden and consuming and driven and complete mad love that will do and give anything and everything to get to your baby and protect her. You will catch just a glimpse of her hair before she is taken away. It will be brown, just as you're dreaming it will be. Your heart will break and soar at once. Break that she is taken, soar that her hair is brown, one little old dream come true.
I don't know if any of your other old dreams for her and your family come true. I don't think they could, not anymore. But in five years, you will believe in new dreams and in all other good things too. She'll soon be in your weeping arms. Weep, honey, get it out, for in time, those arms will be so much stronger. Love is going to make you much stronger than you could believe now. This is what I can send back to you from June 5, 2011. I've forgotten to talk about a lot of the other diagnoses she will get, but you know what, that's OK. It will be all right. This new life can be good too. Grieve, and then, believe.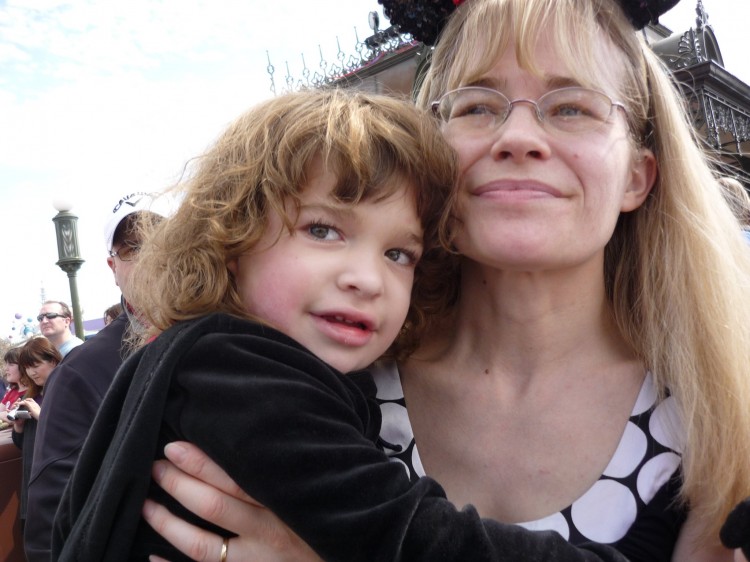 Want to celebrate the human spirit? Like us on Facebook.
And sign up for what we hope will be your favorite thing to read at night.