The Prevalence of Anxiety and Depression Among Those Affected by CHD
---
Sydney Taylor discusses contributing factors and prevalence of anxiety and depression in patients and parents affected by congenital heart disease. Sydney is a congenital complete heart block survivor, registered nurse and a volunteer with the Pediatric Congenital Heart Association. She has required pacemaker therapy since she was 15 hours old.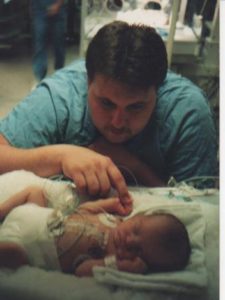 For the first time ever, there are more adults living with a congenital heart defect than children. This is all thanks to improved medical technology, amazing advancements and increased knowledge and awareness in treating CHD. While this is certainly incredible news, there are new – and unanticipated – aspects of treating survivors that we must now focus on.
When the field of pediatric cardiology was born, the main goal was to keep patients alive. The beginning of this delicate science was unfortunately wrought with struggles in patient survival rates. However, as time went on and improvements and advancements in the field were made, patients started living to reach adulthood. But still, the main focus was to simply get these patients to see age 18.
On the whole, aspects of everyday life patients may struggle with were – and sometimes continue to be – unaddressed by providers simply due to a lack of research and knowledge. One of the biggest (and most prevalent) concerns facing CHD survivors is anxiety and/or depression. Frequent and lengthy hospitalizations, painful procedures and traumatic surgeries in childhood often lead to profound psychosocial impacts on patients. These impacts can range from minor to life-altering.
For example, I can always feel myself becoming anxious when I smell rubbing alcohol or "hospital smell." I remember this anxiety from childhood, but it had typically been isolated to healthcare-related environments. However, it made the beginning of nursing school and working in the clinical setting very difficult. Other patients may avoid seeking medical attention due to this anxiety, turn to substance abuse to cope with depression or experience any number of ineffective coping strategies due to a lack of recognition of their unique needs in the medical community.
In a particular study done in adults with CHD, researchers selected patients who appeared to be "well-adjusted" – that is, did not outwardly exhibit signs and symptoms of depression or anxiety. Despite their appearances, 36.4 percent were found to have a "diagnosable psychiatric disorder, with anxiety or depressive symptoms being prominent." Another study revealed that 18.3 percent of adolescents (age 12-18) with a heart defect experience depressive symptoms, compared with 3.3 percent of the healthy control group. Additionally, 30 percent of the adolescent CHD patients displayed anxiety, compared to 10 percent of the healthy control group.
Patients are not the only ones to experience psychological distress related to their heart defect and treatment experience. Parents of CHD patients are also at risk, and possibly experience greater distress than their children. In a recent study done by the American Heart Association, an estimated 25-50 percent of parents experience symptoms of depression and/or anxiety, "and 30 to 80 [percent] reported experiencing severe psychological distress."
There are more factors at play in the development of depression and/or anxiety in the CHD population than you might think. Patients with more complex defects seem to be at a higher risk of developing anxiety and depression, and interestingly, those who undergo more cardiac catheterizations than others. It has also been theorized that separation from parents due to early life-saving interventions shortly after birth may contribute to psychosocial abnormalities. Other researchers have postulated that early exposure to traumatic events (such as open-heart surgery) contribute to the development of ineffective coping mechanisms later in life.
Most intriguing is recent evidence suggesting higher rates of cerebral insult secondary to cardiac dysfunction in CHD patients: in one study, 24 percent of infants had abnormal brain scans prior to surgery, and a staggering 67 percent had abnormal brain scans after surgery. Literature is even more scant regarding parental anxiety and depression, but older parents and unemployed parents seem to have a higher incidence of depression.
If you or a loved one are struggling with anxiety or depression, it is important to speak with a healthcare provider. Now that heart patients are surviving, we need help in thriving. Don't be afraid to reach out to someone you trust. You are not alone, and you matter. For an additional guide on symptoms, tips, and when to seek help, please visit PCHA's Educational Resource on mental health. Although this guide addresses parents in particular, the guidance it provides can be applied to patients experiencing difficulty with anxiety, depression and post-traumatic stress as well.
We want to hear your story. Become a Mighty contributor here.