Everything I Want Billy Kimmel to Know, From a Man With Tetralogy of Fallot
---
As I watched Jimmy Kimmel give his heartfelt monologue about his son Billy's birth, and the events preceding his diagnosis and first open heart surgery for Tetralogy of Fallot, his story brought me back to the many times I have heard a similar story from my parents. They still cannot tell it without choking up, even though it has been over 35 years since my birth and my first open heart surgery at two days old.
Everything from the quiver in Jimmy's voice to the palpable ache in his heart was all too real for me. Jimmy's son and I both have Tetralogy of Fallot, and our diagnoses both came shortly after our births. I am generations ahead of Billy and already four open heart surgeries in, but my hope is to be an inspiration for him and all those battling congenital heart disease (CHD) that are to follow behind me. While no two journeys with CHD are the same, I know I am not alone in saying that many of us in the CHD family relate very intimately with Jimmy's candid story about his 10-day rollercoaster ride into what will be his son's lifelong journey with CHD.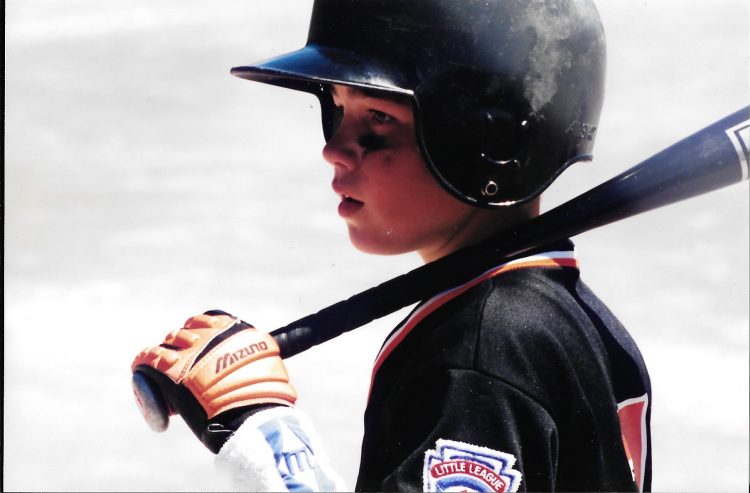 I would like to send my message directly to Billy about what lessons I have learned in my life and all the great things this life holds for him. I am awaiting the day he can read this and understand what an impact he is having on the world making millions more aware of congenital heart disease. I hope he embraces these lessons as he builds onto them, and turns them into his message as he grows up, and finds his voice for himself, and for everyone with CHD.
When I was a boy, I was raised to think I was perfect and was never led to feel that I was any different from my peers. I hope that Billy can feel that same innocence as a child and that everyone around him will be surprised to learn that he is fighting such a battle beneath.
To My Fellow Warrior Billy,

1. You Are a Warrior
You have already shown that you are a fighter and will only continue to be, because that is all you know, and that is why we are called warriors. There are an army of warriors. Babies just like you, children and children who have grown up to be adults like me who are fighting congenital heart disease.  I hope your significant struggles are few and far between — but understand that what is going to make you into an exceptional person is the strength that you gain from overcoming these challenges. Take them on, and keep conquering them, and know that they are only making you stronger no matter how difficult they may be. Embrace your differences.
2. Share Your Story
Your father has already bravely shared the beginning of your journey with CHD with the world. Learn from his incredible lead and absorb all you can so you can tell your story and keep sharing it. It may be one of the most therapeutic things you will do. You will find more amazing people in this world than most know exist by just being real about your journey. Keep that openness alive — it will not only help you but also so many others who are apprehensive of sharing their story and are feeling alone. Be their light and hope and voice.
3. You Will Never Find a Rainbow if You Are Looking Down
To think that your journey with Tetralogy of Fallot is beginning 35 years after mine makes me extremely hopeful for the life you will live. I will never say that my life isn't and hasn't been beautiful — very hard at times, sure — but that is what makes the little things in life that much more enjoyable. Keep a positive attitude and do not dwell on what could have been — instead look for all the things that can be. Always try to look up and find the rainbow in the sky, even when you think there are none. You will be surprised and joyous whenever you find them. Having the perspective of the fragility of life is your true blessing, and I hope your ride is incredible, and that you have many trips around the sun.
4. Don't Forget Who Is Holding Your Hand
The most important people in your life are the ones holding you now — don't forget them. Understand what they are contributing to build you up into the man you will be. Your long-term success in life will rely on those unbreakable bonds you will develop with your family and those that you love. Put as much time and effort into building those bonds as you do everything else in your life. Your parents will always be your biggest supporters. Make sure that you recognize them for all they do, and work hard to maintain that bond throughout your life — everything they do for you is out of love and concern for your well-being and nobody will ever be able to replace them.
5. Don't Keep Score
Nobody can live this life alone — and having a CHD means that you may rely on others at times more than you may like. Don't let that get you down — turn it into gratitude and let the people that lift you up know what they mean to you. We can often carry too much guilt when we feel that our relationships in life are not equal. Nobody is helping you because they want anything in return; they are doing it out of the love in their hearts. Remember you are equally on their team as well. Always be honest and candid with people about what they mean to you — and when the opportunity arises lend a hand. The one you help may not be the one that helped you.
6. Find Your Voice
Being an advocate for your care is an art you are going to learn from watching and listening to your parents. Don't take what they do for you for granted and learn from them every chance you have. One day you will need to have an active voice. Nobody knows better than you how you are feeling. Learning to verbalize your symptoms will be one of the biggest contributors to living a long, healthy and happy life. Become an expert partner and build your team around the best congenital heart specialists you can find.
7. Beware of the Cure
Everyone wants you to be cured and wishes they could take away everything that ails you — but unfortunately that isn't how CHD works.  You will need lifelong follow-up care — don't fall into the "feel good trap." No matter the reason, don't let your care lapse. Understand that CHD requires specialized providers and never be lulled to sleep by the false hope that things are all better. If you find yourself getting lost think back to all those faces looking down on you now and all they have done to get you where you are. Don't let them down.
8. An Ounce of Prevention is Worth a Pound of Cure
CHD is lifelong. But it doesn't mean that every day will be a struggle. Always follow your recommended cardiac care regimen to monitor the things you cannot see and feel. Be attentive to the extra physical, mental, and emotional burdens that can often come with CHD. Be proactive.
9.  Stay Humble and Kind
We shall not keep score, but we must work hard to complete the loop of caring for one another. As you think of your parents, family, friends, and all the amazing medical professionals who have worked tirelessly to keep you alive and thriving — stay humbled by their acts and remember that there is always someone else out there needing a hand up in just the same way. You know what it is like to be cared for and loved. There isn't anyone better trained to pass that on than you. Find what and who you are passionate about, and give back all the love that has been given to you. You will find that it will lift your soul more than anything else you could ever do.
10. Fly Your Kite
The twine on your kite is as long as you want it to be. Always set it loose and reach for the blue skies. Let it fly high in the wind. If a breeze catches you let it pull you to where you were meant to be. Never give up on life. Fly free and you will be amazed at what you can be.
We want to hear your story. Become a Mighty contributor here.
Originally published: May 4, 2017