30 Days of a Grieving Mother
---
Losing a child is a trial like no other. There is no one set way to grieve. There is no one way to carry on. In this special post, Heather Speakman, shares part of her family's journey after the loss of her daughter, Madison.

If you're here for sunshine and rainbows, I hate to break it to you, but you're in the wrong place. I've always felt compelled to be completely honest about Madison's journey — the good, the bad, the ugly — so naturally this will be no different.
I've heard people talk about the "fog" that comes with losing a child. What they don't tell you is that the fog comes and goes, or at least in my experience anyway. Sometimes, I feel like I need to be pulled back to earth.
Erik and I were driving back to the Ronald McDonald House after we said goodbye to Madison, and we cried the whole way there. I remember being in a state of total shock, denial and panic all at once. I couldn't believe my baby was gone; she's not coming back and my mind was running a million miles a minute. I started thinking of all the things I would never get to see her do…milestones that I was robbed of. I'll never get to use those baby clothes and blankets everyone sent. I'll never hear her brother and sisters yell her name. I'll never get to see her grow up. I'll never see Erik walk her down the aisle. I will forever have an emptiness that only she could fill. It was so surreal. I was having an out of body experience — there was no way this could be my life. I didn't want to accept it.
The first 48 hours were hard. My in-laws brought Gage and Hayden up, and I was in for a rude awakening. I didn't realize how long it had been since I had to function outside of the hospital, let alone be a mother to three kids again. We went to the Cheesecake Factory and it was so loud. There were people all over the place. It was weird! For six weeks straight, I would sit in her quiet hospital room, with little to no noise. Sure we would laugh, but you don't realize how quiet it is until you're out there trying to function on a Saturday night. We had to wait to get a table, so we spent some time walking around in the mall. I went to Children's Place to get Hayden a dress for Madison's funeral and I completely broke down in the baby section. I couldn't look at the tiny socks and cute outfits. Then Hayden helped me snap out of it, because she was walking around like she owned the place, grabbing everything in sight saying, "I need it mom!" (Oy vay this girl!) I also didn't realize how much time I spent by myself. I couldn't tell you how many times I walked off by myself, leaving Erik to wrangle the kids. I would quickly realize and say, "Oh sorry babe, I'm coming!"
I was trying so hard to be "normal" Heather, and I realized that nothing about this is normal. So I said to myself, "You act how you want to act, and feel what you want to feel. The people who love you will understand and be there for you, whatever that may look like, they will be there. Anyone else that doesn't like it can go fly a kite."(That's the PG-13 version). I'm fortunate enough to have a whole gaggle of people who get me, and that is not an easy task. Sometimes all I have to say is that I'm having a "Madi day" and they understand. (Shout out to the people who would let me snap and not hold it against me, y'all are the real MVPs.)
There are days when I feel like my heart is going to explode, and I cry until I can't catch my breath. There are days when I miss her so much I want to scream. Sometimes, I don't want to function; but I do it for my living children, even though I feel like I'm failing them the most. There have been times where I see someone with their judgy eyes and think to myself, "Say something, please! I would love to give you a piece of my mind, let you know that you have no idea what I'm going through. I'd love to tell you that I may look like a "normal" person, but it's taking everything I have to not fall into a puddle on the floor."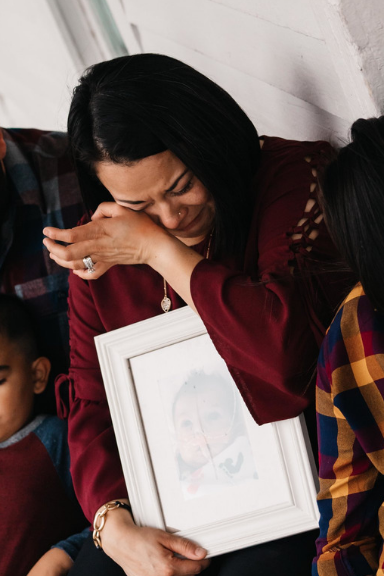 There are days I want to tell the world about my amazing daughter, shout it from the rooftops that she was a fighter, that she made people believe that anything is possible. I want a shirt that says, "I have a daughter, she had a heart defect, she was only 6-weeks-old, I miss her." Maybe then I would have a reason to bring her up in every conversation I have…you know I'm desperate when I tell bill collectors about her.
There are also days where I feel like people don't have the privilege of knowing about her, if that makes any sense. It really depends on my mood and if I think they can take it or not. For example, I've been apartment hunting, and the question, "what brings you to Colorado?" always comes up. If you're being a jerk, I tell you that my husband got a better job here. If you're super sweet and I don't think you'll cry harder than me, I'll tell you that I had a heart warrior and she's not with us anymore. It's one of my weird "things" I guess.
In the midst of the really ugly, hard days I also see a different beauty I never would have known. A friend of mine told me that I would love harder and more, man was she right. I loved kids before Madi, but I often find myself staring at kids and how cute they are (hopefully their parents don't think I'm being weird.) I want to squeeze all the babies, I mean every single one! I see my friends with their little ones and know that Madi is looking over them. I'll forever spend my life on a different level, with a piece of my heart in heaven. I have a bigger level of empathy, and I thought I was pretty empathetic before. I see a waitress struggling to remember an order so I give her a bigger tip, and write a note on our check to tell her about Madi. It's my way of telling people about her without saying too much. We went to eat one day and I paid for a meal for two guys. I told them about Madi and said it was from her. They hugged me, and said they would be praying for us.
Having our other children around make everything better. I don't think I would take a shower some days if it weren't for them. Tristyn is a typical teenager, doesn't say much but will give me a look and I know that she's missing her. My heart breaks for Gage the most; my sweet, innocent little boy doesn't understand that sister isn't coming home. The day he came up from Albuquerque, he mentioned buying a present for Madison. Erik and I lost it. We explained to him that Madison wasn't coming home and that she went to heaven with everyone else we loved. He ran away, cried and hid underneath the covers. I knew exactly how he felt. Before Christmas we would go to the store and he would ask to buy her a present, oh man that wrecked me. He asked Erik one day if we were still going to have a Christmas…talk about gut-wrenching. Hayden is 2, so she doesn't really understand any of it. We talk about Madison and she uses her blanket, always making sure I know that it's "Madsun's bankey," not hers.
Erik and I are irrevocably changed, as husband and wife, as mother and father and as individuals. We've been together almost half our lives, and I think it's fair to say that we've been through it. Erik often jokes that our life could be a sad country song, hell at this point it's a whole album. I thought that we were done with storms, but the truth is you're never really done. There's always going to be storms, it's called life. All I care about is having a man by my side who isn't afraid of weathering the storm with me, every single one. Erik is everything I need and more. I am so blessed to have someone to share my grief with, and we will get through this together, like we always do.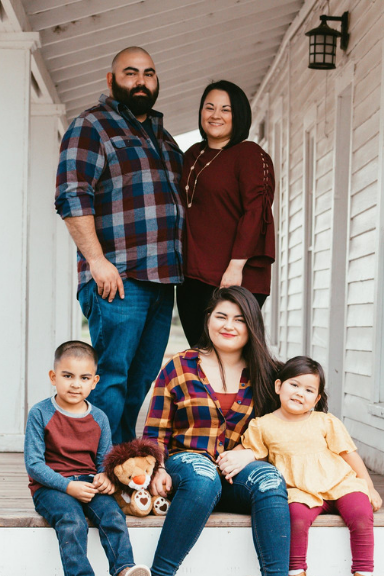 There are times when I look up at the sky, smile and say, "I see you baby girl." I know she's everywhere, watching out for us. I miss her so much my chest physically hurts. I find a small comfort knowing that she has a whole bunch of people loving on her in heaven, but sometimes it isn't enough. Sometimes even though you made the right choice it still isn't enough. Even if you knew during pregnancy this was always going to be the end game it doesn't make it easier.
All I can say is, "I'll love you forever, I'll like you for always, as long as I'm living my baby you'll be."
Heather has been married to her high school sweetheart for 13 years. They have four kids Tristyn, Gage, Hayden, and Madison is their heart baby, who passed away at 41 days old. Since Madi died in November of 2017, Heather has dedicated her life to contributing to causes that helps families like hers, including PCHA, and sharing Madi's story any chance she gets.
Photo submitted by contributor.
Originally published: May 23, 2019