To My Heart Healthy Twins, Thank You for Being Patient With Me
---
I'm so proud of you both. Over the last 18 months, our family has been in survival mode… even you, and you're both only 5 years old. I know I have been a different mama to you since we found out about your baby sister Nylah's congenital heart disease. I'm not the same. Nothing is the same. I cry a lot more, and smile a lot less. Yet, through it all — the tears, the breakdowns, the hospitalizations, the confusion you must feel — you've both been my biggest (and littlest) pillars of strength.
You've wiped my tears, you've sat on the floor and hugged me tight after her cardiologist unexpectedly called to deliver bad news yet again. You've been at the hospital with a smile on your face, packed with toys and snacks, wearing your "I love NYlah" shirts and capes on your backs through every one of her five surgeries. Your support and love for your baby sister has never wavered. You've both become her real-life superheroes… and you're mine too.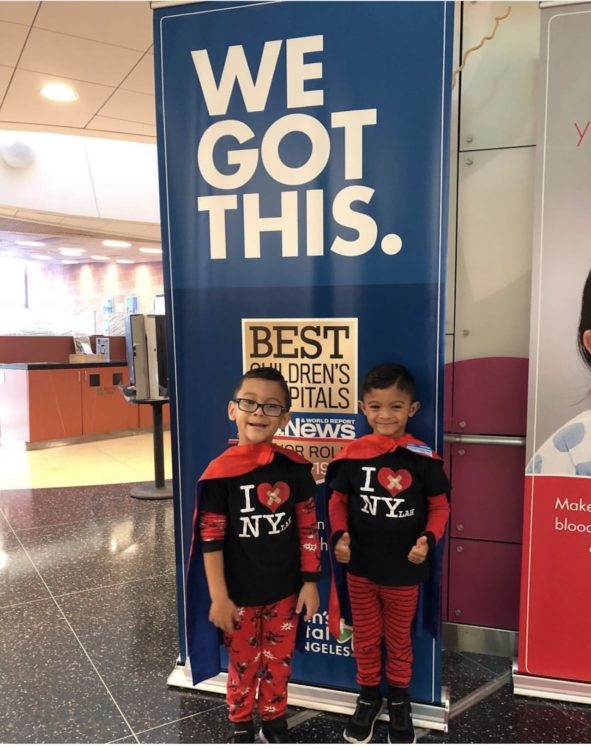 Nylah is so blessed to have you, Noah and Nikoh, as her big brothers. Her protectors. We are all so blessed to have you. The genuine love you give daily… it is healing. Your hugs and sporadic hand-blown kisses, absolutely magical.
I never realized how much your baby sister's congenital heart disease would change the trajectory of our lives. But it has indeed changed everything. Every single part of our life is planned around her, and I often wonder how that makes you feel. Despite how hard I try and make up for all the parties, vacations and regular fun days you miss out on, you never question why her health has to come first.
You always understand — even at the tender age of 5.
You're still absolutely loving, you're still ridiculously sweet, you're still my rambunctious little twin boys whose smile light up even the biggest rooms.
I'm sorry I haven't been there for you like I should be.
I'm sorry my tears may seem like they are always falling.
I'm sorry you sometimes have to be caregiver to me — your heartbroken mama who is desperately trying to keep herself together.
I'm sorry at such a young age you know what a congenital heart disease is, what a scar from an open-heart surgery looks like and why your sister's heart needs constant repairs.
I want to thank you both for the unconditional love you've given to your baby sister, and to me, too. Thank you for wanting to always help give her the daily medications she needs, for trying to soothe her when her reflux is acting up, for asking me questions about her Tetralogy of Fallot, for asking about Dr. Starnes and Dr. Sullivan (names you hear frequently) and why they always need to see your baby sister, for asking to sing aloud the uplifting songs we've all memorized and sing in the car when you know I am feeling down, for running to grab whatever it is mommy needs for her when you see me in a panic… often before I even ask for your help.
I see how hard you try to be there for her, and I am so grateful for the patience and love you show to her and I every single day.
I know you deserve better than what I have given you lately. But I promise that every day, I keep trying to get back to that carefree mama you used to know. In the meantime, thank you so much, my little boys, for loving me as a I am. When I am an emotional mess, when I am short-tempered with you, when you don't see me for days at a time because I am the hospital with her, when I have to push your everyday little boy wants to the side because I have to focus on keeping her healthy… you still smile, hug me and love me.
I know I have been at my worst these past 18 months, but you still have made me feel like I am the best mama in the world and for that, I am so grateful to you.
I love, adore and appreciate you and the way you love our Nylah.
Love,
Your Mama
Photo submitted by staff.
Originally published: July 16, 2019