If Your Child Has Received a Cornelia de Lange Syndrome Diagnosis, Please Hang on to This
---
Following my daughter Hannah's birth, I was strongly advised by a doctor not to Google anything.
Hannah had a plethora of medical issues, and there was speculation they were linked to a syndrome. Frustratingly, no other information was forthcoming – aside from the usual stuff we parents of children with additional needs often hear, such as "your child may not walk, talk, hear, see," etc.
So what did I do? I completely ignored the "advice" and I Googled. Of course I did; who wouldn't? In fact, I Googled until my eyes went all fuzzy. I typed in every single medical word that'd been said to me over the previous few weeks (and, believe me, there were a lot!) and three distinctive rare genetic syndromes kept coming up time and time again. Then, when I looked on Google images, I could clearly see Hannah's developing features in the faces of some of the other children… especially children with one particular syndrome.
It didn't take a rocket scientist to know that this was, most likely, going to be Hannah's diagnosis.
…and that scared me.
So when I sat in the office of the Genetics Department and the Professor confirmed Hannah's diagnosis of Cornelia de Lange syndrome — the words I didn't want to hear — the room closed in on me. I thought I'd never breathe out again, and that I'd most certainly never smile or laugh again.
Even though, for me, it was important that Hannah received a diagnosis, it was physically and emotionally painful to hear. It was completely overwhelming and it felt like both our lives – now so inextricably linked – were over. It felt as if we were destined for a life full of cold grey skies, without any sunshine. I can categorically say that was one of the worst days of my life, and the memory of it is still very vivid over six years on.
All those web pages that I'd pored over seemed to paint a pretty scary picture, and didn't give me any glimmer of hope for the future. I really needed something, anything to hang onto. I didn't particularly want to read about the gloomy, scary stuff, but I wanted to read the facts. I'm from the forewarned is forearmed school of life. I also wanted to read about what I could do and what, perhaps, not to do. What to look out for. What therapies or diets might be beneficial. I wanted anything and everything. I also wanted some encouragement and optimism. I didn't just want to read medical research, I wanted to read about life and maybe, a little bit of hope. Perhaps I just wasn't looking in the right place.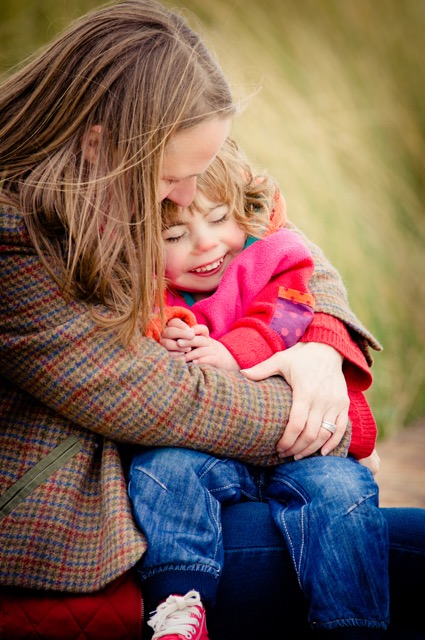 Two years ago, once our world had settled down a little and I felt ready to write, I set up my own blog.  I use it to chart Hannah's journey, as catharsis for me and hopefully helping to reignite my sense of humor, but the core purpose is to try and give families that tiny glimmer of hope – something that I'd so desperately needed but didn't find.
So if your child has recently received a diagnosis just like Hannah's, please hang on to this:
Life may get pretty rocky and test you to your limits. You may have some overwhelmingly challenging times ahead where you'll shed so many tears, you feel you'll never get out of the darkness. You might feel like you can't go on anymore – but if you can manage to change direction from the life you anticipated you'd have, ditch all those aspirations you had before your child was born, and buckle up for the ride of your life, you will get through it.
Sure, you'll have bad days — that's natural, that's life! — but you'll hopefully become stronger than you ever imagined. You'll be thrown into a whole new world that opens up different opportunities and experiences. You will breathe and smile and laugh again. You will have fun. You can have a beautiful and enriching life with your child — you just need to look at life from a different perspective.
And remember, you're not alone. There's lots of us out here on our own journey, who have an understanding of what you're probably going through. Don't ever be ashamed of asking for help, don't be scared of expressing how hard this journey is, and don't hesitate to reach out if you're feeling lonely. I promise we'll catch you.
Follow Hannah's story on My Kid Loves Broccoli.

The Mighty is asking the following: Write the article you wish you'd found the first time you Googled your or a loved one's diagnosis. Check out our Submit a Story page for more about our submission guidelines.
Originally published: June 6, 2016