I Founded a Nationwide Protest Against Opioid Restrictions. Here's How to Join.
---
As a long-time Crohn's disease sufferer, pain was a constant reminder of my illness. Up until three years ago, I lived in a hospital bed. With Crohn's, comes debilitating pain, high fevers, kidney stones, and constant trips to the bathroom.
Three years ago, pain management was introduced into my life and everything changed for the better. A clean diet, training daily at the gym, and a small dose of opioids afforded me the ability to become a fitness competitor, a patient advocate, and an author.
Two years ago, I started advocating for people in the Crohn's community that could no longer access pain medication due to the over-corrected Centers for Disease Control guidelines for opioid prescribing. Weekly advocating turned into daily advocating. I would get on the phones with doctors, nurses, risk management, or whoever I needed to, in order to get a patient pain relief.
In October 2017, I decided we needed nationwide media coverage and I organized a nationwide protest. I called it the Don't Punish Pain Rally. It started with a Facebook page with five members and it grew quickly. I announced the first rally would be in April 2018. I had some amazing people help me because I was not Facebook savvy. I wanted to give people all the tools they needed to organize a successful rally. So I created a letter that they could send to their senators, congresspeople, and various governmental agencies. I created a press release that could be sent to various media outlets and gave members ideas to put on signs that could be held at the rally. Most importantly, I tried to be creative in getting media to attend.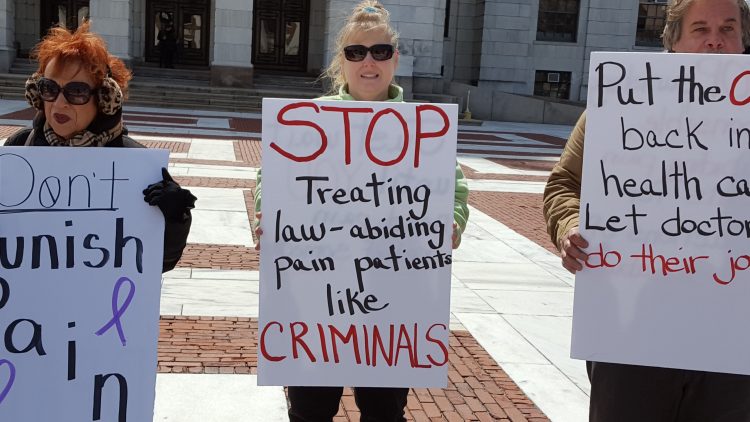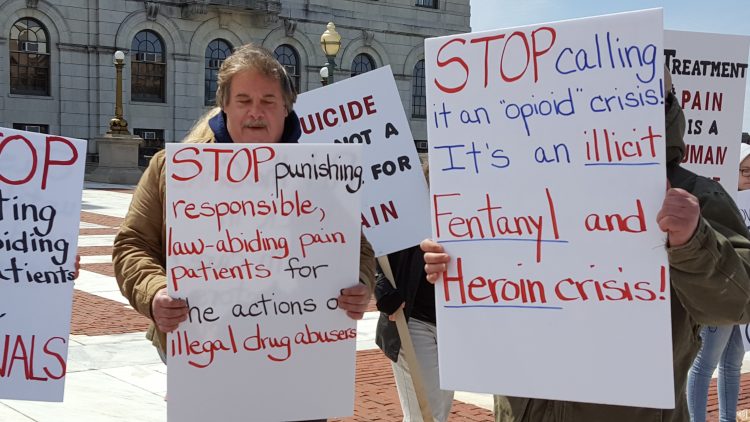 There was an incredible amount of work involved and many of us had to put our families aside to achieve what needed to be done. Before we knew it, April's protest was here and it was a success! We had a goal and achieved it. But soon after April's rally, membership continued to grow, and this time, providers were reaching out to me. I decided we would protest again, and this time around, I also offered help to Canada.
I announced September 18, 2018 would be the next protest. This time around, things would be different. I decided this protest in September would be created so that all could attend. If a patient couldn't attend the rally at their capitol, I suggested a myriad of places to protest: pain management centers, hospitals, state/city venues, TV stations, and different pharmacies. I created a website for people that didn't use social media. Although I don't raise money, I knew I needed a radio spot and advertising was a must. The great thing about protesting is you can organize one for very little money. Most of our members provide volunteer services and are happy to assist new members.
Doctors, journalists, and thousands of others have joined the Don't Punish Pain Rally National Facebook page so they can be a part of what I consider to be a "movement." I organized the "Doctor's Collaborative" due to the high number of providers that were contacting me with their stories about how restricted their ability to prescribe opioids to their patients is. I wanted to create a forum where they could support one another but do so anonymously. So I created that through the website. I'm proud of what has been accomplished and I pray that we can affect change throughout the country with the Don't Punish Pain Rally Organization.
To join the protest and find out the nearest venue to you, visit us on our website or you can join the national Facebook page (once you're on the Facebook page, you'll be guided to your state page). If the venue closest to you is too far from where you live, you can find another venue and we will help promote you and help you get media attention.
Providers as well as members can visit us at DontPunishPainRally.com.