How I Stay Involved in My Community After Medically Retiring
---
When I "retired" early due to the severity of my chronic autoimmune diseases, I knew I would have to be careful not to disappear in my own life. Statistically, early retirement also means an earlier demise, understanding that this statistic is not a given, I did realize the need to stay present and relevant in my own life. But when you have had a chronic disease your entire adult life, what does that mean? How do you do that?
I have lived with an insidious, chronic disease for 40 of my 58 years, and it was quite easy to become overly self-focused. My professional career was a large part of my life and my identity. Losing that focus and self-definition was, well, devastating. Many people think retirement is the holy grail of goals, but when your health takes control and plans suddenly get upended, the retirement becomes a less than celebratory event.
Remaining relevant and active in retirement is important for everyone, but not as easy as it sounds when you have multiple autoimmune diseases which flare with little notice, so planning to volunteer someplace or help others becomes a source of stress and worry, instead of the amazing opportunity to give back and help others, as it should be.
It comes down to being creative and looking at the world through a different set of lenses. You have to ask yourself, "What can I do that will allow me to still be sick, and fatigued, is flexible around a gazillion doctor appointments, and still helps me get out of my own pity party and do something to help others?" And then the perfect opportunity fell into my lap.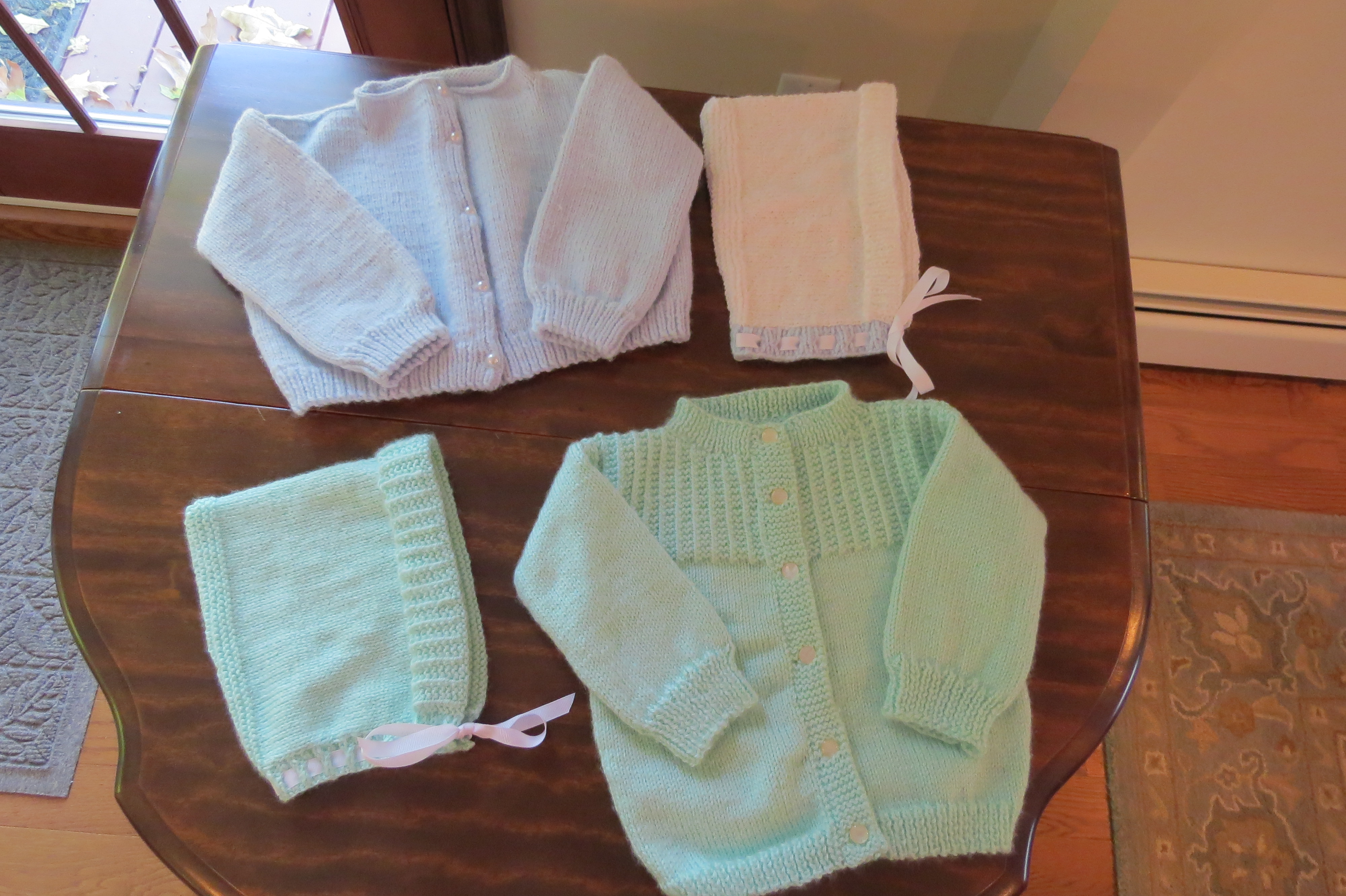 We were attending a baby shower for our niece and met a lovely woman who came over to compliment me on the beautiful baby sweater and hat I had knit for the young couple's first child. We got to talking and she shared with me that she is active in a group in Danbury Connecticut who holds a large auction and gala every year raising money to support persons, both men and women, living with and surviving breast cancer. She also shared that the woman who used to knit baby items for them had recently passed away. She asked me if I'd consider working with them and knitting something for their auction. She even offered to mail me yarn or pay for the yarn I used, but that wasn't what I needed. I was fine getting my own supplies. I needed the opportunity and I was willing (and honored) to make something to donate to their auction.
The shower was in May of 2016 and I was excited to begin knitting for their event in November. I had a plastic tub of yarn that had belonged to my mother, who was a wonderful knitter. She taught me to knit at an early age and I had knit a lot during hospital stays in my late teens and early 20s. To make it more interesting, my mom had died of metastatic breast cancer eight years before, so this was quickly became both a labor of love (knitting), but also a chance to give to others who are going through similar experiences to what my mom went through.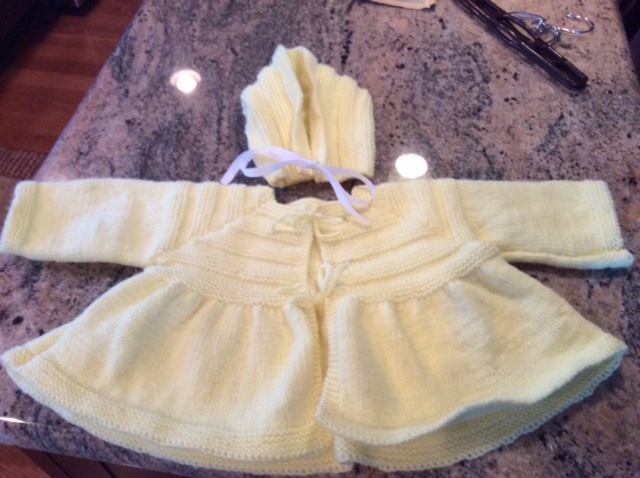 July of that year rolls around and my wife was diagnosed with an aggressive form of breast cancer requiring major surgery, a double mastectomy, and chemotherapy. Little did I know that when I was approached about knitting for this group, that I would actually be knitting while I was waiting for my wife to go through seven hours of major surgery and reconstruction, as well as knit while accompanying her to each of her chemotherapy treatments! The irony of this is not lost on me, or her, and the most important factor for me was that I was able to be helpful to an outside organization, as well as support my wife, and the memory of my mother, and do what I had always wanted to do in retirement; I wanted to help others! To date, I have sent them three sweaters and bonnets for their assorted auctions.
I guess the moral of this story is don't give up trying to find something to help you feel useful and relevant in your own life. If you have inflammatory bowel disease and struggle to leave the house, or you struggle with some other medical issue that frustrates you because of the limits it puts on your socializing, there are still ways and things you can do to help others! Hold a food drive for your local food bank. With the holidays rapidly approaching, it is a wonderful time to help. Have people bring food to you and then you can choose a day when you feel well and able, and drop it off, or even have a friend or two go with you and have lunch after. Make a day of it and get out of yourself; because, as we all know that in helping others we are also helping ourselves!
We want to hear your story. Become a Mighty contributor here.
Thinkstock Image By: seb_ra
Originally published: November 3, 2017