This Is Why People Are Sharing Photos of Their 'Moon Face' on Social Media
---
"Moon face," or the round face some people get while using steroids like prednisone, is a common and sometimes difficult side effect of chronic illness. Though opening up about how hard it can be when your face changes shape isn't always easy, many chronic warriors have taken to Twitter to show off their own moon face in support of another in the community.
British magician Dynamo (real name: Steven Frayne), posted a video on Twitter Tuesday, explaining that he has kept a "low profile" recently because he's been sick with food poisoning, which was exacerbated by his Crohn's disease. He also said he's developed a "bad type of arthritis" that has affected all the joints in his body, and acknowledged how his appearance has been affected.
"As you can probably see my appearance has changed quite a bit due to all the medication," he said. "I'm on quite a lot of tablets, and all the medication has caused me to put on quite a lot of extra body weight as well as a rash that's all over my head. It's actually all over my body but thankfully you guys don't have to see that."
Thank you for all the kind support. Here's a little update on the situation. #roadtorecovery #iwillbeback pic.twitter.com/Qlh45ycKbw

— Dynamo (@Dynamomagician) March 27, 2018
Fans quickly noticed that Frayne's appearance seemed consistent with "moon face," especially since prednisone is a common treatment for Crohn's disease. Melanie Maddison, who uses the Twitter handle @GiftedHand, and her friend Sarah Phillips started the hashtag #moonfaceforDynamo to encourage others to share.
Not yet, but the giggles are good medicine tonight. It's been a long day! #moonfacefordynamo ? Anyone else want to chime in and create a good one?

— GiftedHand (@GiftedHand) March 27, 2018
Maddison told The Mighty she uses self-portraiture photography as a medium to help her deal with challenges due to her inflammatory bowel disease, and she's been documenting changes to her appearance for a while. She said Frayne's bravery inspired awareness and an open dialogue, and she felt moved to longer hide or feel so shamed, and encourage others to share, too.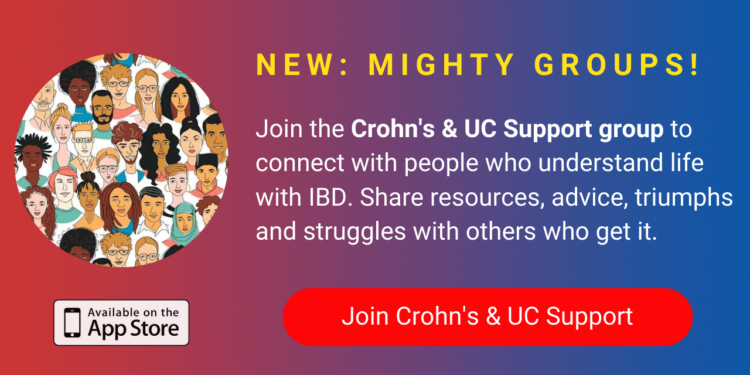 "There's so much pressure from the wellness world online to stay away from pharmaceuticals and do it all naturally," she said. "Sometimes, though, we have absolutely no choice but to medicate or end up dangerously unwell and hospitalized."
Twitter users began posting their own moon face selfies to support Frayne and raise awareness of Crohn's disease and other chronic illnesses.
#moonfacefordynamo
Before and after
Crohns is not fun it is painful and can ruin anyone's life@Dynamomagician we all stand with you pic.twitter.com/cYBG49ZuOJ

— joshua pitman (@PitmanJoshua) March 27, 2018
Just remembering it's the face that changes not the person Here's my flaring and remission pics #moonfacefordynamo #AlwaysBeKind ❤️ @Dynamomagician pic.twitter.com/y5f6004njl

— ???? Vicki Grant (@queenvickig) March 28, 2018
@Dynamomagician #moonfacefordynamo @thismorning @Schofe @hollywills pic.twitter.com/ebBBIPo8cV

— Kimmi Robinson (@MissKimmi82) March 28, 2018
#moonfacefordynamo ❤️ #IBD #CCUK https://t.co/CT7rVLYxlT pic.twitter.com/9Oik2ch5bK

— Alice Tulip – Bristol UK (@blcktulipbeauty) March 28, 2018
#moonfacefordynamo pic.twitter.com/LlaYxkFOa8

— Charlie (@charliepavitt) March 28, 2018
Share your 'moon face' photos to raise awareness of #Crohns and #Colitis and show support for @Dynamomagician! #moonfacefordynamo pic.twitter.com/Dhd6F9QgZS

— Crohn's & Colitis UK (@CrohnsColitisUK) March 28, 2018
#moonfacefordynamo we all feel your pain, but we will get better soon! I wish you all the best @Dynamomagician pic.twitter.com/0Z2qBdatgb

— Adriana São Vicente (@Dricatica) March 28, 2018
In Nov 2017, I was diagnosed with #ulcerativecolitis – basically a pretty nasty Inflammatory Bowel Disease. To treat this, I've been on steroids for 16 weeks which give people #moonface So I'm sharing this #moonfacefordynamo to show just one side effect of the dreaded steroids! pic.twitter.com/ruqlhdwXQW

— Michelle Byrne (@MissMByrne) March 28, 2018
Sharing to raise awareness of #crohnsdisease & #ulcerativecolitis & support @Dynamomagician. I weigh less in the first picture, but you can't tell by the moon face. #moonfacefordynamo#moonface #steriods #prednisone #ibd #inflammatoryboweldisease #spoonie @CrohnsColitisUK pic.twitter.com/UAilsLmcH1

— TheMisadventuresOfASpoonie (@the_spoonie) March 28, 2018
Prednisone, a corticosteroid that helps calm inflammation, causes "moon face" through weight gain and redistributing fat deposits to areas like the face, back of the neck and abdomen. It typically goes away within a few weeks of stopping prednisone. Last year, "Modern Family" actress Sarah Hyland revealed that she uses a roller tool on her face to deal with moon face, though she admitted, "I don't know if it actually works."
Originally published: March 28, 2018