To the Woman Without Her Mother
---
My very first Mother's Day without my mom, I was pregnant with my first baby. My mom had passed quite suddenly just six months before I discovered to my delighted surprise that I was pregnant. I was married, but I was also grieving and a baby wasn't on my mind. This precious surprise brought literal life back into my being. 
But that first Mother's Day, just a few months pregnant and beginning to show off a swelling belly, I sat in the new church we were exploring. I didn't really know anyone well just yet. I thought I was composed, but then the pastor spoke about how wonderful mothers are and how we had a great opportunity and responsibility to honor and spoil our mothers on their special day. 
The words tore at my heart. With each word of praise and celebration of mothers, I felt like I was being kicked in the chest, stealing my very breath with every blow. As much as I struggled against it, I began to quietly sob. I felt trapped: if I got up, everyone would know for certain that the sound of heartbreak came from me. But if I stayed, the congregation would be subjected to my meltdown.
Having lost my mom in my mid-20s, we were just beginning to be friends. We hadn't been able to share the experience of this pregnancy, but we had morphed into a friendship where we could speak more freely and enjoy each other's company. I longed for that relationship again and for the comfort and security of my mom. 
When I would see a mother and daughter arguing in a store, it hurt. I wanted to grab the daughter (who was most likely rolling her eyes saying "Mu-ther!" as I used to) and tell her that her mother could be gone tomorrow, without warning, like mine was. I wanted her to know that she should literally embrace her mother and soak up every detail of her — her voice, her laugh, her smell, the feel of her skin, every curve of her face — because when her mother was gone, she would be desperate to remember every bit of those details. 
I wanted her to know if she has a mother who loves her and disciplines her and cheers her on, that she's the luckiest girl in the world and no other earthly being would ever love and adore her quite like her mother would.  
I wanted to tell her to ask all those important questions now: when did I get my first tooth? How old was I when I walked? How did you know when you were in love? How will I ever get by without you someday?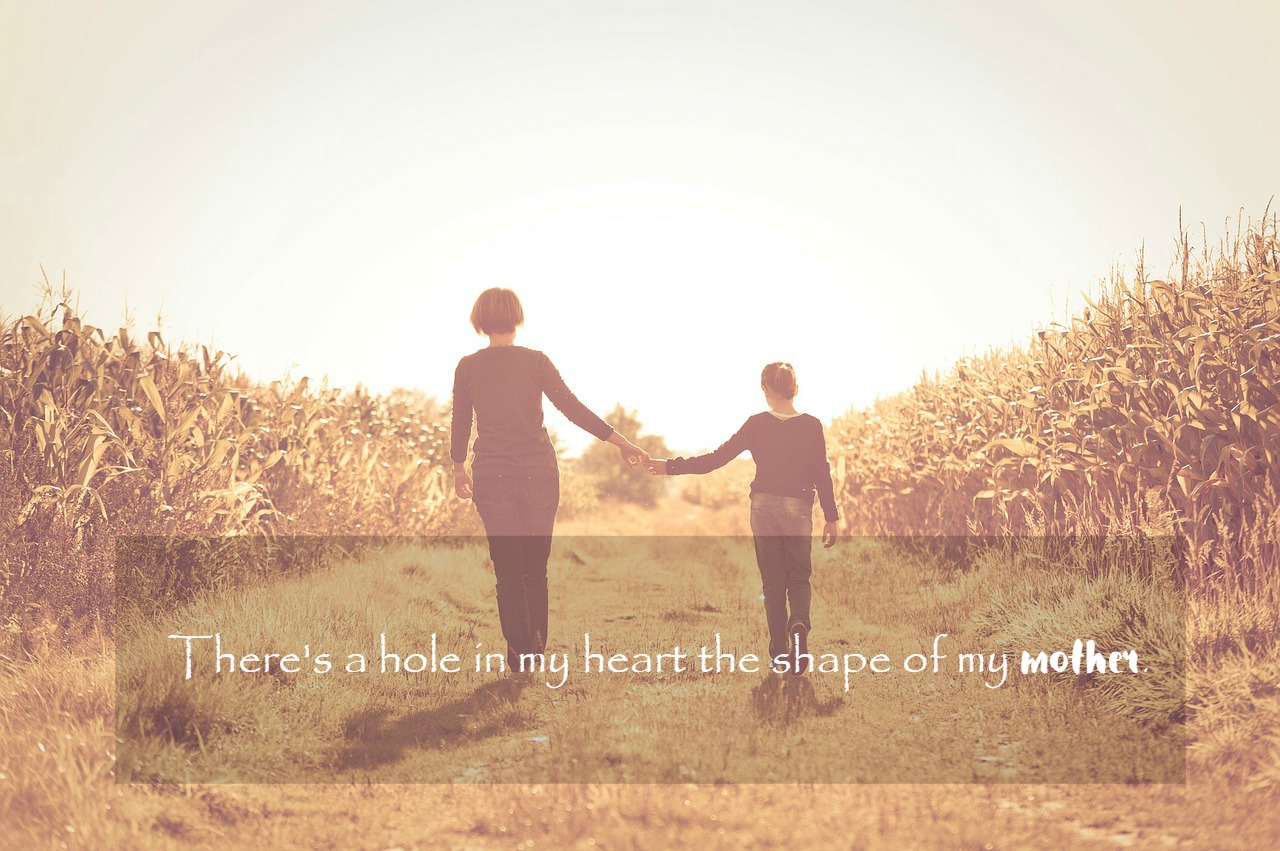 I wanted the daughter to grab hold of the relationship with her mother and make it the very richest it could be, like her life depended on it.
I wanted her to know she could be inflicted someday with a painful disease, like I have been, and that her mother would be who she reached for. I wanted her to know that when I was diagnosed with Crohn's disease years earlier, it was my mother who held my hand during every hospitalization. It was my mom who asked questions and advocated for me. It was my mom who got my medicine and helped with care coordination and accommodated my diet and tracked my surgeon down on Christmas Day because I was in so much pain and couldn't bear to even open my eyes. I wanted her to know…
This will be the 19th Mother's Day without my mom. As the holiday draws close each year, I look away from the magazine ads telling me where to get the best deal on a diamond necklace "for mom." I turn the channel quickly when the florist commercials come on. They're a painful reminder that I can't adorn my mother with jewels or surprise her with flowers any longer. 
In the midst of my clinging to the memories of mom though, is the beautiful gift of motherhood to unwrap for myself. Even though she couldn't be involved in my motherhood journey, mom taught me how to be a devoted mother. I am eternally blessed and honored to be able to celebrate Mother's Day with my children, the very treasured beings who made me a mother. It's a day of looking back and one of pressing forward with this adventure of parenthood, of supporting and honoring the two beautiful children who made this day something to smile about again.
The Mighty is asking the following: Share a conversation you've had that changed the way you think about disability, disease or mental illness. If you'd like to participate, please send a blog post to community@themighty.com. Please include a photo for the piece, a photo of yourself and 1-2 sentence bio. Check out our Submit a Story page for more about our submission guidelines.
Originally published: May 4, 2016