When a Nurse Reminded Me It's OK to Not 'Get Used to' My Illness
---
Every six weeks, I go to the hospital for Remicade. I sit in a chair, IV in arm, and alternate working, reading, watching TV or just napping. After a few hours on an IV drip, I get disconnected and go home until the next infusion. It's pretty uneventful.
This one infusion, though, the nurses couldn't get the IV started to save their lives. First the infusion nurses tried — all four of them, two sticks each, except for one brave soul who tried three times. Then, the charge nurse came in with an ultrasound. She sat there for several minutes, patiently going over both of my arms in a failed attempt to locate a vein. She didn't even attempt to stick me. 
Eventually, a PICC nurse was called. With an ultrasound, an extra-long catheter and two sticks, the IV was in. It had been a full hour-and-a-half of being poked and prodded, and if the infusion wasn't started in the next few minutes, the medicine would expire and the nurses would need to request a new bag from the pharmacy. 
Having spent the entire morning in classes, I was already exhausted. I looked like a pincushion from all of the bandages on my hands, arms and wrists. Because my doctors had been experimenting with spacing out my infusions further, I was feeling the beginning twinges of a Crohn's disease flare. It was not a good day.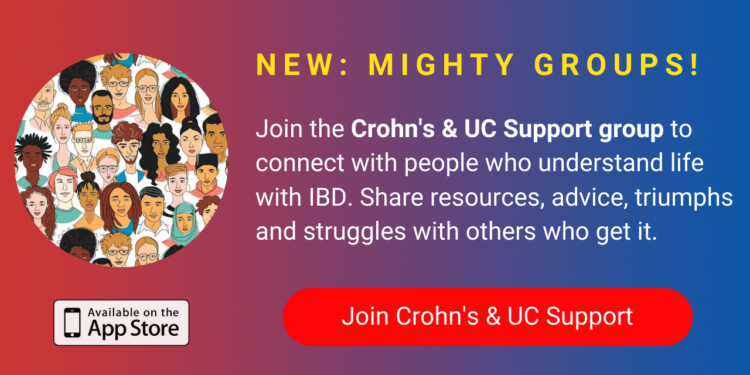 The nurses felt awful. They kept apologizing, despite my assertions that I was fine. I know I'm a tough stick; almost everybody has trouble with me. When my nurse for the evening came in to titrate the medication, she apologized once more, saying "I'm so sorry, I know that must have been painful. You were so calm, though!" 
Unthinking, I responded, "It's fine, I'm used to it." Then, with a smile, "Practice makes perfect!"   
Still serious, the nurse said six words that totally changed the way I think about my disease: "That doesn't mean it doesn't hurt." 
This is true, of course. But somewhere along the way, I had picked up the impression that I was supposed to be getting used to it. These things weren't supposed to bother me anymore, like they did when I was a terrified 11-year-old. Sure, my joints hurt, but they hurt every day. I'm used to it. Yeah, I sometimes have to run to the bathroom after I eat, but I know the ways to do it without alerting anybody to my circumstances, because I'm used to it. I'm at my local lab often enough for the phlebotomist to know me by name, so of course getting blood drawn doesn't bother me. I'm used to it. I have IVs put into me once a month, minimum. It shouldn't hurt any more… because I'm used to it. 
When my nurse said those six small words, though, words she probably didn't think that much of, everything changed. I may have accepted the knowledge that my body is intent on destroying itself from the inside out, but that doesn't mean the destruction isn't painful. I may spend an inordinate amount of time in hospitals, but that doesn't mean that somebody shoving a catheter into my veins doesn't hurt. 
It's been months since this encounter, but when I'm having a particularly hard time, or when I'm feeling as though I can't put on a brave face anymore, I think about what that nurse said to me that night. I can be strong, fight this disease, survive this disease and still hurt. Just because you're hurting, too, it doesn't mean you aren't tough. It means you're a fighter.
The Mighty is asking the following: What's the best thing a medical professional has said to you related to your (or a loved one's) disability, disease or mental illness?  Check out our Submit a Story page for more about our submission guidelines.  
Originally published: June 27, 2016