When People Are 'Grossed Out' by Your Disease
---
"It's called Crohn's disease, it's an autoimmune disease that causes inflammation in the gut." That's how I used to respond when someone asked about my disease. Most people left it at that or gave me some sort of sympathetic response. They don't ask about what the inflammation does to me or how the disease manifests. "Disease of the gut" seemed like a safe response. It was a response that saved me the burden of grossing someone out by my disability.
People are grossed out by diarrhea; people are grossed out by the word diarrhea. Generally, society is grossed out by butts and bodily fluids, period. I was diagnosed at 14 and up until this point I've felt ashamed of my illness. I've been embarrassed about my disease and absolutely everything that comes with it. I'd rather pretend nothing was wrong than have to tell someone about it. But I've been struggling for five years now, so this is what I want to talk about. This is what I want people to know about my disease that I don't talk about.
I don't talk about the nights I spend in the bathroom shivering on the toilet because I have diarrhea for the 27th time that day. I don't tell people about getting faint and choking on my own vomit. I don't talk about the hours I spend curled up crying with abdominal pain. I don't talk about the quarts of blood I've passed through my bowels or how tired I am because I haven't eaten in a week. I don't talk about my annual colonoscopies or rectal exams. I don't talk about the endless prescriptions and dangerous drugs. I don't talk about bowel incontinence or the anxiety of public restrooms. I don't talk about how depressed I get when I'm too sick to leave the house for weeks at a time.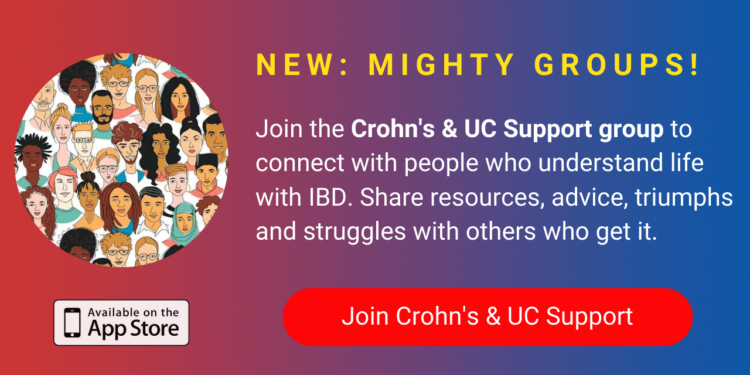 Crohn's disease has drastically affected my quality of life, so why aren't I talking about it? Why do so many people have IBD yet so little people know what Crohn's disease actually is? What is so taboo about diarrhea and butts and colons and puke and poop? Why have I spent so much of my life being ashamed of something I have no control over?
Yeah, I know, IBD is "gross." But I'm over it. I'm not the only person suffering like this and I'm sure I'm not the only one who has felt embarrassed by their disease. Since I've started talking openly about my disease, I've properly educated people on an extremely debilitating and dangerous condition that affects millions of people all over the world. I love my body, and I'm over being ashamed because society thinks my disease is gross. I'm not any less of a person for suffering from an embarrassing disease. IBD isn't a private or hygiene matter, it's a public health matter and we should all know and advocate what Crohn's disease really is. I want to bring true awareness to my "gross" disease.
IBD stands for inflammatory bowel disease and is the chronic inflammation of the digestive tract. IBD consists of ulcerative colitis and Crohn's disease. The conditions are similar and cause severe diarrhea, pain, fatigue, weight loss, and countless other symptoms. IBD is debilitating and can lead to life-threatening complications. Yeah, it's kinda gross. Get over it.
We want to hear your story. Become a Mighty contributor here.
Originally published: October 26, 2016