7 Ways to Manage Your Crohn's Disease in the Office
---
I am a full-time marketer for a corporate software company. It's a great place, with amazing people. When I was hospitalized and then healing, they were so unbelievably supportive and understanding, which is hard to say for a lot of companies. My team surprised me by decorating my entire desk in Iron Man gear when I returned from getting my iron infusion.
If you have Crohn's disease, you know it's such a pain in the ass… literally.
Symptoms differ from person to person, but for the most part, you can expect to deal with:
1. Abdominal Cramping
2. Diarrhea
3. Fatigue
4. Bloating
5. Loud Intestinal Noise
So, how do you deal with the above while trying to live a "normal" life in the office? All of those symptoms make daily life pretty difficult, but there are ways to make it easier on yourself and those around you.
1. Be honest about your disease with your colleagues.
This may be hard. Crohn's can be embarrassing, for sure. But it gets way easier if you maintain a sense of humor, and love a good poop joke: Did you hear the one about the constipated composer? He had trouble with his last movement.
When I was first diagnosed, I told my boss and team right away. I wanted them to know that if I needed to be out for a day, or if I seemed to be "off," it wasn't me slacking… it was just my intestines playing dirty tricks on me.
2. Try to get a standing desk. 
Seriously! This may seem counter-intuitive, because when you're flaring, the thing you want to do most is lay down and not move. But on days when you can stand it, try standing up. I felt that sitting all day was crunching my intestines in a way that was preventing healing. I was luckily able to get a sit/stand desk that allows me to spend a lot of my day upright, which is helping.
3. Try not to get embarrassed.
If you're like me, and your intestines make noises that sound like an alien is going to emerge from your body at any moment, then you will be in situations where your going to get weird looks from everyone in the room. Just try to roll with it. I let everyone I am in meetings with know that if they hear my stomach, it's normal. I'm fine, no I'm not starving, and no I'm not going to have to run to the bathroom… OK, maybe I leave that last part out, but I do keep them in the loop so that way when it does make noise, which it almost always does, we can just continue along our business. A positive note – it has definitely lightened the mood in many meetings. If there was tension, my intestinal noises sure loosened it up.
4. Get comfortable "going" in public places.
We all know by now that Crohn's, or colitis, or irritable bowel syndrome (IBS) means that you're going to have to get really familiar with going to the bathroom at your office. I know it's awful, not fun, and frustrating. But try to time it where you can have some "you time." Or, find a bathroom that has a little more privacy. I knew a guy who would drive to the local coffee shop every morning to do his business. Hilarious, yes… realistic? Not really.
5. Work from home on bad days if you can.
Thankfully, I'm able to work from home on days when I'm in a lot of pain and have a hard time functioning at the office. I post up on the couch with my laptop and try to lay still, and usually, just one day helps reset myself enough to be back in the office the day after. Talk to your boss and see if you can work out an arrangement where you can telecommute when you're flaring.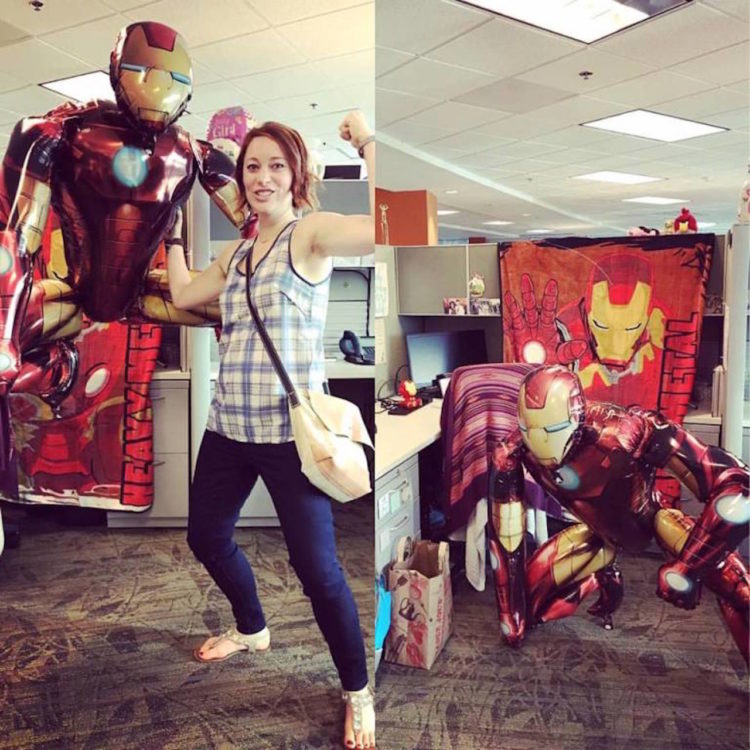 6. Bring your own snacks.
If you stick to a restricted diet like I do, it's imperative to have snacks that are ready that are good for your diet. In my drawers at any given time, I have some soups and broths, paleo granola, apples, LÄRABAR, RXBARs, EPIC bars, and more. I'm always prepared!
7. Learn to say "no."
Stress can be a big factor in a lot of inflammatory bowel disease and IBS. If you're finding yourself under water, try to reprioritize your duties to keep it from feeling like the weight of the world is on your shoulders. Also, saying no means that if you're not up to a Happy Hour with coworkers every week, skip it. Or attend, but stick to water and head out early. No one is going to judge you for taking care of yourself, and if you are open and honest with your colleagues, it makes the conversation that much easier.
Yes, we have bad days, and yes, being home sometimes sounds so much better than putting on a happy face for the office. But, being around people who support and love you can make all the difference between feeling isolated and feeling embraced. If your office doesn't have people there that you can confide in, maybe it's time to find somewhere that does. There are good people every where… you just have to look for them.
Follow this journey on Chronically Callie.
We want to hear your story. Become a Mighty contributor here.
Thinkstock Image By: StockRocket
Originally published: August 29, 2017