How Doctors Can Help Chronically Ill Patients Feel Less Vulnerable
---
Dear Doctor,
Perhaps we once met, perhaps we never will.
Regardless of which it is — today I just want us to try and understand one another better. Because if we can try to understand one another more, then perhaps we can work together to help your patients find more holistic healing and hopefully make your job a little easier too.
I decided to try and connect with your heart today, because I know under all those important professional masks, doctor degrees, awards, uniforms, stethoscopes, fancy clothes and endless medical guidelines….
You are simply human like me.
So please, could we connect as equals — as human to human.
First, I need you to know some of my own story for you to understand me better. To know I have been very unwell for nearly five years now. In January 2015, I fell off a small step ladder and that one moment changed my whole life. And from that moment I was catapulted into a life of constantly being someone's patient.…
Maybe being your patient. 
During that time I have met some wonderful doctors who were able to connect with me, listen and who tried to help me as much as they could. I appreciate them more than they will ever know.
They were bright lights in immensely dark places.
But most of the time I have met doctors who didn't really understand. And some who didn't seem to even want to try. I met many doctors who treated me as another inconvenience in their busy day. Another form to fill and box to tick. The nameless, faceless puzzle to try and solve that day.
The reason I am writing to you today is in the hope that somehow we could get better at understanding one another again. So we don't have to end up with all of these painful misunderstandings and confrontations, which can sap your energy just as much as mine.
I know as patients we also need to realize that you are only human too. 
You are not "miraculous supernatural healers" who can defy the laws of medicine, physics and nature. You are simply humans, trying your best to help other sick humans heal up and get well. Many of you wish you could do more for us — not less.
We know there are those of you with equally broken hearts who wish you could offer us more than you do. I am sorry we sometimes forget that you are human as well. When we fail to treat you with the kindness, compassion and gratitude you deserve, as you work with systems that often overwhelm you and bring you crashing to your own exhausted knees.
But today, I can only speak from what I know. I can only try and share from the heart of a very broken patient, who knows that things really do need to change.
You are all overworked and overwhelmed in many ways. And yet some of you seem to be more connected to your own humanity than others and seem to know how to connect with your patients heart to heart.
So I want to say thank you. I know you are the ones listening to me more openly today.
Recently I have been thinking more deeply about what "being a patient" can feel like for us and how to try and help you understand more — dear doctor. 
Especially for those of us stuck lying completely flat in a hospital bed due to a spinal CSF leak.
But also as a voice for your many other patients as I try to explain what it feels like for us to enter your normal vocational world.
You see, for you, the hospital is your workplace. For us, it's often an immensely distressing place. We are not normally there by choice, but because we know there is no other way to get well than to come to you.
So when we enter your hospital work place, we often feel so vulnerable, confused, distressed, exposed and often in so much pain.
One way to describe it to you is that we feel like we are metaphorically naked and exposed for you all to see.
You may not have ever been a deeply vulnerable and distressed patient yourself — so we know it's hard for you to fully empathize and understand — but if you want to try and understand us better when you come to see us…
Can you take a moment to imagine and picture what it would feel like if it were you lying on that hospital bed, fully naked — so exposed, vulnerable and ashamed — with absolutely nothing to cover you up?
Our own masks, worldly titles, fancy clothes, make up, hairstyles and badges of honor have all been snatched or stolen away. So we are subsequently feeling so cold, so messy, so vulnerable, so distressed, so confused and so naked — whilst you are simply getting on with your daily grind in your normal place of work.
Please be kind to us. Please be patient with us. Please listen carefully to us. Please try to understand us.
Don't stand at the foot of the bed and tower over your patient – she feels small already – take a minute, sit down, listen… Try to understand. Realize you will never understand. Try anyway." — C. Sebastian*
Dear doctor, we feel small already. Please don't make us feel even smaller.
In our smallness you can often appear so big, important and intimidating. You are covered in all your doctor masks, fancy doctor clothes, doctors badges and medals of honor, and you talk with your important-sounding "doctor speak."
Sometimes we don't even understand what you are saying.
Because you are not talking to other doctors; you are talking to your naked patient who already feels so very small and so very stupid lying down in that hospital bed.
Please listen carefully to us before you attack and accuse us of not feeling as ill as we say. Please open your minds to the fact that just because we don't fit your boxes, it doesn't mean we are not truly sick.
You are meant to be our healers — not our accusers.
Dear doctor, you should know that after leaving your hospital or doctors office and perhaps never seeing you again, over the past five years I have experienced two intensely excruciating complete mental health collapses. I have also found myself close to those places again and again.
And in those places — normally when I completely relapse physically, I stop sleeping and have no energy to fight anymore — in those places, all of my traumatic memories of encounters with intimidating and insensitive doctors return to me. I picture you as scary "doctor-judges in the medical court," and I don't have the energy to try and prove myself to you again, and face getting my case thrown out with the lack of suitable evidence.
So I want to just give up.
You see, when my impossible medical journey pushes me to places beyond what I can endure, when my mind packs in and my body breaks down due to the immense stress and strain of daily battling a debilitating and distressing misunderstood neurological illness year after year.
I end up feeling more broken, more vulnerable, more distressed, more naked and smaller and smaller than ever before.
I feel like a worthless and insignificant judged chronically-ill nobody. Who just cannot get well. However hard I try.
Dear doctor, I then need you to know that I need you to see me as…
Just another naked and vulnerable human patient……. looking for someone to help cover me up. Someone who can put a blanket of compassion, kindness and hope over me so I won't feel so cold, ashamed and completely overwhelmed from the fight.
You see…
I am your naked patient.
So please understand that in my nakedness, all I can see is all your importance, your knowledge, your intimidation, your doubts about me and my case, your intelligence and words I don't always understand.
So you scare me!
So dear doctor, please be gentle with me. I am not as strong as you think. My heart has been broken and wounded again and again. Some days I just think I will sink.
All I see is my broken humanity. All I see is my naked vulnerability.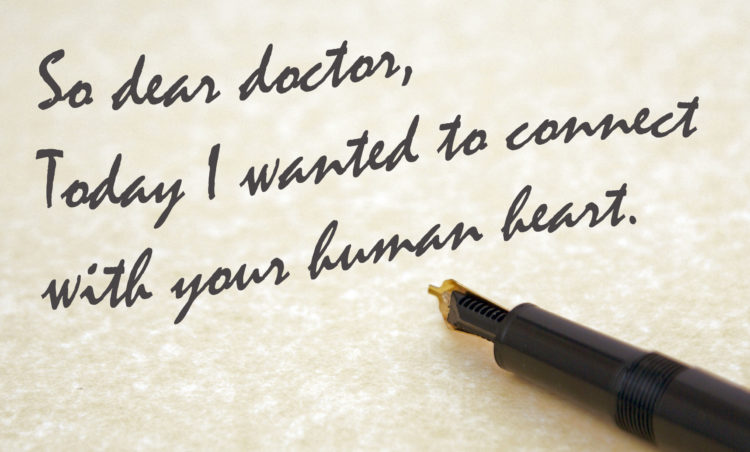 So dear doctor, today I wanted to connect with your heart.
To please ask you…
When I feel that naked, the best way to help me is to remember that underneath all of your adorned and celebrated doctor-robes, you are just a naked human too. You may not feel it so much today, or even tomorrow. You may not really ever understand what I am actually trying to say.
But please try and imagine yourself as that naked patient, lying in that hospital bed. And think about how you can move a little closer to our lowered level and status; to sit down, to listen, to try and understand.
While realizing you can never fully understand.
But please do try anyway.
Because one day…
That naked patient…
Might be you!
And then you will want to meet a kind and gentle doctor, who can also relate and connect to your vulnerable and exposed naked humanity.
And I hope they will try to bring you more holistic healing.
Rather than inflicting wound after wound after wound that can sometimes be even harder to heal from than the original condition over which you met.
Sent, with heartfelt tears, gratitude and deep respect for your willingness to listen and learn.
From,
Your naked patient
Follow this journey on Becky Hill's blog
"Don't stand at the foot of the bed and tower over your patient – she feels small already – take a minute, sit down, listen…Try to understand. Realize you will never understand. Try anyway." – C. Sebastian
(Quote from this beautifully insightful TED talk on encouraging "Narrative Humility" in the medical profession, given by Sayantani DasGupta at TEDxSLC.)
Getty image by Viktor_Gladkov