'Five Feet Apart' Movie Adaptation Follows Teens With Cystic Fibrosis in Love
---
A new movie follows two teens in love, but there's a catch: They both have cystic fibrosis, and can't be near each other without risking their lives. "Five Feet Apart" stars Cole Sprouse and Haley Lu Richardson, two CF patients in a hospital who must keep a safe distance to prevent transferring any germs that could get either of them sick.
People with CF, like Will and Stella in the movie, can transfer germs that lead to lung infections, which is why there's a rule that people with the condition should maintain physical distance.
"Five Feet Apart" was originally a book written by Rachael Lippincott with Mikki Daughtry and Tobias Iaconis. The book's synopsis reads:
Stella Grant likes to be in control—even though her totally out of control lungs have sent her in and out of the hospital most of her life. At this point, what Stella needs to control most is keeping herself away from anyone or anything that might pass along an infection and jeopardize the possibility of a lung transplant. Six feet apart. No exceptions.
It's unclear why the book and movie are called "Five Feet Apart" while the rule, which was put in place by the Cystic Fibrosis Foundation, is six feet apart.
The movie adaptation is directed by Justin Baldoni, most known for his role as Rafael in "Jane the Virgin." On Tuesday, Baldoni shared the poster for the movie on his Instagram.
Baldoni, as well as the cast, consulted with Claire Wineland, a well-known CF advocate who died in September from a stroke soon after a double lung transplant. Wineland founded a nonprofit that helps people with CF and their families called Claire's Place Foundation. The nonprofit shared the movie's poster on Instagram with a caption that read:
Claire and many other people from our CF Community worked with Justin and the amazing cast in the hope's of accurately portraying the reality of life with #cysticfibrosis. Claire actually worked with lead actors Haley and Cole in perfecting their CF coughs and Claire's style and hospital room decorating play a part as well. It will be refreshing for us to see her input on the big screen.
While neither Richardson or Sprouse have CF, Sprouse told Teen Vogue that it's important that the portrayal be as authentic as possible.
"There are some roles that carry a real responsibility for accurate representation, this was one of them," he said. "Some say the currency of poetry is the acceptance of other poets, and I desire no audience more greatly than those who resonate with the challenges shown by the characters of this film. It's my hope that we did them justice."
People in the cystic fibrosis community shared mixed reactions to the movie on Twitter and Instagram.
As soon as I saw the title, I knew this was about CF. I'm excited to see a movie whose main characters have #CysticFibrosis, like me. It's about time.
Thank you for signing on to @FiveFeetApart, @colesprouse. pic.twitter.com/qpD2ygC2FU

— Alexandra Leslie (@AlexandraLeslie) October 30, 2018
Thanks @justinbaldoni for making this movie bc this subject is close to my heart. Thanks for teaching everyone about the CF Community. Can't wait to see it ???? @colesprouse @FiveFeetApart #FiveFeetApart https://t.co/poZprT705W

— Ana Flores (@anabananerz) October 30, 2018
Most live past 25 now, particularly if they don't do what this movie glorifies. On top of that, my kid now will be treated like a lepper by anyone who sees this….instead of for who he is.

— Todd Baillie (@TBaillie2) October 31, 2018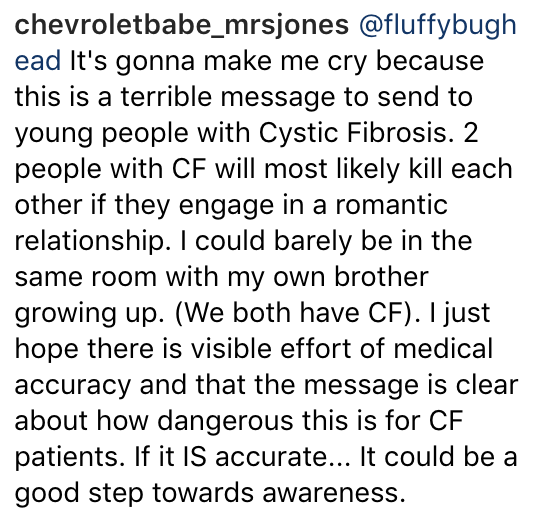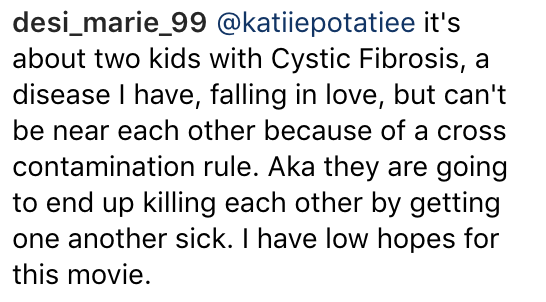 The movie premieres March 15, 2019.
Originally published: October 31, 2018