The Girl in the Black Mask
---
The girl in the black mask. The one you're staring at. She's not contagious. She's not making a fashion statement. She's not trying to draw attention to herself. She's just trying to stay healthy in a body that fights against her. She's just a girl. A regular person like you and me. Except for that one thing. That thing that makes her need the mask. But she is more than her disease. She's more than her mask.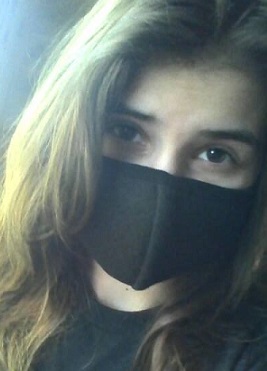 The girl in the black mask. She's a daughter. She's a sister. A friend. A person. She has dreams and aspirations. She wants to be a photographer and a writer. And a student. And a filmmaker. She wants to someday find someone to love who loves her in return. She wants to mother a child who needs her. She wants to live long enough for any of that to happen.
The girl in the black mask. Her courage and stamina will inspire you. She lives in a state of slow grief for the life she might have had but didn't. Her joy and humor shine through the sorrow and anger and frustration. She offers comfort and cheer in times when the fear of losing her overwhelms those who love her.
The girl in the black mask. She's beautiful to her core. She's caring and kind. She brings empathy to a whole new level. She's intelligent and has a thirst for knowledge that I hope will never be quenched. She's witty and sarcastic and just the way I'd always imagined her to be. She's open and honest and laid-back. She can make you forget the mask if you take the time to see her.
The girl in the black mask. She's more than her mask. She's my daughter. She's my heart.
We want to hear your story. Become a Mighty contributor here.
Originally published: February 2, 2017