How My Sister Helped Us the Day Our Daughter Was Diagnosed
---
When my daughter was born, my sister was over the moon in love with her. She didn't plan on having any children of her own and was more than happy be the cool aunt. My children could go snowboarding with her, have awesome dance party sleepovers at her place or go to her for problems they wouldn't feel comfortable talking to us about.
She's also very maternal and would come over almost every day to hold my daughter after she was born. When she moved away to another town about two hours away, I really missed having her around.
Whenever she's free and our schedules work out, she tries to stay with us for a few days. It's easy to see that she gets just as much out of it as the kids do, and I love having someone to talk to who just instantly gets me. I never have to explain my thoughts or feelings to her. There was one visit I will be forever grateful that she was around.
We'd recently learned my daughter had not grown in height and actually lost weight between her 6-month and 1-year checkup. Besides the poor growth, nothing seemed to be wrong with her. Although our pediatrician ordered some tests, we weren't overly concerned. We'd recently been to the renal clinic at our children's hospital who hadn't said much about their concerns besides the fact that they wanted some more tests done like an eye exam and wrist X-ray.
My sister was staying over when I got a call saying we could be seen by the ophthalmology department that afternoon. Why the rush, I thought? But I had my sister there to help out and keep us company so why not.
I sat there in the chair with my daughter in my lap as the opthamologist looked in her eyes and told me she had crystals on her corneas which was indicative of cystinosis. He told me this was a very important diagnosis and prescribed some eye drops. I asked how long she would have to take the drops. He said for the rest of her life. No one at the renal clinic had told us what they suspected, and I had no idea what cystinosis was. He said that our nephrologist would be in touch soon to discuss and sent us on our way.
As we left the hospital, my heart was pounding and I was desperately trying not to freak out. Maybe cystinosis wasn't that bad? Taking eye drops twice a day for the rest of her life seemed doable.
My sister was a life saver. She stopped me from getting too much into my own head and distracted me with unimportant banter on our way home. Surprisingly, we made it home in one piece, but I couldn't take not knowing any longer. We went to the computer room with my husband to Google cystinosis.
It was bad. Cystinosis is life-long, chronic and progressive disease with no cure that included likely kidney failure, thyroid issues, muscle wasting, light sensitivity and thermoregulation problems. The list of possible hurdles she had coming was endless.
As we searched further and discovered more bad news, my husband and I quickly became more and more distraught. Without even asking her, my sister quietly left the room, taking my daughter with her and began to play happily in the other room as though our whole world wasn't crumbling down.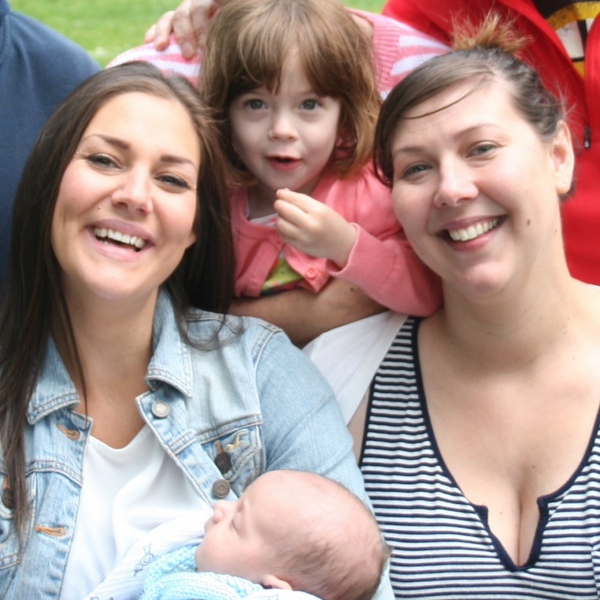 When we finally couldn't take it any longer, we turned off the computer and called the renal clinic begging to be seen by someone. They could see us on Monday, but it was only Thursday. At this point, my daughter was having a nap and we began telling my sister all that we had learned. My husband excused himself and went upstairs, not realizing that we could hear him from below. His deep, throaty sobs broke my heart further and I lost it, too. Without saying a word, my sister pulled me into a hug and held me until I began to calm down. Although she's much tinier than I am, she held us both up strongly for as long as I needed her.
Later on that day, when my husband and I were calmer, my sister left the house saying she had to run some errands, though I'm sure she probably just sat in her car sobbing like we had. I never saw her cry the whole time she was there; she chose to remain positive around us and, most importantly, to play with my daughter just as she would've before. Seeing my daughter playing so happily made it hard to feel sad or dwell too much on our new revelation. She was still the same beautiful, smiling, joyful girl she'd always been, and it made me determined to help her remain so.
My sister has been and continues to be one of the most important people in my life. And even though she has been there for me more times than I can count, this one day will always mean so much. She helped keep my daughter happy and safe during a period when my husband and I needed to process and grieve, and for that, we will forever be in her debt.
Follow this journey on Elsinosis: Living with Cystinosis.
The Mighty is asking the following: Tell a story about a time someone helped you and/or your child when you needed it most. If you'd like to participate, please send a blog post to community@themighty.com. Please include a photo for the piece, a photo of yourself and 1-2 sentence bio. Check out our "Share Your Story" page for more about our submission guidelines.
Originally published: July 20, 2015