'Modern Family' Star Addresses 'Frustrating' Side Effect of Antidepressants
---
Editor's Note
If you live with an eating disorder, the following post could be potentially triggering. You can contact the Crisis Text Line by texting "NEDA" to 741741.
On Tuesday, "Modern Family" star Ariel Winter opened up on Instagram about experiencing weight fluctuations due to antidepressants.
In a Q&A session on her Instagram story, the actress responded to a fan question asking, "Why so thin?" referring to her recent weight loss.
"For years I had been on anti depressants that caused me to gain weight that I couldn't lose no matter what I did," she wrote. "It was always frustrating for me because I wanted to be able to get fit and feel like the work I was doing was paying off, but it never felt that way. I had accepted it and moved on."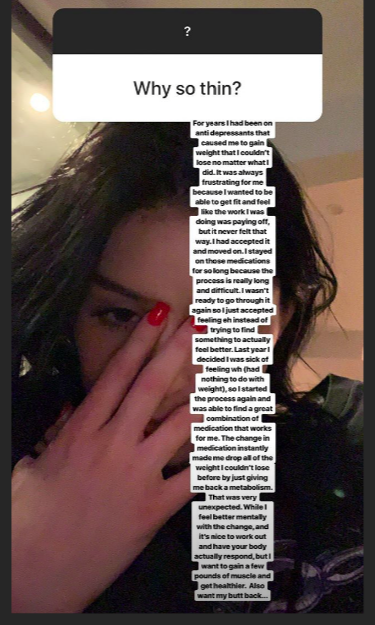 She then explained that aside from the weight gain, her antidepressants weren't making her feel better in the way she needed them to, so she decided to switch. She said: 
I stayed on those medications for so long because the process is really long and difficult. I wasn't ready to go through it again so I just accepted feeling eh instead of trying to find something to actually feel better. Last year I decided I was sick of feeling [eh] (had nothing to do with weight), so I started the process again and was able to find a great combination of medication that works for me. The change in medication instantly made me drop all of the weight I couldn't lose before by just giving me back a metabolism. That was very unexpected. While I feel better mentally with the change, and it's nice to work out and have your body actually respond, but I want to gain a few pounds of muscle and get healthier. Also want my butt back…
Weight fluctuations are a common side effect of taking antidepressants. According to a study on antidepressant usage and weight gain, patients using any of the 12 most commonly prescribed antidepressants were likely to gain weight over people not taking the drugs. Some antidepressants may also lead to weight loss in some people.
This isn't the first time Winter has been open about her weight and mental health struggles. In January, when a commenter accused Winter of using cocaine and methamphetamines to lose weight, she sarcastically responded:
My psychiatrist switched me from my previous anti depressant that didn't work and made me gain weight, to coke/meth!! Definitely not a new one that worked and then regulated my metabolism. Coke/meth was a controversial decision but she stands by it.
She then responded that she didn't need to explain herself or her weight loss to anyone.
If you have struggled with your weight because of your mental illness or medication, you're not alone. For more resources, check out the following stories.
Image via Wikimedia Commons/iDominick
Originally published: April 10, 2019