You Might Relate to This Song About 'Breaking Up' With Depression from 'Crazy Ex-Girlfriend'
---
If you've ever had a moment when you were ready to break free from — or break up with — depression, you might relate to a new song on the TV series "Crazy Ex-Girlfriend."
Join the conversation! Answer this Mighty member's question with your own recommendations: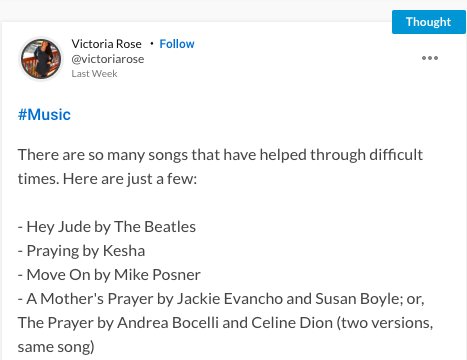 TV Line published a clip of "The Darkness" ahead of Friday's new episode. In the song, Rebecca Bunch (Rachel Bloom) declares she needs to deal with another ex before delving into a love song. Decked out in a black hoodie with dark eyeliner, Rebecca says "the darkness" — aka depression — was her first true love. She even gives her depression a name, Tyler.
While dead-panning the break-up song's lyrics, Rebecca compares "Tyler's kiss" to a "cut." His pet name for her is "slut." 
It's a break-up song. She's ready to embrace the things in her life that are "actually real" and she wants "to tell Tyler Darkness goodbye." We then see her knocking on the door of an outpatient medical office that's closed. 
"Crazy Ex-Girlfriend," which is in its fourth and final season, has frankly addressed mental health topics throughout its run. Notably, the show did a solid job portraying Rebecca's borderline personality disorder (BPD) diagnosis.
The show took time to delve into her difficult childhood and balanced her sometimes self-defeating behavior with a very human character. As Mighty contributor Alex Worthy noted in their article, "What 'Crazy Ex-Girlfriend' Taught Me About Mental Health," Rebecca's BPD isn't "just" an excuse. Worthy continued:
Bloom shows us that Rachel is able to grow into someone who can take her mental health into her own hands. Though she is far from perfect, Rachel becomes more self-aware of her behavior, seeks professional help as well as help from her friends and family, and surrounds herself with people who continually support her.
Catch "The Darkness" and the rest of Friday's episode of "Crazy Ex-Girlfriend" at 9 p.m. ET on the CW.
Originally published: February 1, 2019