6 Tasks That Feel Impossible to Accomplish When You Have Depression
---
Depression has gotten the best of me. It freezes me, and I can't do the things I normally do. When I'm depressed I even cut off relationships with people because handling relationships seems too difficult for me.
Let me share some things I find difficult to do because of anxiety and depression. This is to let everyone know you are not the only one struggling with these seemingly "simple" things. There is someone who knows what you're going through.
1. Waking up early.
Before, I used to wake up early and prepare breakfast and lunch to bring to the office. Now, I open my eyes and know depression is by my side. I cannot see what will happen for the rest of the day, so I don't have any motivation to prepare myself and get ready for work.
See the full post, and let this Mighty member know if you can relate: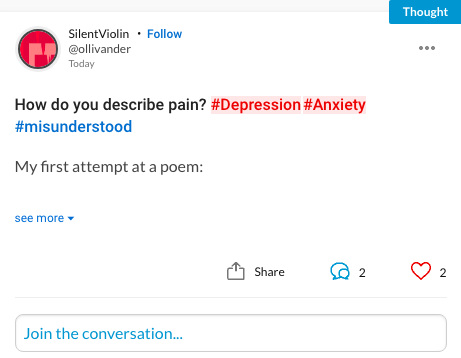 2. Taking a bath.
Even thinking that you're going to do something, including taking a bath, makes you fearful. You don't see it happening. It's like the world is upon your shoulders and you just want to lie down and stare at the ceiling.
3. Doing the laundry.
It weakens me to see my pile of laundry and think about how I need to wash it. Doing the laundry feels like one of the most impossible things to do because of my depression. Plus, thinking about folding all those clothes and arranging them in a cabinet. Not that tiring — but it makes me feel afraid. Have you experienced that?
4. Exercising.
It is recommended that people with depression participate in some physical activity. However, since depression and anxiety always make me feel tired, it's hard to put on running shoes and go outside. In my experience, I also easily get anxious when it is already dark (if I'm going to jog at night). I think something bad will occur all of a sudden.
5. Reading the Bible.
I know I really have to rely more on God's word as I struggle with my mental health, but my depression makes it hard for me to concentrate. I understand nothing despite all the chapters I've already read.
6. Making plans with friends.
I'm afraid to make plans with friends because I never know when a depressive episode will hit. You may be functioning, but deep inside there's pain and suicidal thoughts. And trust me, it is hard to casually open up to others when you're struggling, especially when it's unseen.
Even though these things are hard, every day you can take a single step. It may take more days of crying and breakdowns, but that's OK. I believe depression only stays for a season. It doesn't have authority over our lives. This may sound cliché, but depression is something you have, not something you are. We're gonna conquer our demons. With the right support, we're gonna be OK.
Photo by Dan Gold on Unsplash