If You've Ever Struggled to Eat Because of Depression, This Comic Is for You
---
When you're struggling with your mental health, sometimes eating becomes your last priority. This is something Twitter user SNAKE BITCH has personal experience with. In a series of comics posted on Twitter called, "A Practical Guide to Depression Meals," she gave followers practical tips for eating when it's the last thing you want to do.
DEPRESSION MEALS: how to feed yourself when your shitty meat body is betraying you.
(ive been wanting to do something like this for a while so i'm just gonna start. i'll add to this thread a bit at a time. maybe very slowly. on account of the depression) pic.twitter.com/lR6Z9NqwKd

— GAYDARA @ comms OPEN ⭐️ (@baph0meat) February 20, 2019
For anyone who has never lived through depression and doesn't understand the term "depression meals," SNAKE BITCH defines it as "a pitiful cobbling together of 'almost food' that is sometimes the only thing you can manage when your brain is in the pit."

"I decided to create this because it used to be my everyday life," SNAKE BITCH told The Mighty. "Depression really robbed me of the ability to make and enjoy food and turned it into something joyless and stressful and embarrassing."
The problem with not eating while you're depressed is that it can actually make you feel worse. Not eating enough can make people feel more irritable and sensitive, which can contribute to a worse experience of depression.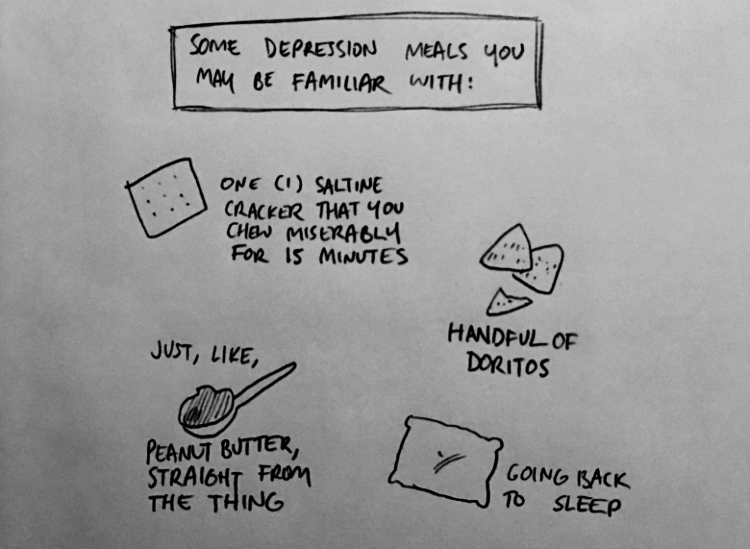 Instead of turning to "classic" depression meals like a handful of Doritos or spoonful of peanut butter, SNAKE BITCH has two practical tips to help folks struggling with depression get the nourishment they need.
Step 1: Force Yourself to Try
SNAKE BITCH understands that hearing "force yourself to try" can be super discouraging when it's frequently used to invalidate the struggle of many folks with depression. But she reassures her followers to trust her because "there's a big difference between someone who doesn't get it saying this dismissively and someone who's been there giving it as advice."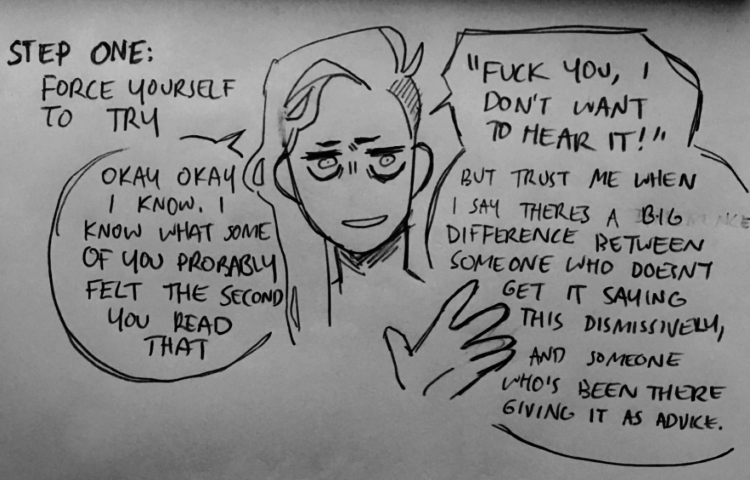 She advocates for always trying to force yourself to make food because (as seen in the comic below) some days it'll be a struggle, but other days it won't be so bad — and "you deserve to check if it's one of those days."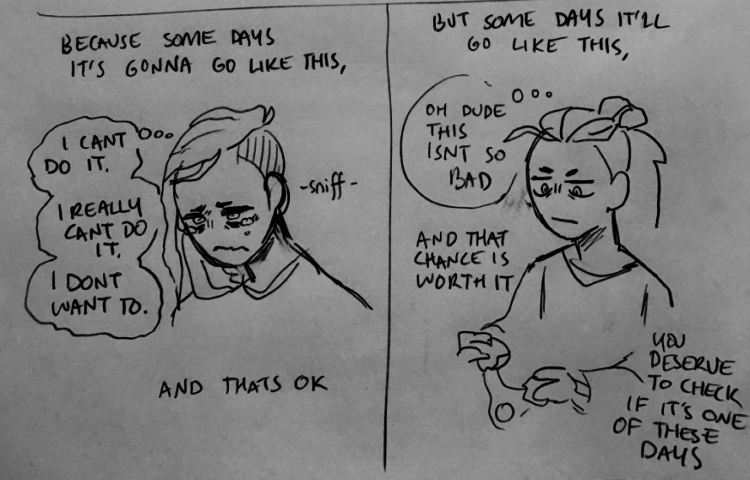 Step 2: You Already Know This Happens — Prepare for It!
As with a lot of mental health recovery strategies, prevention is key. If you know you struggle with depression, SNAKE BITCH says to "do stuff when you feel good!" This could mean meal prepping and freezing food on your "good days" or stocking up on some frozen meals for the days you find yourself struggling.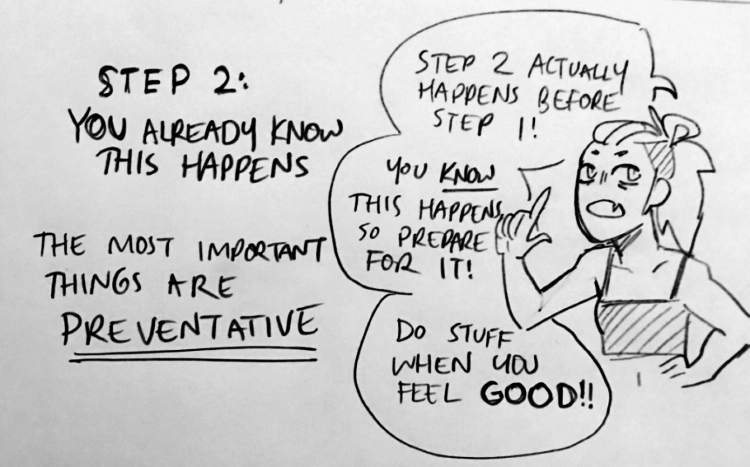 SNAKE BITCH told The Mighty using these steps has not only helped her on days she struggles with depression but has even opened the door for more cooking experiments in the kitchen.
"Recently I've been doing a lot better, through a lot of hard work. And this past Valentine's Day, I cooked three elaborate meals in three days for my girlfriend, all from scratch," she said. "That was kind of the thing that made me realize how far I had come, when not too long ago there would be like, five days in a row where I couldn't even make a grilled cheese sandwich."
You can view SNAKE BITCH's full Twitter thread here.
If you struggle to eat when you're feeling depressed, you're not alone. Check out the below stories for more resources and tips for getting yourself fed when you're battling your brain.
Originally published: April 8, 2019