To the Person Who Thinks I Choose Not to Be Happy
---
I was scrolling through my Facebook feed when something caught my attention. Someone had shared this picture: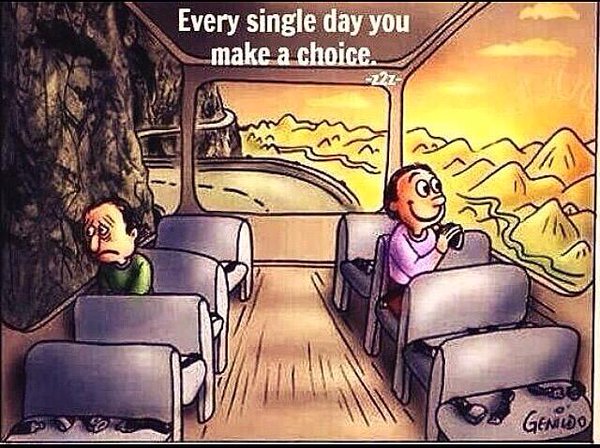 "Every single day you make a choice." The person who shared it wrote something about how it is entirely your choice to be happy. As a human being with depression, I would like to respond to your post:
Every day, I wake up and beg that it will be a good day. A day where the black cloud of depression decides not to haunt me. Depression is something that takes over me and tricks my brain into sitting on the dark side of the bus. And believe me, all I want to do is sit on the other side. Yet no matter how hard I try, there seems to be an invisible wall keeping me from sitting on the other side. I try so hard to break this wall, but some days it feels impossible. Other days, I seem to be able to stick my head on the wall and experience the view from the other side. I try to convince myself if I try hard enough I am able to break it, but deep down I know the wall is always going to be there. The wall of depression is what keeps me from making the choice.
Not everyone gets to make that choice. Some people, like me, want to make the choice but are not able — not because we don't want to, but because the illness is the one who decides.
I encourage you to read my response and think again about what you wrote.
We want to hear your story. Become a Mighty contributor here.
Originally published: October 20, 2016