Dear Kid Cudi, You Have Nothing to Be Ashamed Of
---
Dear Cudi,
I woke up early this morning. Like earlier than usual. Why? I'm not sure. I got on Facebook because I couldn't go back to sleep. I saw one of my Facebook friends tagged me in a post you'd written. When I read the post I understood why I was tagged. (You can read the transcript of this post below).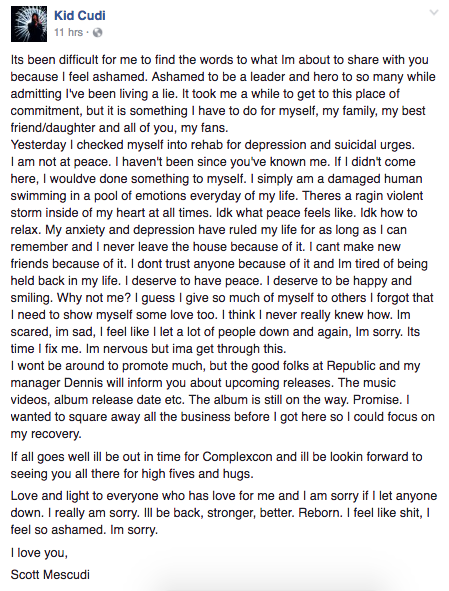 Your writing literally brought me to tears. I understand where you're coming from. I'm sorry you feel you've let people down and that you're feeling ashamed. I'm sorry you have been dealing with this illness for so long. I know it can feel frustrating that you haven't found the light at the end of the tunnel yet (I say yet because one day you will).
I want you to know you have nothing to be ashamed of… nothing at all. Depression and anxiety can be a nightmare. They can swallow you whole to the point you feel no way out. I also know how judgmental people can be when it comes to mental illness. Some people make you feel like you don't even want to even bring up your struggles. Some try to make you feel weak or ashamed when you should feel neither. You're "sick" or "weak."
I just wanted to let you know I'm proud of you! So very proud! What you wrote was not easy — especially now, when you're in so much pain. In spite of that pain you still spoke up. You realize that right now the pain is too much and you can't deal with it on your own. That takes strength and courage. You're a fighter!
A lot of men feel like they aren't suppose to feel emotional or go through this kind of pain. Many men are taught from a young age to always "be a man" and not cry or show any weaknesses. That has made many men suppress their thoughts and feelings. This is perhaps why men die at the hands of suicide at such higher rates than women. Many don't know how to ask for help in these situations. Never feel ashamed because you asked for help.
Cudi, you're allowed to go through things. You're allowed to not be OK right now. You're a human being just like the rest of us. You haven't let any of us down. You're actually a hero in my eyes. The fact that you spoke up has more than likely saved some lives. Just like I mentioned earlier, many men go through this in silence. The fact that you used your platform to address you're getting help will make others want to get help as well. Again, you should feel proud and not ashamed. 
I want to let you know one more thing before I close out this letter. It was not long ago that I wanted to die too. That I felt ashamed just like you. Now I know my illness was never my weakness. Going through major depression and mild anxiety never made me weak. From 2007 -2014 I had moments I wanted to die. I also had a close call with death during those years. Now in 2016 I'm telling people why they should keep living, why they should never give up. Your recovery is possible. You're going to make it! I'm rooting for you, and I'm so very proud of you. I know this letter may never reach you, but I mean every word I've said.
With all the love in my heart, Jasmin
*Kid Cudi's full post reads:
Its been difficult for me to find the words to what Im about to share with you because I feel ashamed. Ashamed to be a leader and hero to so many while admitting I've been living a lie. It took me a while to get to this place of commitment, but it is something I have to do for myself, my family, my best friend/daughter and all of you, my fans.
Yesterday I checked myself into rehab for depression and suicidal urges.
I am not at peace. I haven't been since you've known me. If I didn't come here, I wouldve done something to myself. I simply am a damaged human swimming in a pool of emotions everyday of my life. Theres a ragin violent storm inside of my heart at all times. Idk what peace feels like. Idk how to relax. My anxiety and depression have ruled my life for as long as I can remember and I never leave the house because of it. I cant make new friends because of it. I dont trust anyone because of it and Im tired of being held back in my life. I deserve to have peace. I deserve to be happy and smiling. Why not me? I guess I give so much of myself to others I forgot that I need to show myself some love too. I think I never really knew how. Im scared, im sad, I feel like I let a lot of people down and again, Im sorry. Its time I fix me. Im nervous but ima get through this.
I wont be around to promote much, but the good folks at Republic and my manager Dennis will inform you about upcoming releases. The music videos, album release date etc. The album is still on the way. Promise. I wanted to square away all the business before I got here so I could focus on my recovery.

If all goes well ill be out in time for Complexcon and ill be lookin forward to seeing you all there for high fives and hugs.

Love and light to everyone who has love for me and I am sorry if I let anyone down. I really am sorry. Ill be back, stronger, better. Reborn. I feel like shit, I feel so ashamed. Im sorry.

I love you,

Scott Mescudi
If you or someone you know needs help, visit ourprevention resources page.
If you need support right now, call the Suicide Prevention Lifeline at 1-800-273-8255. 
This post originally appeared on AFROPUNK.
Originally published: October 5, 2016