A Potentially Fatal Side Effect of Taking Antidepressants I Didn't Know About
---
Editor's Note
Please see a doctor before starting or stopping a medication.
Many of us with depression know the drill — our psychiatrists prescribe us a type of antidepressant called selective serotonin reuptake inhibitors (SSRIs), which, for some of us, can alleviate depressive symptoms. However, what we rarely talk about is what happens when the brain produces too much serotonin. Truthfully, I never would have given this a second thought if it wasn't something that happened to me.
I was on an antidepressant for about a year when, a month or so back, it stopped easing my depression and anxiety. I went to my psychiatrist, who decided I should switch medications. Since I had previously been prescribed another type of SSRI, a different SSRI was next on the list. The plan was to slowly taper off my current SSRI while beginning my new medication regimen. I was to take my full dose of my old antidepressant together with my new dose of my new antidepressant for two weeks. After those two weeks, I was to reduce to half a dose of my old antidepressant for one week while still taking the new medication, then down to a quarter dose of my old medication for one week while still taking the new one, and then off the old one altogether.
After about 10 days of being on my full doses of my old and new medications, I began to experience some symptoms. I was nauseous, my arms and hands had a constant, slight shake, and I was unable to sleep at night. At first, I chalked these symptoms up to side effects of switching medications. That is until my symptoms started to worsen and new ones arose. My nausea increased, I began having diarrhea (gross, I know), my shake moved into my jaw and legs, and I continued to be unable to sleep.
How would you respond to this? Answer Sandra's question below.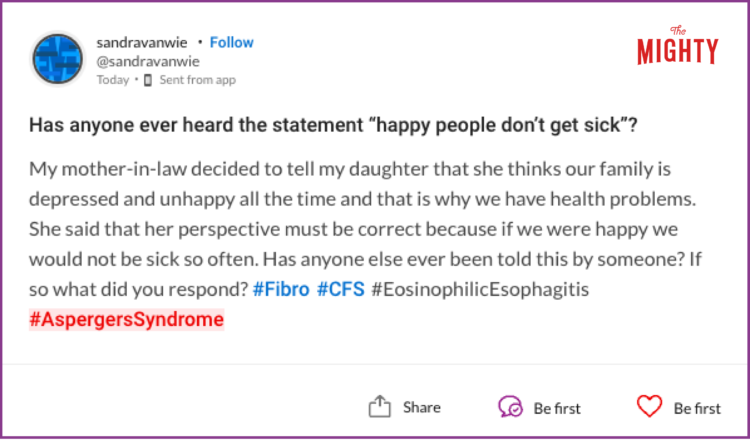 Join the Conversation
One day, about 12 days into taking my full doses of both old and new medications, I had a scary episode. I was in my office and my body began to violently shake. I went into my boss' office so I wouldn't have to be alone. My jaw, shoulders, arms, hands, stomach, legs, and feet were violently shaking with tremors I had never experienced before. I was afraid I was about to have a seizure, though one never ensued. This episode lasted about 30 minutes and began to taper off, though the shaking and other symptoms I was experiencing never completely stopped. At this point, I called my psychiatrist and scheduled an appointment. He saw me about an hour and a half after my episode (at which time I was drained of all energy and my body felt heavy). My psychiatrist decided I was most likely having a reaction to taking both medications at the same time. So, he advised me to start taking half of my old medication together with the new one — this would speed up my tapering off. I obliged. My boss told me to take it easy the day after my episode, so I stayed home the next day. While my symptoms still remained, I trusted they would soon subside due to my cutting back on the old medication.
The next day, I went into my office for a meeting and another episode ensued. Again, I had full-body tremors and was afraid of having a seizure or passing out. I waited for the length of time it took my last episode to subside (about 30 minutes or so) with no luck. My body continued shaking, my head began to hurt, I felt like I would throw up any second, I started sweating profusely despite the cold temperatures in the office and outdoors, and a fever began. One of my co-workers drove me to urgent care. There, in addition to the symptoms described above, the doctor told me that my pupils were dilated and I had a high blood pressure. The verdict: serotonin syndrome.
According to WebMD, and my doctor at urgent care (of course), serotonin syndrome is a potentially fatal (though rare) collection of symptoms caused when the brain produces too much serotonin. Symptoms can start as quickly as hours after beginning a new medication and include: confusion, agitation or restlessness, dilated pupils, headache, changes in blood pressure and/or temperature, nausea and/or vomiting, diarrhea, rapid heart rate, tremor, loss of muscle coordination or twitching muscles, shivering and goosebumps, and heavy sweating.
In severe cases, serotonin syndrome can be life-threatening. Some symptoms of severe serotonin syndrome include: high fever, seizures, irregular heartbeat and unconsciousness.
My doctor told me (just as WebMD says) that serotonin syndrome is rare, and can occur if you are taking medications, particularly antidepressants, that affect the body's level of serotonin. The greatest risk of serotonin syndrome occurs if you are taking two or more drugs and/or supplements together that influence serotonin. This came as a surprise to me, though it made sense considering I was taking both my old and new medication at the same time.
Since I was experiencing a mix of moderate to severe symptoms, the doctor at urgent care ordered me to stop taking all medications. Additionally, he urged me to go to the emergency room if symptoms persisted or became more severe. Throughout the evening, my symptoms did just that. By nighttime, I was at the hospital receiving treatment for my serotonin syndrome. The emergency room doctors gave me oral pills to block serotonin production, as well as an IV with fluids and a benzodiazepine to help hydrate me and ease my tremors. For the days to come, I rested and waited impatiently for the serotonin syndrome to be cured.
My psychiatrist (who I have now since changed) told me I couldn't take any medication for 30 days after having serotonin syndrome. So far, it's been about four days since I've been off all medication. While I have still yet to completely heal, I wanted to share my story to help others be aware of some of the more severe repercussions of switching medication that produces serotonin. My advice would be to pay close attention to your bodies and to self-advocate to your doctors. From my perspective, these things are worth it to avoid what I had to go through – and I am still healing from.
In my heart, I know healing is not linear. I will have my ups and downs, my highs and lows. During this process of healing and of being unmedicated, I will be kind to myself. I will allow myself bad days as well as good days. I will give special attention to self-care, making sure I am comfortable through it all. I will pour out graciousness and thanks to all of those who helped me through this process. I will continue going to therapy.
I just hope my story can help those of you who are currently on, switching or may be prescribed SSRI antidepressants now and in the future. I hope this may help you recognize the symptoms of this potentially fatal syndrome before they escalate. I hope you never have to go through the fear and uncertainty I went through. My friends, I wish you all well.
Getty Images photo via tommaso79