Start App Can Help Tell Whether or Not Your Depression Medication Works
---
Making the decision to start antidepressants can be tough for people living with depression. Fortunately, Start – an app designed to track the efficacy of depression medication – can help you determine whether or not the medication you are on is working.
"The idea of Start is really to help people decide if their medication is working for them as fast as possible," Thomas Goetz, cofounder and CEO of Iodine – the company that developed Start, told The Mighty. In the U.S., approximately one out of every 10 people above the age of 12 takes an antidepressant. "There is a one in three chance of a medication, for any given antidepressant, not working on that first go. I think [people] are poorly prepared for what's to come given how hit-or-miss the medications are."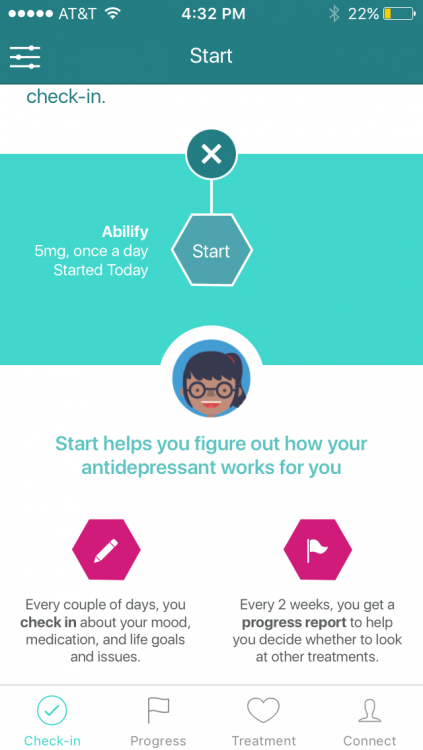 Start lets people track and process their experience on antidepressants, Goetz said. Within six weeks of starting an antidepressant, users will be able to determine if their prescription alleviates their depression symptoms. Start begins with a questionnaire – the Patient Health Questionnaire (PHQ-9) – that assesses the severity of your depression. The questionnaire is then repeated every two weeks to determine whether or not symptoms have improved.
The program is designed to be six-weeks long, as that's when antidepressants really show their full effect, Goetz said. "If it doesn't show its full effect, you should probably go back to your doctor and try something else."
Start also lets you know what to expect when starting an antidepressant, such as the medication's side effects and when you should start seeing results. Those who use the app can get personalized progress reports, which can be faxed over to your doctor.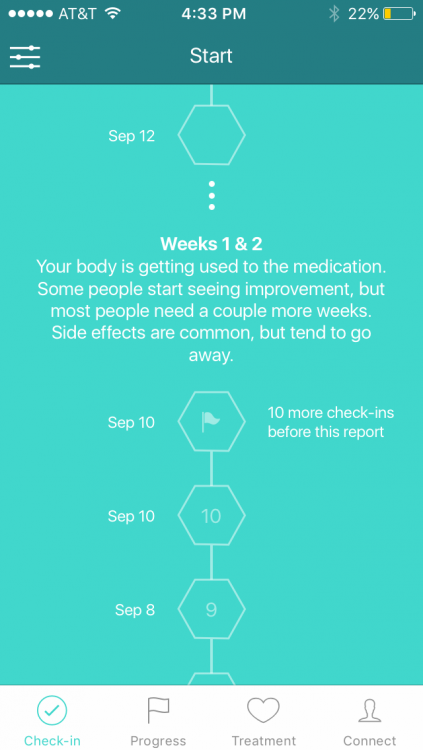 "We try and make it a very easy way for people to determine if they are getting better and whether the medication is helping them," Goetz said. For users who have trouble remembering to take their pills, Start offers the option to set a discreet reminder, as well as reminders to log your mental health symptoms for that day. The app also offers a tip of the day and uplifting messages. "We try not to make it a lot of work for people. It's really just about very quick check-ins."
Start is the first mental health app to use Apple's CareKit, and is only available for download on iPhones. Update: As of November 17, Start is available for Android devices through Google Play. The app is meant for people with depression, but that doesn't mean it won't help those with other mental illnesses in addition to depression. "We can see that people with other conditions – anxiety, bipolar, even schizophrenia – are using the app," Goetz said. "If it's useful to those people, that's wonderful." According to Goetz, the app has had tens of thousands of downloads, with thousands of people completing Start's six-week program.
"I think we have one of the richest datasets around of the real experience of depression and the real effect of depression medications – probably the largest ever collected," Goetz said. The app does not, however, collect names, emails or any other information that would make a person identifiable.
"We're starting to learn a lot about the impact of the disease as well as which medications might work a little better than others for different people and which medications might have certain side effects or issues associated with them" Goetz said. "We are very aware of how challenging it is to start a treatment for depression."
Originally published: August 26, 2016