As Time Moves Faster, Depression and My Fear of Death Loom Over Me
---
There's a speech in William Shakespeare's comedy, "As You Like It," known as the "Seven Ages of Man" speech. You may know it better, though, by its famous opening lines:
"All the world's a stage, and all the men and women merely players…"
Spoken by the cynical, melancholy Jaques, who prefers to wryly comment on the unfolding plot rather than taking a central role, the soliloquy moves through the seven stages of a man's life from birth to death, infancy to old age.
Even long before I became marred in the grief of my father's death, my depression latched onto the ending, to the dotage (the second childishness) and death (the mere oblivion):
"… Last scene of all,
That ends this strange eventful history,
Is second childishness and mere oblivion,
Sans teeth, sans eyes, sans taste, sans everything."
You see, as time has marched on and the years have flashed by, the ticking of the clock has become a central figure in my depression. In my teens and 20s, that ticking clock felt like a shadow. I was young, sure, but my hidden and avoided fear at a lump on my jaw made me somewhat convinced I was going to die young. When I was finally able to smash that fear — the lump turned out to be nothing — I was already in my late 20s, and my fear of death looming ever closer.
But nothing quite seems to drain time from one's life like depression.
There is a phenomenon whereby time appears to pass faster as we get older. I can personally attest to this. Up until my 20s — arguably, up until my father's death just before my 24th birthday — time appeared to crawl. Years spanned forever. Now, and particularly as my 20s became my 30s, those years have begun to quicken. I met my fiancé eight years ago; it feels like just a few. Just today, we discussed how I proposed two years ago; for her, it was only a year. I look at the calendar and, truly, I don't know how it's 2022. I don't know how time has gone by so fast, and I don't know how I'm in my mid-30s.
And so these two factors intertwine to form what I think is the nexus of my depression, at least right now. Everything returns to these concepts — that as I get older, time appears to be moving faster, and my fear of death and old age, of second childishness and mere oblivion, waits for me at the end of a long road that isn't that long at all.
I look at my life and wonder what I have achieved. I had grand plans to publish my first work of fiction in my 20s. As that time disappeared and grief derailed it all, my 20s became "by the time I'm 30." The train had already run off the track, though, and depression kept me from writing. I can't publish what I haven't written, right?
Now, I'm 35. I'm at the same stage I was at when I was 30, albeit older, perhaps a little wiser, more ready to take the bull by its horns and coax it into submission. I'm moving more purposefully toward a point where I will be published and yet, that fear still looms in the distance.
I don't know how to reconcile with that fear. I don't know how to move through life when I'm afraid I'll blink and miss it and before I know it, it's ending. I don't know how to spend my days working intentionally on reaching the place I want to be. And, as much as I hate this, I don't know how to stop comparing my place in life to that of others. It's said that comparison is the thief of joy; I look at the ones I love who have accomplished so much, and I'm so proud of them, but a small part of me is bitter. The bitterness is never aimed at them; it's aimed at the non-anthropomorphic universe for bringing me this lot in life. It's aimed at myself for not being "good enough" to achieve my goals, especially if they are younger than me and achieving things I wanted but couldn't achieve. Comparison flays the joy out of everything else.
So, I try to focus on my progress alone. I try to remember to use time intentionally and try hard not to look at the looming shadow. Depression, anxiety, trauma — they are responsible for bringing me to this place. They have molded me into a person who understands the darkness and still looks for the light. I'm wiser, now, in my knowledge of what ails me. I have the tools to deal with it.
In 2019, as a way to try and face my fear, I purchased a stunning watch from the London-based Camden Watch Company. Seen via my Instagram below, the "No. 253 Memento Mori" features skulls throughout and two Latin phrases: "memento mori" ("remember you must die") — often seen on funerary art and headstones in antiquity — and "tempus fugit" ("time flies"). It also features a white second hand as part of the watch's face to remind wearers to make every second count. Despite my fear of death, I've always loved Gothic art. The watch has become one of my favorites; it reminds me how to live.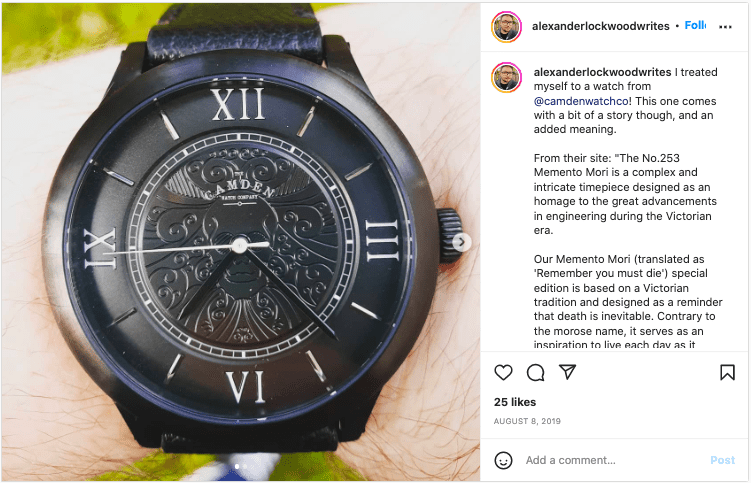 All of this is simply to say… if you're like me, then I want you to know that I understand that feeling. I wish I could hold you and tell you that it's going to be OK. I hope, though, that you can try to live intentionally, mindfully, filling the days you're alive with the people you love and the activities that make you feel good. No matter your belief system, what matters is the here and now, not what's yet to come. So plant your feet. As Philip Pullman said in "The Amber Spyglass":
"We shouldn't live as if [Heaven] mattered more than this life in this world, because where we are is always the most important place."
Follow Alexander's journey via his website, alexanderwinterlockwood.com.
Getty Images photo via David Wall