How the Women's March Helped Me as an Abuse Survivor
---
I spent hours crafting my sign. I love Pinterest, and I had decided weeks ago that if I was going to be involved in the Women's March on Washington, I was going to make a sign that reflected my progress (and creativity). Even when I decided to remain involved in the Women's March on New York City rather than the march on Washington D.C. (for some convincing geographical reasons), I was committed to that sign.
The 2016 presidential election was a huge personal turning point in my life. The 18-month election process had been grueling, and by the time November 8 rolled around, I was exhausted from the rampant misogyny and racism that both the media and my Facebook friends spewed. I was proud to vote for a woman candidate for president, but a selfish part of me put my "I Voted!" sticker on and thought, "Thank God, we'll have a woman president elect in 24 hours, and this parade of indecency will all be over."
That's not how Election Day went down.
January 20 wasn't any easier for me. Watching our new administration take their oaths made me feel like the man who emotionally abused me for three and a half years had won. The depression clouded my vision and made me feel as if the progress I had made since then had been for naught. A man who bragged about sexually assaulting woman could still be president, a beloved leader. Suddenly, my depression was dragging me to the bottom of the ocean again. I had lost my lifejacket, the hope that kept me afloat.
On the morning of January 21, 2017, I packed my first-aid kit, my portable charger, and a baggie full of snacks. Then, I took my sign and walked out the door to join the Women's March on NYC.
1. There were so many people.
I loathe crowds with every fiber of my being. The body heat, the unwanted contact, the germs, and accidentally getting hit in the face with signs can be daunting and downright triggering. The streets were packed building to building with so many people. All of those people were cheering, chanting, and smiling. I knew if my anxiety got the best of me, the positive people around me would help me navigate my way safely out of the crowd. I knew if I became overcome with emotion, others would support me. My gut feeling was, for the first time in a long time, not to be anxious, and it felt strange. And amazing.
2. The people that I loved showed their support.
Perhaps one of the ways I was considered privileged was the way that my family turned out to march as well. My mother registered before my sisters and I had even known registration had opened. My two sisters also spent hours creating their signs (creativity runs in the family). My father accompanied us, showing his support for the women in his life. Most of my friends could not attend but sent uplifting messages and cheered us on from their home bases. It was an incredible thing to feel so much support and love from the people I cared about, and it gave me the strength to hold my sign up a little bit higher.
3. The peaceful energy was uplifting.
One of my biggest concerns prior to the Women's March was my safety. What if this turned into a not-so-peaceful protest or a full-blown riot? However, I was greeted by police officers giving me high-fives and women complimenting my sign. People leaned out of their apartment windows to cheer us on our way down 2nd Avenue. My fears weren't recognized, and I was able to tuck my anxiety away and really enjoy myself. I wasn't surprised to find out later in the evening that there were no arrests related to the Women's March on Washington or any other location. I genuinely felt safe among the crowds.
4. The stories were powerful.
One of my favorite parts of the day was when a middle-aged women in a "pussy hat" stated that she and her teenage daughters volunteered at a domestic violence prevention agency and how they planned to double their efforts in the wake of the election. Other women shared their stories and their feelings. Some of the stories made me think about the privileges I was afforded in life: a supportive family, a strong education, and a safe neighborhood to return home to. These stories brought me back to reality. I was marching for the women beside me, many of whom had experienced discrimination and violence. I didn't know these women. I still can't tell you their names. But we were sharing our experiences, our concerns, and our promises to fight for each other's rights.
5. I truly did not feel alone.
I spent years thinking I had invited the emotional abuse I had endured at the hands of an intimate partner were my fault. I had spent years believing I was "being a true emotional female" and that taking pills wouldn't help because women were just emotional and had to stop seeking attention. I spent years believing I would make less money than a man because that's what I deserved. And when I realized these beliefs were not reality, I felt foolish and ashamed.
I didn't feel that way at the Women's March. I felt united among women who were standing up for themselves and standing up for women who couldn't do so for themselves. I felt a sense of community, a sense of support, and a sense of belonging. Somehow, I found the energy to combat my depression and the peace of mind to realize I am worth recovery. Never in a million years did I think I would find a place among political activism; finding the strength to pursue recovery was even more of a shock. However, I woke up on January 22 and thought, "How am I going to fight back for myself and others today?" It was a great feeling.
Also, my sign held up pretty well, too.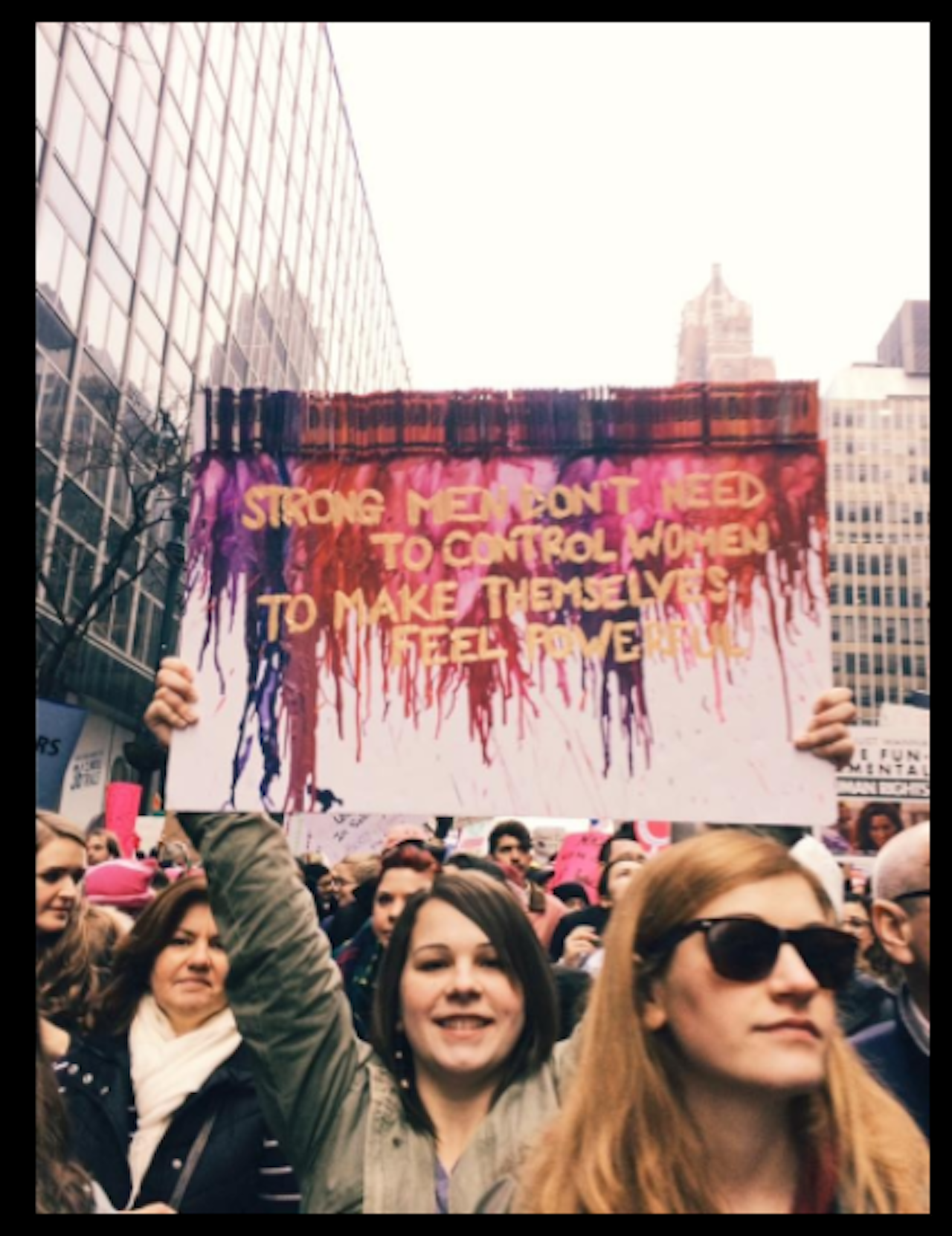 If you or a loved one is affected by domestic violence and need help, call The National Domestic Violence Hotline at 1-800-799-7233.
Originally published: January 23, 2017