My Daughter Can't Go in the Sun, So We Create Our Own
---
I met my close mom friend for coffee. My 2-year-old daughter was in tow, and her 18-month-old son was her debonair date. We rioted the local hipster coffee shop, our toddlers climbing on the benches and shouting, as we collected skeptical glances from the Chapman University students with their laptops, sipping macchiatos and balancing oversized spectacles on their baby faces. The entire cafe let out an exhale as we got our coffee to-go, herding our rambunctious kids outside along with our oversized strollers. It was a cloudy morning, which meant we could actually enjoy a casual stroll outside — like any other mom and her little girl.
Some might say we aren't "normal." Last year my daughter was diagnosed with juvenile dermatomyositis, which means she cannot be in direct sunlight. Even with the cover of clouds, we have to protect her from too much UV exposure. We use hats, UV clothes, sunscreen, and parasols, but when she is having a flare up, even all of those precautions don't always prevent her from getting a painful rash on her face, elbows, hands, and knees.
But this fall day, walking beneath the protection of clouds, we felt free from the burden of hiding. My friend and I talked freely. The kids chased each other. Smiles were contagious and laughter came easily.
A couple hours later the sun peaked out, reminding us our precious morning was ending. I put my daughter in her car seat, and decided to drive around the downtown area so she'd fall asleep. As I began our drive, my daughter complained that her fingers were hurting. Our morning outside was having its effect. As my daughter quieted down and gently gave in to sleep, I let my mind wander to the sad thoughts I usually avoid. My daughter would never feel the warmth of the sun on her face, without it hurting her. The realization stung more than usual. Tears blurred my vision, and I blinked to let them roll boldly down my cheeks.
I paused my car at a stop sign, and looked up to see a white church sign with big block letters. "Create your own sunshine," it read. The intersection was empty, so I grabbed my phone and snapped a picture. I knew it was a photo I would treasure, a story I would tell my daughter about one day.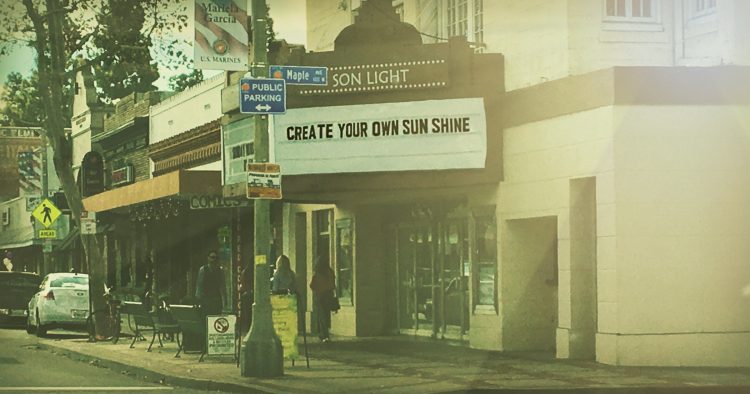 In life we will all face limitations. Whether it's the form of disabilities or disease, mental illness, grief, or the eventual effects of age, life eventually presents struggle, seen and unseen, that influence our every day lives. Sometimes we are born with our limitations; sometimes they show up and surprise us one day in a diagnosis. Whether it's something we've lived with for a lifetime or a new normal, there will be days when the loss surprises us with a sharp new pain.
As I live day by day, hour by hour, my daughter's limitations present themselves in new challenges that I don't always anticipate. Sometimes it's the same old challenges that suddenly wear a hole in my heart like the toe of an old sock.
My greatest fears and vulnerability loom beneath the surface of my imagination like a monster under the bed, making me want to run and hide — or hang my head in shame.
But when I face the limitations forced on me by a world I can't control, I can stop, and look up and see the challenge of each new day: "Create your own sunshine."
Pain and suffering leave gaping holes in hearts and lives. Limitations will taunt, accuse, and challenge me to believe that I'm whole. But maybe those holes can be the place where I can plant the seeds of sunshine.
As I face the places in life where limitations meet disappointment, I am challenged to fill the hurting places with resilient hope. Yes, on life's surfaces that seem hard and unbending, I have to dig deep within my soul to muster a melancholy joy, born out of struggle, like the dandelion that breaks through cracked concrete.
I've always taken sunshine for granted, like I've come to expect the sunrise and sunset each day, as an unwavering promise. But as I face life with my daughter's new limitations, my eyes are opened to the hidden blessings cupped within each new day. Each new day presents a new opportunity to create our own sunshine. Sunshine that proclaims joy and hope with brightly colored hats, with frilly parasols, and chasing the waves on the beach at sunset. It means making our home, our respite from the sun, a place filled with laughter and toys and lots of friends to come and play. The warm sun might not kiss my daughter's face in the way I would expect, but my family is faced with the beautiful and unique challenge to create our own sunshine, like the defiant dandelions that sprout up in life's cracks.
We want to hear your story. Become a Mighty contributor here.
Originally published: November 12, 2017