The Different Types of Basal Insulins and How They Work
---
Today, I will focus on basal insulins. A successful dose of basal insulin should allow you to skip meals without fearing hypoglycemia, eat later than usual without hypoglycemia, and allow accurate carb coverage with rapid acting insulin.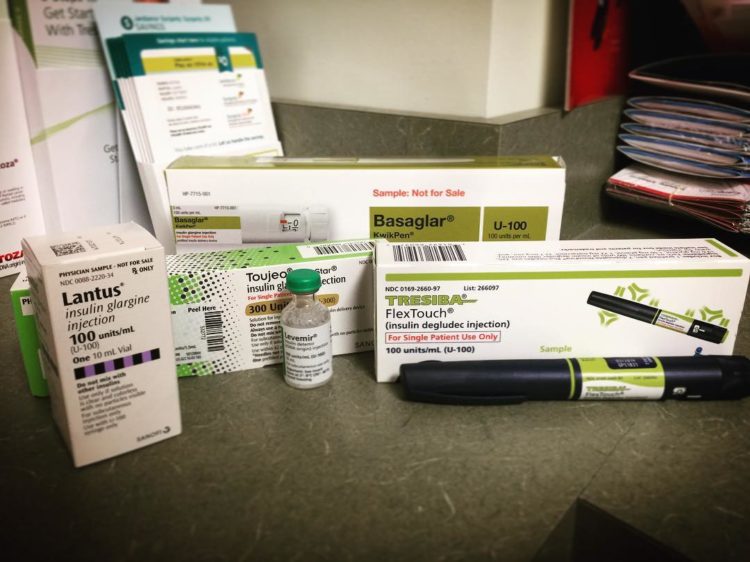 Pictured above are some of the many basal insulins currently available including: Levemir, Lantus, Basaglar (generic of Lantus), Tresiba, and Toujeo. If you are taking long acting insulin, you are more than likely taking one of these. But how do they work and why do we take them the way that we do?
Levemir, Lantus, and Basaglar are made up of different components, but act very similarly. All can be taken between one and two times a day. Levemir begins working within one hour, peaks in five hours, and has a duration of 18 to 24 hours. Lantus/Basaglar begins working in one to two hours, peaks ‪at six hours (less peak than Levemir), and has a duration of 18 to 24 hours.
These three insulins are often given at night to help with "dawn phenomenon," an increase in blood glucose at around 3 a.m. when the liver kicks out glucose. Keep in mind, dawn phenomenon does not occur in everyone.
When given at the correct time, the peak of these insulins can counteract "dawn phenomenon," however mistiming can lead to nocturnal hypoglycemia. For example, a peak of basal insulin at around 2 a.m. may be the cause of nighttime lows.
For someone who frequently suffers from nocturnal hypoglycemia, it is best to inject basal insulin in the mornings, causing the peak to occur during the day (which is safer). This person may reduce their lunchtime dose of rapid acting insulin if low blood glucose occurs around peak time.
Whatever time you give these basal insulins, it is important to take them at the same time every day to prevent a gap in coverage or doubling of insulin.
Additionally, Lantus, Basaglar, and Levemir can be split into two doses if they are not lasting a full 24 hours (this is very common). Lantus given at bedtime may lose its efficacy around dinner the next day. The prandial (mealtime) insulin given for dinner will work for ‪four to five hours after that, but since Lantus takes ‪one to two hours to kick in, there would be a gap in coverage leading to elevated morning glucose levels. People who experience this should try splitting their doses (with your doctor's approval, of course).
The newest basal insulins available include Toujeo and Tresiba, both of which require one injection per day and have no true peak. Toujeo begins working after six hours and has a duration of 24 to 36 hours. Tresiba begins working after one hour and has a duration of more than 42 hours. Because of this, Tresiba can be injected at different times of the day (more than eight hours from the previous dose). Tresiba is therefore great for people with hectic schedules or who sometimes miss their dosages.
Read more: How Do I Know If I'm Taking the Right Amount of Basal Insulin?
Originally published: September 19, 2019