Woman's Story About How a Burger King Employee Helped Her Diabetes Goes Viral
---
Having a health emergency while you're alone in public can be terrifying, especially if you have an invisible illness. Strangers around you may not realize you're in trouble or they may not believe you when you say need help. Now, one woman's act of kindness for a chronically ill customer is going viral, showing others what should be a common response to a stranger experiencing a medical crisis.
Rebecca Boening shared a photo of Burger King employee Tina Hardy with a caption explaining how she stopped at the restaurant's drive-thru in Amarillo, Texas, after her blood sugar dropped to a dangerous level. She "stumbled through" placing her order and explained that she has diabetes and needed food. Boening was shocked when Hardy ran out of the restaurant and up to her car with a serving of ice cream as she sat in her car at the first window.
"Tina later explained that her husband was also diabetic and she could tell that I needed help," Boening wrote.
After paying, Boening pulled up to Hardy's window where she gave her the food she had ordered. She told Boening to park across the driveway so she could keep an eye on her until she felt better.
Boening wrote:
After eating I waited for a break in business so that I could return to Tina's window. I then took this picture and spoke with Tina's supervisor, telling him what she did for me. If you appreciate what this special woman did please share this story. Hopefully Tina Hardy will receive the recognition that she truly deserves from the public and from the big bosses at Burger King.
Since Friday, the post has been shared more than 200,000 times.
When The Mighty reached out to Boening for comment, Boening revealed that not only had the two been keeping in touch through Facebook and text since their story went viral, but at that moment they were together at (where else?) Burger King. "Our world has exploded," Boening said.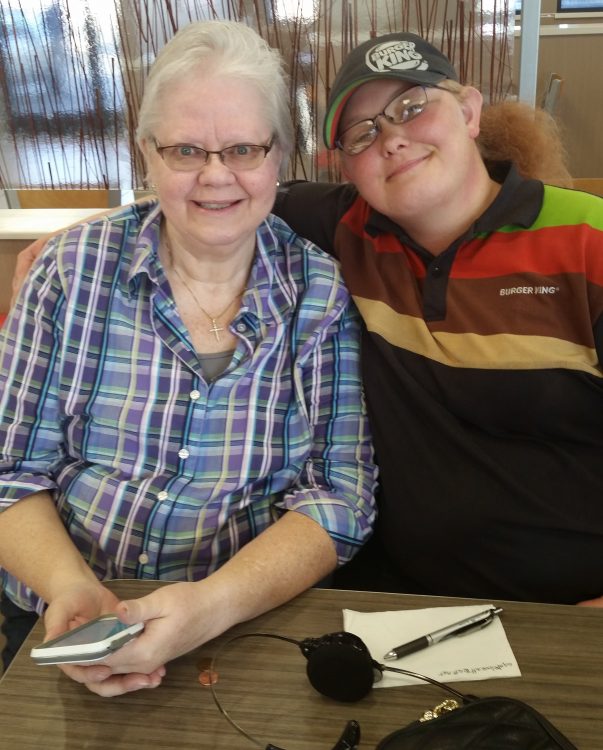 The pair said they hoped their story inspires people to help others — even if you're scared to.
"Everyone is so touched by this story because she acted. She didn't just give me lip service or ignore me. She acted. I've been off work for nearly 24 years because of my reflex sympathetic dystrophy syndrome and apparently the world has changed a lot since I was out in it," Boening said. "People keep telling me, 'People don't do things like this anymore.' And I think that's a shame. I think we need to be human, and to be human is to care for one another."
Hardy said she just didn't want to take the chance something bad might happen to Boening, and wants to encourage others to help those in need. "If you feel it in your heart and you have the ability to help someone, please help them," she said.
"[Boening is] somebody's mom, somebody's grandma, and we would love to keep people around as long as we possibly can," she added.
Hardy said after the post went viral, her boss told her she was "famous" and appreciated what she did. Her district manager also thanked her personally. She said she heard the Burger King corporate office called to send their best and tell her they wanted her to keep working the drive-thru. Boening also set up a YouCaring fundraiser to help Hardy buy a car.
Do the two plan to remain friends? "Oh, definitely," they said.
The Mighty reached out to Burger King for comment and has yet to hear back.
Originally published: December 13, 2017