How My Diagnosis Threw Me Into the Rewarding World of Adoption
---
My name is Rachel, and I'm a type 1 diabetic.
My diagnosis was very much an ending and a beginning. You see, I'd been sick for a year and a half. During that time I visited five medical professionals, all of whom reviewed my symptoms and rendered a verdict — the wrong verdict.
I'd lost 30 pounds, was constantly hungry and thirsty, experienced numbness in my hands and feet, my vision was blurry, I was depressed, I was wetting the bed, and no amount of antibiotics could clear up my sinus infections. One doctor sighed and said, "Anorexia?" Another proclaimed I probably needed sinus surgery. Another told me to simply eat more.
I was diagnosed in an emergency room. A doctor burst into my room, wide-eyed at the lab report on his clipboard. "Well, we know why you've been so sick. You have type 1 diabetes." My blood sugar was seven times the normal level, and my A1C, an average of my blood sugars over a three-month period, was so high that it wasn't on any medical chart. I'd been diabetic for a long time, and I was on death's door in the ER, my body in a deadly state called Diabetic Ketoacidosis (DKA).
I spent five days in the hospital: numb, angry and defeated. I had my answer, but it was one that made me hate the body that had turned against me. My first diabetes nurse educator shared that I had to mourn the loss of part of my body. But I ended up mourning much more: the year and a half I hardly remembered, the insults I faced as others viewed my ever-thinning frame, the memories I didn't make because I was literally wasting away, the opportunities I missed because I was depressed and sick.
I was handed glossy diabetes brochures with 60-year-old couples on the front, grinning with their too-white teeth and wearing Velcro-topped shoes with a greener-than-green park in the background. These brochures made diabetes look more like a luxury vacation than a lifetime sentence of needles, blood and medical appointments. I silently screamed at those happy couples: This disease has no cure! I might face kidney failure and amputations and blindness! 
I was at rock bottom.
As I neared the end of my hospital stay, one of the nurses asked if my husband and I planned on having children. We both said yes, and she proceeded to educate us on diabetes and pregnancy. I'd stopped listening. A word, the clearest I've ever felt, popped into my mind.
Adoption.
Logically, it made sense. I wouldn't chance passing the disease to our children. I wouldn't have to endure a complicated and potentially dangerous pregnancy. In my heart, it made sense too. I'd worked as a daycare employee, nanny, children's writing camp counselor, Sunday school teacher. I had no problem loving children I didn't birth as my own.
Two years later, our first baby arrived. She had chocolate skin, a soft-as-cotton-candy afro and eyelashes that rival those of any mascara model.
Two years later, our second daughter arrived. She was a serious, demanding and full of a personality that told us she was going to have the kind of drive it takes to be successful in life.
Then, like clockwork, two years later, our son arrived. He's incredibly affectionate and energetic. He calls me "Mama."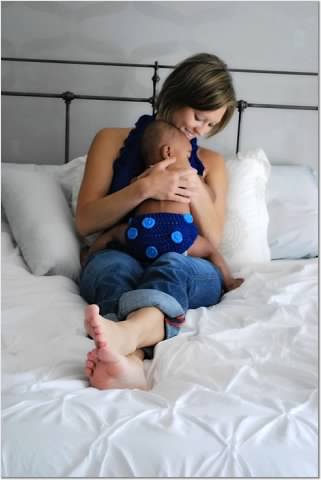 I managed to gradually move from rock bottom to a mountaintop because I had a purpose.  My purpose was to get healthy, stay healthy and become a mom. Because of my diagnosis, I also fulfilled my lifelong dream to publish a book (and not just one book but three with a fourth and fifth in the works!), write articles about my disease and adoption and encourage others.
Despite my many sick days, I wouldn't trade my diagnosis in for anything. Without it, I wouldn't be a mom to my babies, and I wouldn't be the writer I am today.
The Mighty is asking its readers the following: Describe the moment someone changed the way you think about disability and/or disease. If you'd like to participate, please send a blog post to community@themighty.com. Please  include a photo for the piece, a photo of yourself and 1-2 sentence bio.
Want to celebrate the human spirit? Like us on Facebook.
And sign up for what we hope will be your favorite thing to read at night.
Originally published: April 8, 2015