Hey Airlines, Start Treating Wheelchairs as What They Are: Our Legs
---
Traveling with a disability has always been what some might call a "flight risk." There are so many things that can go wrong whenever we leave our immediate environments, especially when we go places we have no direct control over. Let's face it – accessibility is rare in public environments despite its necessity. Not everything that is called "accessible" is truly accessible for everyone depending on their disability.
Airlines are a frequently inaccessible form of travel for disabled individuals. In recent years, individuals with disabilities have begun speaking up about the damage and destruction wreaked on their mobility aids when flying both domestically and internationally.
According to an article published in USA Today in 2019, between January and September of 2019, U.S. air carriers mishandled over 7,700 wheelchairs. This number doesn't include other mobility devices disabled persons rely on every single day — from walkers to scooters to canes. Those numbers total up to 29 chairs being destroyed or damaged on flights every single day.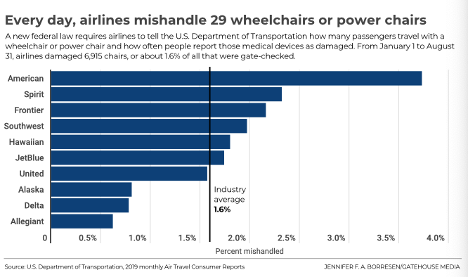 Data on airline-damaged mobility aids is lacking and without enough data, it's hard to pass any kind of legislation to address the problem. There was recent legislation passed through the U.S. Department of Transportation that requires airlines to report wheelchair and scooter damages incurred monthly on their reports alongside mishandled baggage, death of animals during air transportation, customer service reports, etc.
In October 2020, the top ten airlines that damaged the most wheelchairs and other mobility aids were Delta, Hawaiian, Frontier, Allegiant, United, Southwest, American, Alaska, JetBlue and Spirit. Delta came in at #1 with 25 wheelchairs and scooters mishandled throughout the month of October 2020.
Part of the carelessness surrounding mobility devices can be traced back to the ableist concept that disabled individuals use their devices because they're lazy, weak or want to use them for attention or fun. If you are disabled or have a loved one that utilizes any mobility device, that is anything but true. Mobility devices are essential to their owner's wellness, vitality and sense of security. Many of us, including myself, rely on mobility devices like manual wheelchairs, braces and canes to manage our pain appropriately.
Mobility aids are a diverse group; each does something different and many have a variety of different features that make each user's life easier. Repairs are often incredibly difficult and costly to procure should a device incur damage, and it can take months or even years to get insurance approval for new equipment if it is broken beyond repair. According to WheelchairTravel.org, if an airline damages or destroys your mobility aid(s), they are fully responsible for the repairs. They also are required to replace your mobility aid with a temporary aid before your replacement arrives.
So what happens if you get off of your flight now that the pandemic is slowing down, only to find that your airline has damaged your wheelchair or scooter? According to the U.S. Department of Transportation, these are the steps to follow.
First, for domestic flights, the airline's liability for lost or damaged assistive devices is only the cost of the original device's price. For international flights, devices damaged during mid-flight are subject to a maximum liability limit set by the applicable international treaty.
Second, should a device need to be disassembled in order to fit on the flight, it must be reassembled in its original condition when the owner arrives at their destination.
Third, should the chair be damaged, necessary repairs must be made before returning the device to the user.
Fourth, if your chair is returned to you in damaged condition, not returned at all or completely broken, report it to the airlines immediately upon landing at your destination.
Also, file a complaint with the Department of Transportation here.
Should you not hear back from the airlines who damaged your mobility device, contact them through their website.
You have rights.
Getty image by Photoncatcher.
Originally published: July 8, 2021