Disabled Artist Arien Smith Gives Your Favorite Disney Princesses Service Dogs
---
Disabled artist Arien Smith noticed a significant lack of disabled people in pop culture, especially when it comes to invisible disabilities and service animals. To combat these misconceptions, he took Disney princesses, pop culture "icons," and reimagined them with relevant invisible disabilities and service dogs.
An entrepreneur, artist and personal development leader who's spent years helping marginalized folks, Smith is a survivor of abuse and lives with post-traumatic stress disorder (PTSD), dissociative identity disorder (DID) and a mobility condition. He felt invisible disabilities were often mocked and marginalized, which he attributed to the lack of representation.
Through his Disney princess series, Smith wants to start holding media companies responsible for creating disabled characters who live fulfilling, complex and meaningful lives. It's also important to him to address disabilities that are less known or that still have stigmas attached to them.
The project also aims to educate people about less common types of service dogs — like allergy alert and psychiatric dogs — so the public becomes more aware of the range of abilities of service dogs. While Smith would like to expand his project to other pop culture icons, like super heroes, he's got other projects on his plate right now.
"I'm busy designing a dog-themed tarot deck where 15 percent of profits fundraise for service dogs," he said.
His Disney princess artwork is not available for purchase, but Smith hopes they are still shared widely to raise awareness. He wants people to see his art and think, "Wow, we really don't have good disability representation in pop culture, especially in children's media. We need to change this."
Here's how Smith adapted seven favorite Disney princesses to represent those who live with invisible disabilities and their service dogs: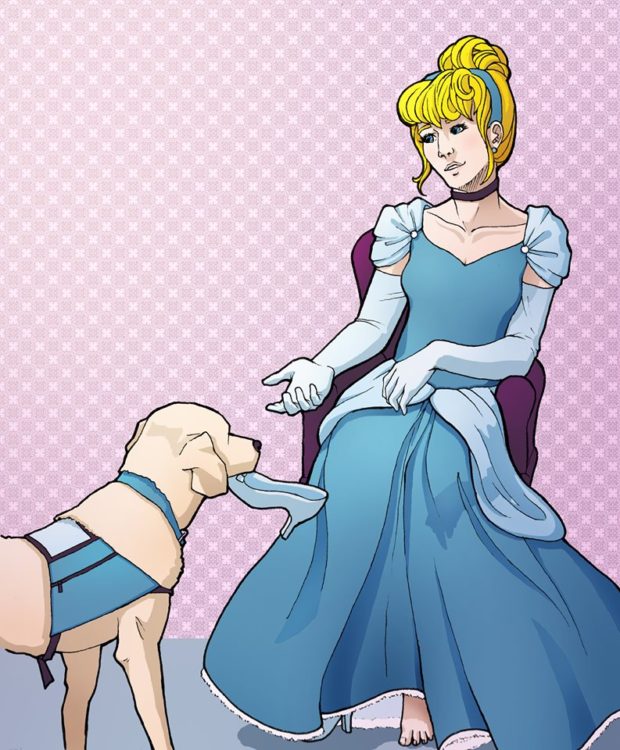 "Here's Cinderella, having her service pup help her out by removing her shoes. Cinderella lives with fibromyalgia in this picture, which is an invisible condition but can be disabling for many people."
"Here's Snow White, having her service dog alert to an allergen in her food. (In this case, referencing her story, apples). Allergen alert dogs are legitimate service dogs and are life-saving for many people. Things like peanuts, gluten, dairy and many other things are common allergens that service dogs help their handlers with. Like any service dog, they can be any breed."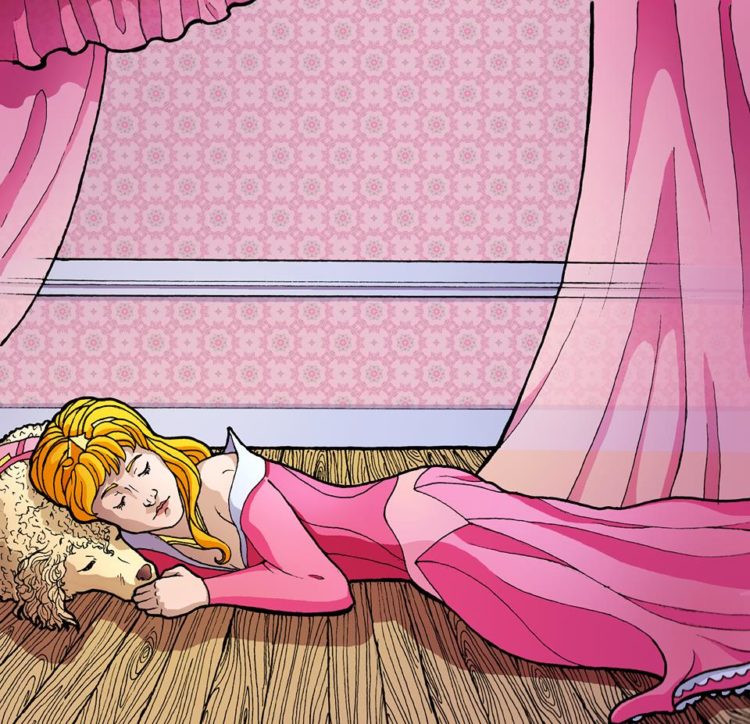 "Here's Sleeping Beauty with narcolepsy and her service pup is supporting her head after a daytime sleepiness episode. Narcolepsy itself is a neurological condition that affects sleep and awakeness."
"Here's Rapunzel with complex-PTSD and dissociative identity disorder (DID). Her service dog is helping her snap out of a very strong dissociative state, then providing tactile stimulation for comfort and grounding! C-PTSD is a type of response to prolonged trauma (frequently in childhood). DID is a creative and adaptive response to severe trauma, where an individual's brain compartmentalizes experiences into two or more identities. It's a pretty incredible way of the mind coping with trauma."
5. Belle Has Generalized Anxiety Disorder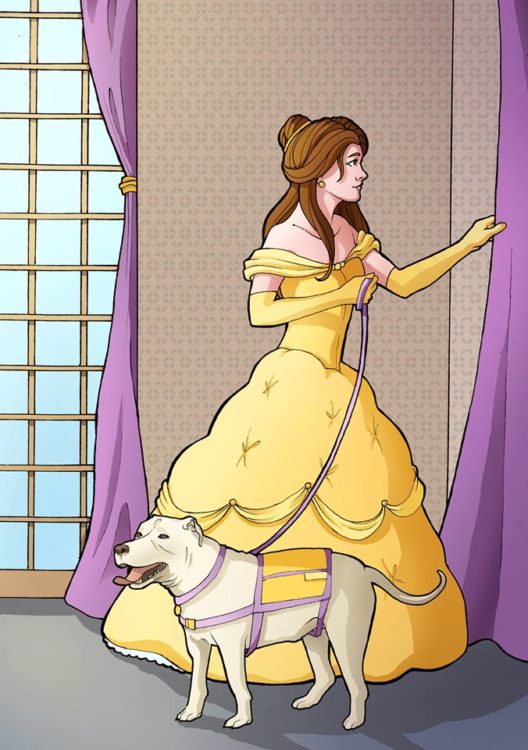 "Here's Belle with generalized anxiety disorder. Her service dog is demonstrating a blocking posture, so she can be alerted if anyone approaches her from behind (which can cause a startle response or anxiety)."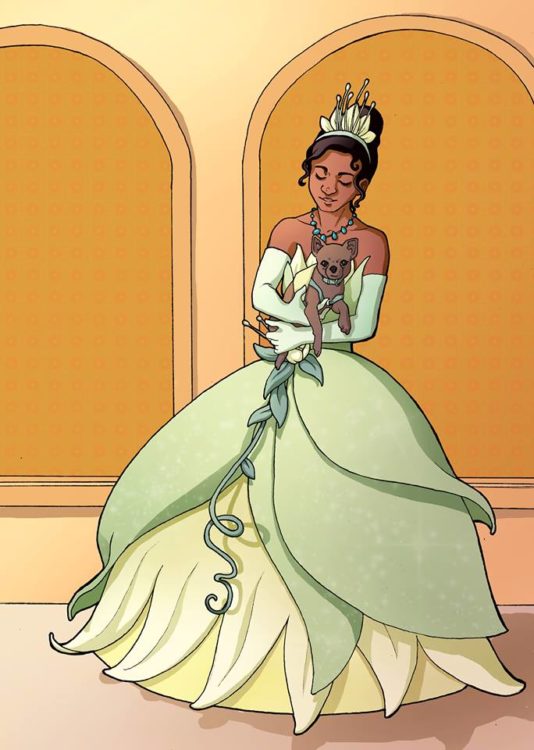 "Here's the lovely and ever so gorgeous Tiana with autism. Her service dog isn't performing a task in this picture, but tasks for autistic people can include tactile stimulation, interruption of physically harmful behavior, guiding during overstimulation episodes and anxiety calming techniques."
"Here's the wonderful Pocahontas, reimagined with diabetes. Her service dog is a medical alert dog, which tells her through pawing or nudging if her blood sugar is too high or too low."
If you want to learn more about Smith's journey or his work, you can find his personal development website at Uncover Your Joy and his art at The Major Barkana.
All images provided by artist Arien Smith and used with his permission.
Originally published: December 24, 2018