What Bedtime Looks Like for a Medically Complex Child
---
Bedtime is never just telling my son, "Good night."
It is administering multiple medications to aid in sleep and to help with the pain.
It is starting overnight g-tube feeds to keep hypoglycemia at bay.
It is giving tickles down my son's arms and legs, scratches on his head that he can't reach because of his limitations and disabilities, and then laughing at something outrageous or funny that he said unexpectedly.
It is ensuring there is no shame to be had when my 13-year-old son asks for help with his toileting needs.
Once cleaned, it is storytime, and we will read the same Batman comic book as the prior evening because my son is autistic, too, and likes routine.
It is hugs on his side until I am about to fall asleep, lying draped over my son, standing upright beside the bed until he is done with me, and I get dismissed to leave.
Before turning out the light, my son will remind me not to forget to put on his Bipap and sleeping mask; I will lean down to give him extra kisses for being such a big help and advocate.
On the way out, it is checking the closet and underneath my son's medical bed for monsters, only to be stopped with one foot out the door to engage in a quick conversation about Good vs. Evil and how he will one day change the world.
It is dreaming out loud and enjoying the vision.
It is a last-minute request for another position change until my son's legs and dislocated hips no longer bother him, at least for the moment. Then, it is dozing in the recliner outside my son's bedroom door, just in case. Only to be woken shortly to the cry of, "Mommy, I need a drink!"
It is counting down the hours until the nurse arrives in the morning to give me a break while at the same time looking forward to waking up to see the sweet smile on my son's face when he greets me the next day.
It is tiptoeing down the hallway to the master bedroom once my son is finally asleep and then pushing the dog out of my spot on the mattress, followed by a frustrating game of tug-of-war as I wrestle for covers while trying not to wake my spouse up because he has to go to work in a few hours.
It is double-checking the alarms on my cell phone so that I don't miss administering my son's next dose of meds.
It is lying awake going over the mental to-do list inside of my head until I am too anxious to sleep, so I stay awake reading a book or posting on Instagram or Facebook instead.
No, bedtime is never just saying good night when you have a medically complex kid, but that's OK, because in between the hardships and chronic sleep deprivation, we make the best out of our situation and strive to enjoy the blessings.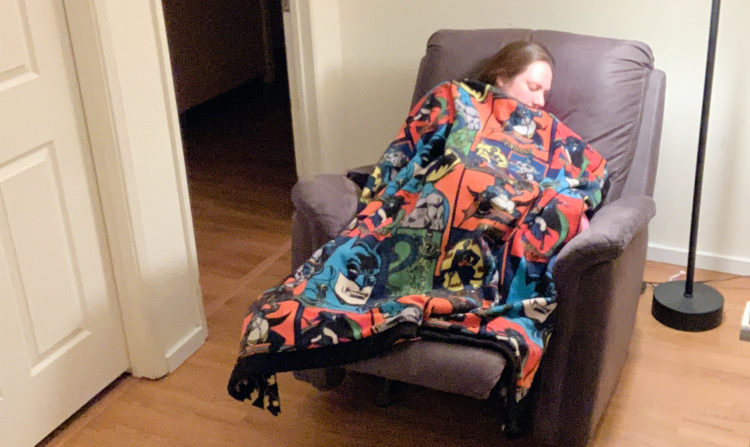 Originally published: October 10, 2021