Boy Scouts Demote Boy Scout With Down Syndrome Who Wanted to be an Eagle Scout
---
Editor's Note
This story was updated on March 20 to include statements from the Boy Scouts of America and the attorney for the Blythe family as well as an email showing that Logan's project was suspended. The Blythe family filed a lawsuit against the Boy Scouts on March 13.
Logan Blythe, 15, has been a Boy Scout with the Utah National Parks Council, a local Boy Scouts of America affiliate, for the last six years. Blythe, who has Down syndrome and autism, became a Cub Scout when he was 8, and joined the Boy Scouts program when he was 11.
Blythe earned 22 alternative merit badges and was looking forward to becoming an Eagle Scout. However, the national Boy Scouts of America declined his project proposal and stated his previously earned alternative merit badges would not be recognized.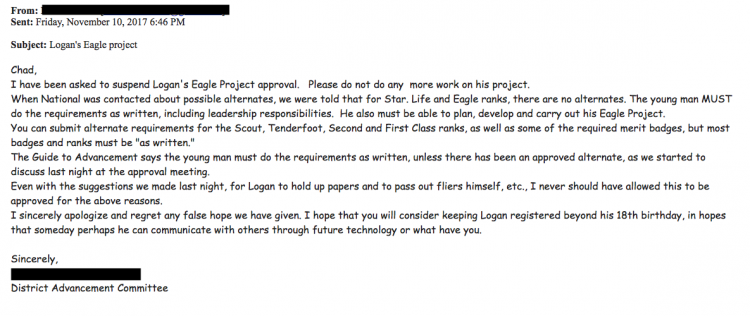 The email reads:
November 10, 2017 6:46 PM

Chad,

I have been asked to suspend Logan's Eagle Project approval. Please do not do any more work on his project.

When National was contacted about possible alternates, we were told that for Star. Life and Eagle ranks, there are no alternates. The young man MUST do the requirements as written, including leadership responsibilities.  He also must be able to plan, develop and carry out his Eagle Project.

You can submit alternate requirements for the Scout, Tenderfoot, Second and First Class ranks, as well as some of the required merit badges, but most badges and ranks must be "as written."

The Guide to Advancement says the young man must do the requirements as written, unless there has been an approved alternate, as we started to discuss last night at the approval meeting.

Even with the suggestions we made last night, for Logan to hold up papers and to pass out fliers himself, etc., I never should have allowed this to be approved for the above reasons.

I sincerely apologize and regret any false hope we have given. I hope that you will consider keeping Logan registered beyond his 18th birthday, in hopes that someday perhaps he can communicate with others through future technology or what have you.

Sincerely,

District Advancement Committee
For some kids with disabilities, achieving traditional merit badges is not an option. However, Boy Scouts has an option for children with disabilities to earn alternative merit badges. In their application for "Alternative Eagle Scout rank merit badges" Boy Scouts of America states: "The Eagle Scout rank may be achieved by a Boy Scout, Varsity Scout, or qualified* Venturer or Sea Scout who has a physical or mental disability by qualifying for alternative merit badges."
In order to become an Eagle Scout, Blythe had to do a community service project. "Logan's mom and myself came up with a service project Logan could do — newborn kits for the local hospital and distributing them — so Logan and I submitted this to the local Boy Scout leaders for their approval," Logan's dad, Chad Blythe, told The Mighty.
According to Chad, the local chapter approved the project, and "even [took] a picture with Logan in his full uniform." The next day, after the local leaders contacted Boy Scouts' national office for its approval, they were instructed to suspend Logan's Eagle project.
After a two-hour long meeting with the local chapter, Logan's merit badges were considered void and he was reduced to Cub Scout rank. The Cub Scout program is for children ages 10 and under. Logan is 15 years old.
Following the decision, Chad received a text message saying, "we should have never said you were approved."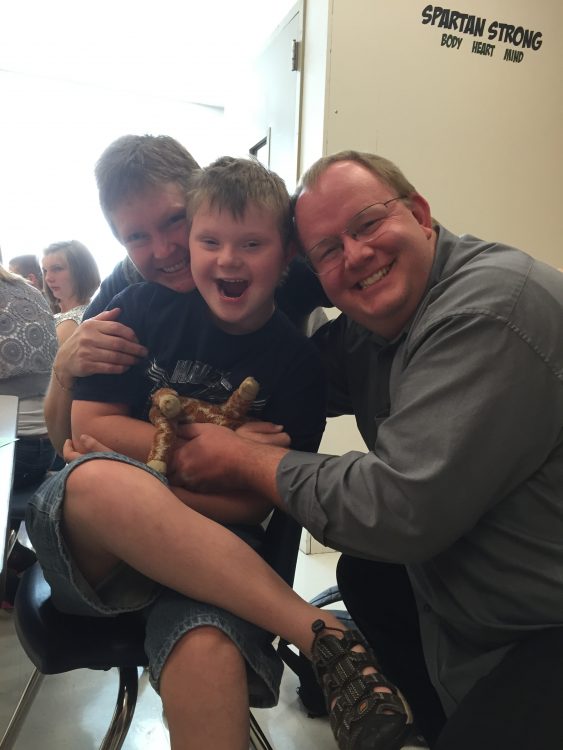 Logan, who needs modifications and supports, signed up for the alternative merit badges, which were approved by his local Boy Scouts program. Chad said, "They did so because they felt it was the right thing to do. The local leaders made modifications to the requirements so he could earn them."
Logan's local scout leaders were more than willing to work with Logan to earn his alternative merit badges and said he deserved them.
"We were led to believe everything was fine and Logan could get through, he could earn merit badges, advance in rank for as long as he did what he needed to do," Chad said.
When asked how Logan was taking his demotion, his dad said, "He was saddened by it. Since this has occurred, we now struggle to get him to wear his uniform. That was not the case before."
Logan had already assembled 25 kits for newborns at a local hospital in Payson, Utah. "We had planned on Logan even distributing some," Chad added.
The Mighty reached out to the local Utah National Parks Council who gave the following statement:
We are moved by this young man's desire to achieve the rank of Eagle Scout. We've worked closely with this young man and his family to attain the benefits of the Scouting program and are committed to continuing to do so.

The Eagle Scout Award is a national award. Final decisions regarding the Eagle requirements are made at the National BSA level. Since its founding in 1910, the Boy Scouts of America has served youth members with physical, mental, and emotional disabilities. Through the Disability Awareness Committee, the BSA enables youth to achieve the rank of Eagle Scout.

The Utah National Parks Council stands ready to assist all Scouts and their families who, despite extraordinary circumstances, have the desire to achieve the rank of Eagle Scout.
On March 20, the Boy Scouts released a statement, "BSA Clears Up Misconceptions About Path to Eagle Scout Rank for Utah Scout With Down Syndrome," saying they did not take away Logan's badges and would work with him to determine a path to becoming an Eagle Scout.
Ted McBride, the lawyer representing the Blythe family responded to the Boy Scouts statement with the following:
This statement contradicts their policies and actions. Look at their website. No accommodations for mental disabilities for those badges. If they are now going to change their policies, that's terrific, but no one has contacted me about this. It appears that they are more interested in spinning some positive press. If they were sincere, I would have expected them to call me and change their policy.

Logan deserves an apology.  Not a generic statement to the public which doesn't state that they have no alternatives for him.

Look at the BSA website and decide whether their statement is accurate. Unless they changed it, their press release contradicts it. Another great lesson for the boys they are trying to teach.  Shame on them for making this appear that Logan has options in their program, after telling him to 'discontinue his work.' Anyone considering enrolling their child in BSA should think twice. Do you want your child learning from an institution which makes misleading public statements to protect themselves, instead of reaching out to Logan and correcting their mistakes?
In an interview with The Mighty, McBride called the statement "misleading," as Logan will not be able to achieve Eagle rank without accommodations and modifications due to his disability. According to the Boy Scouts' website: 
Alternatives are not available for the Star, Life, and Eagle rank requirements. Scouts may request approval for alternative merit badges, but the other requirements for those three ranks must be fulfilled as written. It is important to remember that the advancement program is meant to challenge our members; however, not all of them can achieve everything they might want to—with or without a disability. It is for this reason all Scouts are required to meet the requirements as they are written, with no exceptions.
McBride also said the recent statement from the BSA contradicts the email sent to the Blythe family on November 10, 2017 (featured above), when the Blythe family was informed there were no alternates for Logan to achieve Eagle rank.
As for Logan's badges and current rank. McBride said Logan still physically has his badges but was told in the email above that his local troop did not have the authority to issue the alternative badges towards his Eagle Scout project. He was told his rank would be reduced in a two-hour meeting that was recorded, though the lawyer does not have the transcription at this time.
Images provided by Chad Blythe
Originally published: March 17, 2018