Dear Scott Hamilton: a Bad Attitude Is Not the Only Disability
---
As someone who grew up watching (and dreaming of) figure skating, I have immense respect for Scott Hamilton, the 1984 Olympic gold medalist as an athlete, entertainer, and cancer survivor.
However, I have some concerns I'd like to discuss with him.
I don't know his story in great detail, and I don't expect him to know mine, or anyone else's, in great detail either. But when he says that "the only disability in life is a bad attitude," it rubs me the wrong way. In fact, it makes me angry.
I am all for inspiring and motivating others; I for one dislike the term "disability" and what it insinuates. But to say that "the only disability in life is a bad attitude" is crossing a line.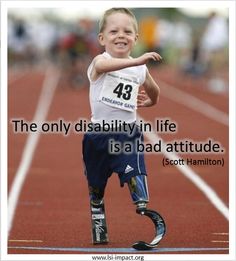 I first came across Scott Hamilton's words superimposed over an image of a little girl and an adult man, both without legs, running down a track. While I appreciate the intention of the quote in the context of this image, I don't appreciate the idea that, whether he meant to or not, Scott Hamilton's words have turned the people in these images into objects. They may be objects of inspiration, but they are still objects.
By objectifying people with physical limitations, we are forgetting that they are simply doing the best they can with what they have. The 27-year-old deaf model Nyle DiMarco's victory on the reality show "Dancing With The Stars" is proof. We saw the end product, a wonderful performance, every week. What we didn't see was the constant practice, the repetition he needed in order to nail his timing as perfectly as he did. He couldn't hear the music, but, as judge Carrie Ann Inaba said, he had been telling stories with his body his entire life with American Sign Language.
With this quote, Scott Hamilton also seems to insinuate that positivity can get you through anything. While I can't argue with the power of positivity in some respects, I have to point out that reframing your attitude can't make disabilities go away. Positivity doesn't allow conditions such as Alzheimer's or cerebral palsy to simply dissipate, no matter how much we might want them to. His words dismiss and trivialize individuals who struggle with severe mental and physical challenges in life.
Perhaps Australian activist Stella Young put it best in her TED Talk when she said, "No amount of smiling can turn a flight of stairs into a ramp."
The Mighty is asking the following: Describe a meme, image or sign you've seen shared online that struck a chord with you, for good or for bad. Check out our Submit a Story page for more about our submission guidelines.
Originally published: June 27, 2016