Disability Activists Sue Uber Over Lack of Wheelchair-Accessible Vechicles in Chicago
---
Disability activists in Chicago are suing Uber over a lack of accessible Uber options in the city. The group claims Uber's limited wheelchair-accessible vehicles violates the Americans with Disabilities Act (ADA).
In select cities, Uber offers an UberWAV (wheelchair-accessible vehicle) service which provides vehicles with ramps or lifts. According to the lawsuit, filed by Access Living of Metropolitan Chicago and several individuals, Uber provided only 14 rides to motorized wheelchair users in Chicago from 2011 to 2015. Fourteen rides in four years, compared to nearly 2 million rides in June 2015 for the company's other vehicle services.
According to Access Living, in 2016, Uber campaigned against an amendment to Chicago's rideshare ordinance that would have required 5 percent of Uber vehicles to be wheelchair-accessible. When the rideshare ordinance passed, it featured no accessibility amendment.
"Access Living had no choice but to take the significant action of litigation. People with disabilities have fought for generations to gain rights to equal services, ranging from mainline transit to taxis," said Marca Bristo, President and CEO of Access Living. "This suit continues the struggle to enable individuals with disabilities to participate as full members of society. It is also a fight to avoid losing ground, as Uber pushes out existing accessible transportation services, further limiting options for people with disabilities."
At the time of writing this story, only one UberCab (WAV) was available on the North Side of Chicago and required a 22-minute wait. UberCab (WAV) is not the same as UberWAV in other cities. UberWAV cars are wheelchair-accessible Uber vehicles; UberCab (WAV) are wheelchair-accessible cabs that can be hailed through the app.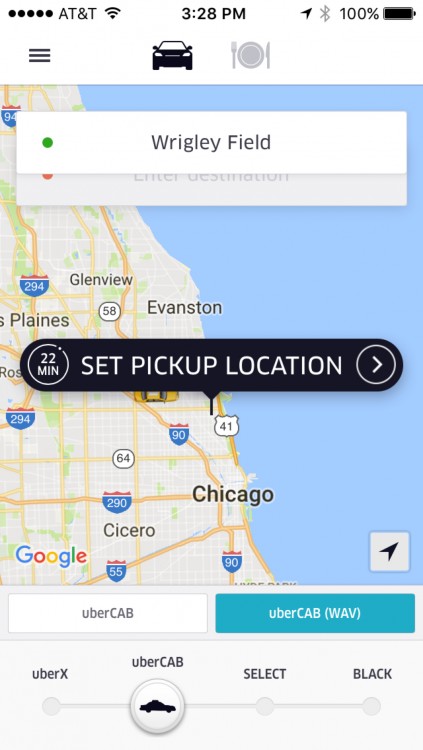 "Uber and Lyft provide over three million rides every month in Chicago because they are convenient, timely and cost-effective," said Justin Cooper, who lives in the Lakeview neighborhood of Chicago, in a statement released by Access Living. "My wheelchair cannot transfer into a regular Uber vehicle, and even if I were lucky enough to find a wheelchair-accessible vehicle operating, I would have to wait for that vehicle to cross the city to reach me. No one would use Uber if the entire service worked this way."
A spokesperson for Uber told The Mighty: "We take this issue seriously and are committed to increasing mobility and freedom for all riders and drivers, including those members of our communities who are disabled. There is always more to be done and we will continue working hard to expand access to affordable, reliable transportation options for all Chicagoans."

Originally published: October 13, 2016