A Disabled Diva's Thoughts on Beauty and Self-Acceptance
---
"Disability" and "beauty" do not conventionally go together, or so we might think. But if you Google those words, you will receive about 43,000,000 results. If I can find this many results for beautiful disabled women and men in under 32 seconds, it means it's out there and it's everywhere.
Empowerment of our community comes from within first. I understand this may not be an easy task for anyone to undertake, whether you have a disability or not, but acknowledging the beauty of your struggle and yourself is the first step in the right direction. We bring a different perspective on how to live life; that in itself is so beautiful. You are beautiful, and I don't say that from a place of sympathy; I say it from a place of honesty. Believe it. It's not because everyone is "beautiful in their own way;" you just are. Keep telling yourself how beautiful you are.
Sometimes I feel that people say "You are beautiful," while secretly thinking "I want to make this disabled person feel good, because she's ugly and broken," or "You're an inspiration," that you decided you call yourself "beautiful," instead of what you really are. We have to change that perception. We must own our beauty and truly know it's real. I am expressing myself as a human being who thinks my disability is defining in a beautiful way. I will not let society's perceptions of what is considered "beautiful" dictate my life. There's no need to call me an "inspiration." I'm just someone who has found the confidence in life that I feel society tried, so desperately, to take away and deem me ugly and undesirable.
I haven't always felt so good about what my body had to offer: a curved back, dragging feet, overweight, and a walker that bumps into everything and everyone. I felt ugly often. I also came from a home with an abusive parent who used the phrase "worthless cripple," on a daily basis. He thought my disability and I were a burden, and I felt it every single day.
When prom, homecoming and every other embarrassing event occurred, I was never getting my door knocked down to be asked. In college, I tried severe diets in an attempt to find boyfriends, and struggled with social anxiety. I realized after having a fling with a boy who didn't even want to admit to being my boyfriend, that things in my life needed to change.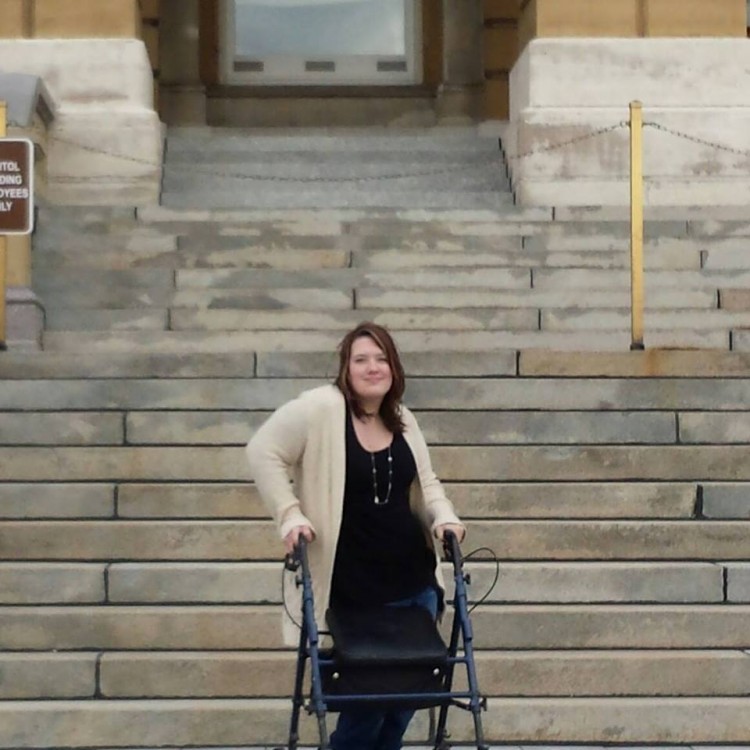 People didn't need to change; I did. I needed to toss out the negativity in my life and focus on what I really wanted, acceptance. If I embraced my differences, other people would too, and if they didn't, then "bye-bye." I don't need that negative s*** in my life!
I always love seeing the look on people's faces when I refer to myself as a "Disabled Diva," or "hottest disabled gal in Iowa," because they don't expect it. "Normal" people struggle with self-love issues too, so when someone who is so blatantly "broken" has owned her attractiveness and said, "Oh, yes, I am beautiful," it can be nothing short of shocking.
I say: own it, work it out, #Disabilitiesarebeautiful #Confidence #Believeit
The Mighty is asking the following: Write a love letter to another person with your disability, disease or mental illness. If you'd like to participate, please send a blog post to community@themighty.com. Please include a photo for the piece, a photo of yourself and 1-2 sentence bio. Check out our Submit a Story page for more about our submission guidelines.
Originally published: March 28, 2016