'Marvel's Hero Project' Features 13-Year-Old Taekwondo Champ With Disability
---
Disney+ has teamed up with Marvel to turn real-life kids into superheroes. The latest episode of "Marvel's Hero Project," features Izzy, a 13-year-old taekwondo champion.
Izzy was born with arthrogryposis, a rare congenital condition that causes the joints to become locked in a fixed position, especially in the arm and leg joints. Izzy's legs and hands were most affected, and as a child, she wore leg casts. Through an active lifestyle, primarily thanks to her keen interest in taekwondo, Izzy has learned to work with her disability.
"I used to watch [my sister] do karate, and I used to do it with her when I was in the sideline, in casts too," Izzy told The Mighty. "It's important to me because it helped me a lot. And when I first started, I couldn't kick above my knees barely and I had terrible balance. But now I'm way stronger than I was."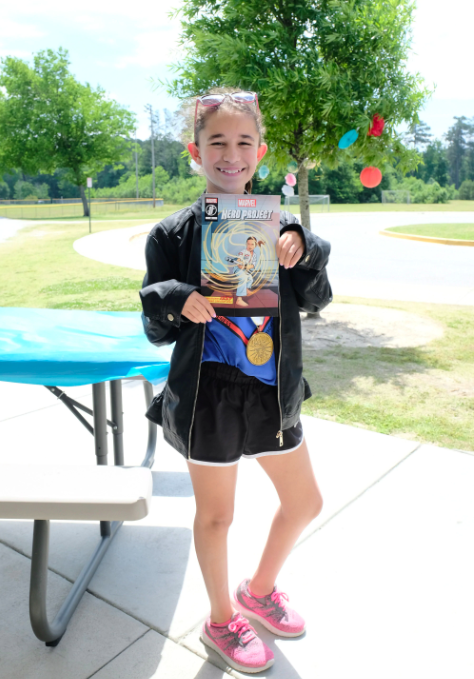 Tasks that people take for granted — like turning a dial locker combination or working a zipper — are usually designed by and for people without disabilities. Tania, Izzy's mom, explained that Izzy also works hard through physical and occupational therapy to adapt to the typical world around her, especially activities that typically require hands.
"We have to tackle the tasks before another kid would have to because she's got to learn how to turn the knob on the locker a certain way because her wrist and her thumb and all that don't work the same way," Tania told The Mighty. "Just because somebody does something differently doesn't mean that they're doing it the wrong way. Izzy does a lot of stuff different than what the other kids do and yet she still accomplishes the same thing."
Now a four-time ATA World Martial Arts Expo gold medal winner and a third degree black belt, Izzy has turned her attention to helping other kids learn martial arts in the Legacy Program at her gym.
"My favorite part about teaching other kids is it also helps me in the future too," Izzy said. "And I just think it's fun to teach."
According to Marvel and Disney+, it was Izzy's dedication to passing along her craft that led to her inclusion in "Marvel's Hero Project," which honors 20 young people doing amazing work in their communities. An episode featuring Izzy's story culminates with the unveiling of an original comic book starring her as a new Marvel superhero, High-Kickin' Izzy.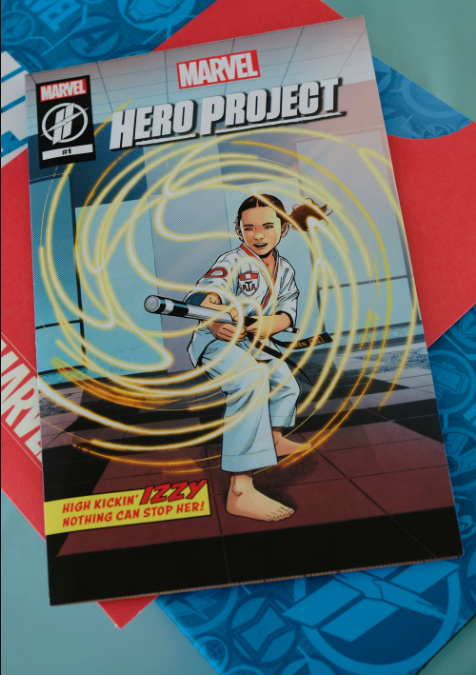 So far "Marvel's Hero Project" has featured several young people with disabilities, including Izzy, disability advocate Jordan Reeves and football player Adonis Watt, who is blind, all of whom do great work to give back to their communities. It's also important to keep in mind, as Mighty contributor Grace Pelley highlighted, there's a fine line between disability "inspiration porn" and positive representation.
"I have often been told I am an inspiration because of the way I handle my cerebral palsy. Sometimes that annoys me; sometimes it does not," Pelley wrote. "I think we need to distinguish the positive from the negative ways people call us inspirational."
Celebrating a hard-won achievement is one arena that doesn't feel ableist or diminishing to Pelley:
When I feel like I have worked hard. I graduated college this year. I often doubted I would make it and I am so proud of myself. A lot of people made a big deal out of it and I did not mind at all. Also, because earning a bachelor's degree is an accomplishment for anyone, I did not find other people's enthusiasm belittling.
For her part, Izzy wants other people with and without disabilities to know that taekwondo is an accessible sport and she hopes her story — and her journey to reach her fourth degree black belt — inspires others to take big leaps too.
"I want people to get inspired by me and I want people to know that they can do anything, because if I can do anything, then they can do anything," Izzy said. "You should never give up."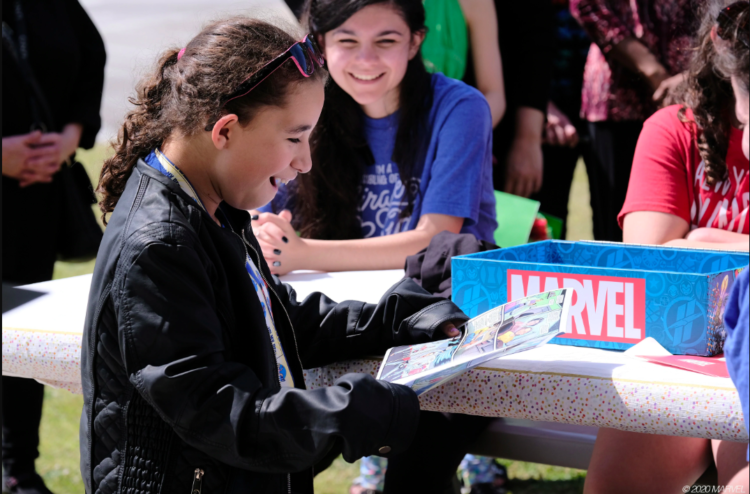 Izzy's "Marvel's Hero Project" episode premieres on Disney+ on Friday, Jan. 24, and you can watch an exclusive sneak peek from the episode below:
Images via Disney+/Marvel
Originally published: January 23, 2020