We Tried the EarlyVention Subscription Box for Kids With Disabilities. Here's What We Thought.
---
I have two kids with disabilities. One has Down syndrome and the other cerebral palsy. Their disabilities are as different as their personalities, so finding activities they both enjoy is rare.
As the Parenting Editor here at The Mighty, I was excited when EarlyVention sent us one of their subscription boxes to try and review. I originally thought only my youngest with Down syndrome would be interested, but as soon as the contents came out of the box my daughter with cerebral palsy asked: "Can I play with you?"
When looking for new learning products for my kids, I need something that is easy to work with and requires little to no prep on my part. I also need it to be fun and engaging for my kids.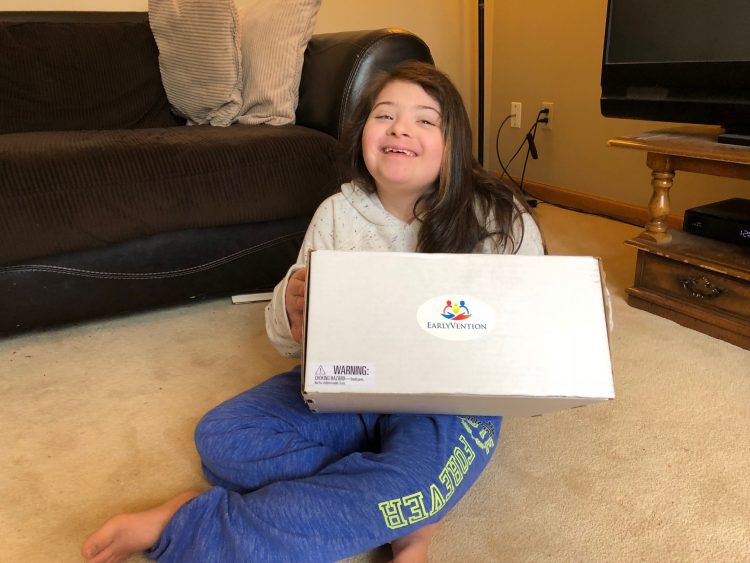 What Is EarlyVention?
EarlyVention is a company based in Chicago, created by sisters, Melissa and Elizabeth Ames. Their mom was a special education teacher and director and they had two family members on the spectrum and an aunt with a disability. As they expressed to The Mighty, "we were born into this world of disability."
Melissa followed in her mother's footsteps, working first as an in-home therapist for kids on the spectrum, and later as a special education teacher. From her years of experience working in families' homes, school and therapy settings, she got to see family dynamics first hand. She noticed a gap in parents working with kids, doing crafts, etc. as opposed to observing kids working with therapists. She began making materials for parents that are proven to be successful in school and therapy environments. Her goal was to create pre-made materials that would encourage parent/child interaction. That's when Elizabeth, who has a business degree, stepped in and decided they could help many other parents by making these kits available to all parents.
EarlyVention launched in November 2015 and the subscription box model began in April 2016 during Autism Awareness Month.
The kits are planned and themed according to what would be "traditionally" considered enjoyable for children 3 to 7 years old, like trains, animals or seasonal activities. Currently, EarlyVention serves children between 2 to 18 years old.
The kits are not specific for kids with autism; they were created with children of all needs in mind. The full kit includes: an activity guide and picture support cards, an interactive story, a craft with a visual and interactive guide, a sensory exploration and interactive kit (which was the favorite for both my kids), visual reward chart with fun toy, themed rhyme and a parent guide with more options on how to use and reuse each activity and the materials.
The company has a flexible subscription model with the option to get monthly boxes or kits less frequently. There is also a one time option with no subscription necessary. All subscriptions can be canceled at any time.
My Initial Thoughts
The materials are clearly designed for kids of all abilities. I was encouraged to see even kids who are nonverbal are considered when creating these materials, giving them ways to communicate and make choices. The way materials are presented and created helps eliminate stress, anxiety and questions about expectations. It is, in my opinion, one of the best laid out materials to encourage participation for kids who have different abilities. It allows parent and child to have a successful interaction where there is learning, therapy and play.
While I could put something similar to this together, the amount of time and research it would take me would be absolutely overwhelming. These kits take care of organization, story creation, interactive materials, creating clear visual cues and directions and fun activities to do together. All a parent has to do is interact with the child and have fun together. Sign me up!
My Activity Guide and cards: This guide sets the tone for all activities. It presents every activity in the kit with two choices which are clear and visual and included in the cards so a child has access to those choices throughout the many activities. For kids who need clear, step by step directions and expectations, this little book provides the necessary supports a child will need for success.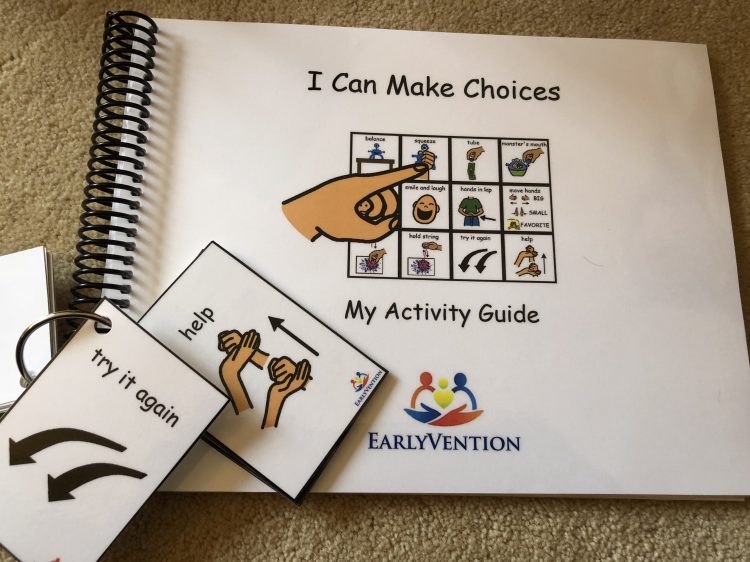 Reward Chart: A laminated reward chart that already provides the reward toy. These are based on the kit's theme. My daughter's thoughts were, "My blue monster is so cute!" The reward chart can be used to complete the different activities in the kit, or you can use it for pretty much anything you want.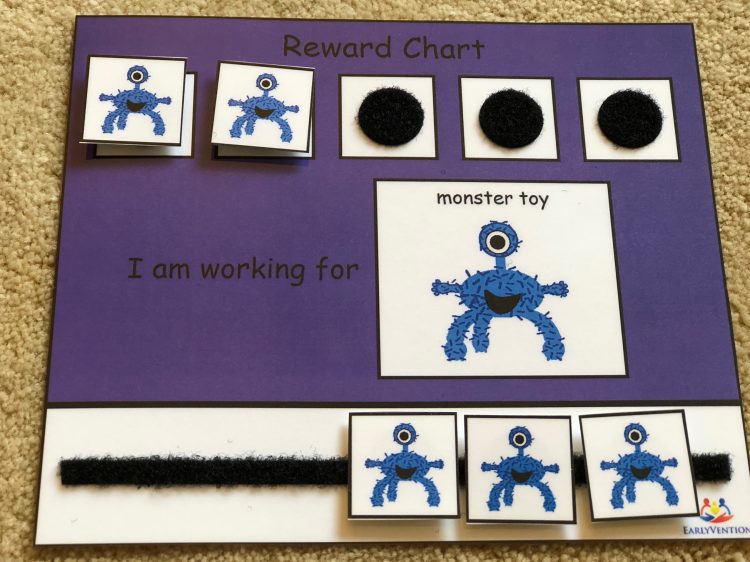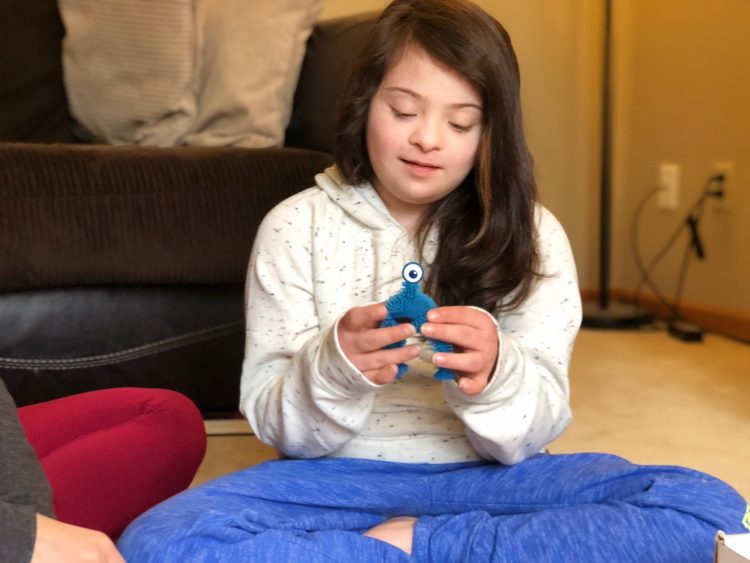 Interactive Story: This was my personal favorite. We are working on literacy. The stories go with the theme of the box, they are repetitive to help kids work on key literacy skills. They are also interactive, so kids who cannot read still have a tactile and visual way to participate.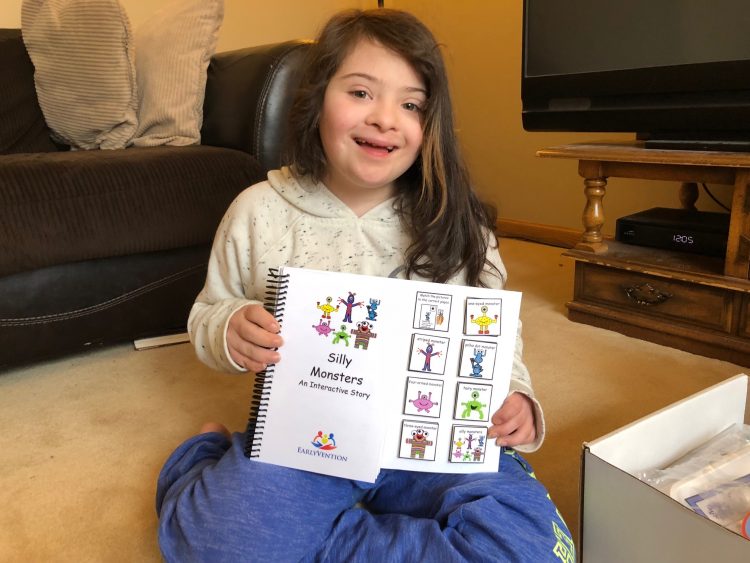 The Craft: I don't know about you, but crafting stresses me out! This craft, however, is a craft I can get behind. My daughter with Down syndrome does not have great fine motor skills, and while she loves to color and draw and do crafts, her attention and ability determine what we can do because she is a kid who likes to do as much as she can independently. This craft gets my stamp of approval. And for kids who need clear directions and visuals, you get that, too! Step by step visual directions that help parent and child have a successful crafting time. Both of my kids enjoyed this craft. It had enough mess to be fun and not too much that it made me want to cry because of clean up. Also, everything we needed was provided already.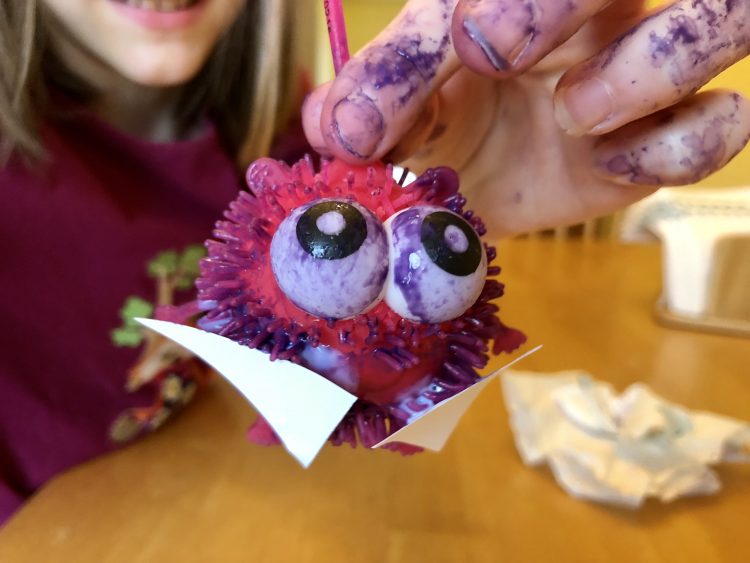 Themed Rhyme: This is a cute interactive rhyme which also encourages literacy skills.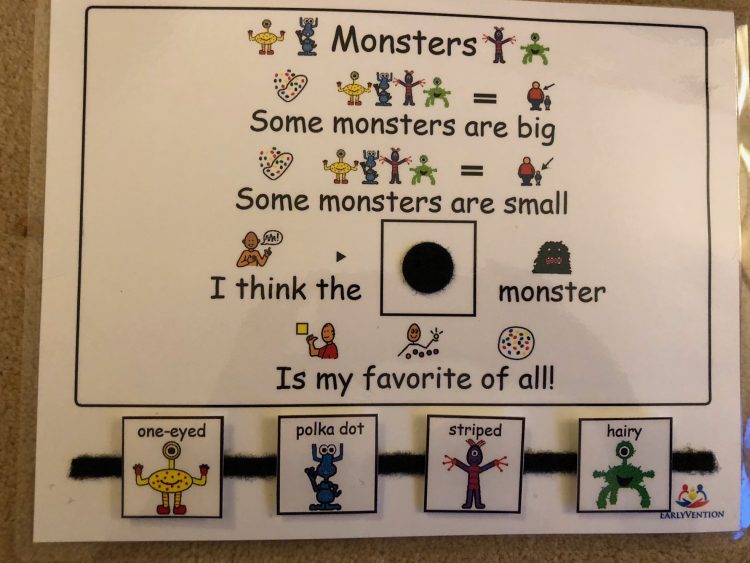 Sensory Exploration: This was the "winner." My girls loved it and have continued to play with it. This is where my second child went all in. These sensory exploration activities are fantastic for kids with sensory issues. Both of my girls with disabilities are big into sensory toys and activities and they both have sensory issues, so I was not surprised this was the favorite activity in the kit.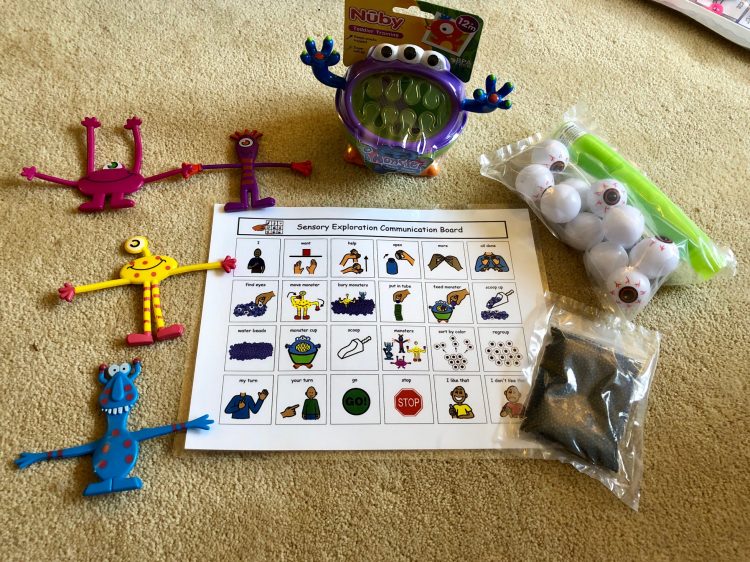 We had so many options for learning and working on fine motor skills through play! Plus, lots of chances to be silly. The bendable monsters are great fidget toys, and they help with strengthening those finger muscles. They are not hard to bend, but it does require some strength. And there is so much you can do with the monster eyes!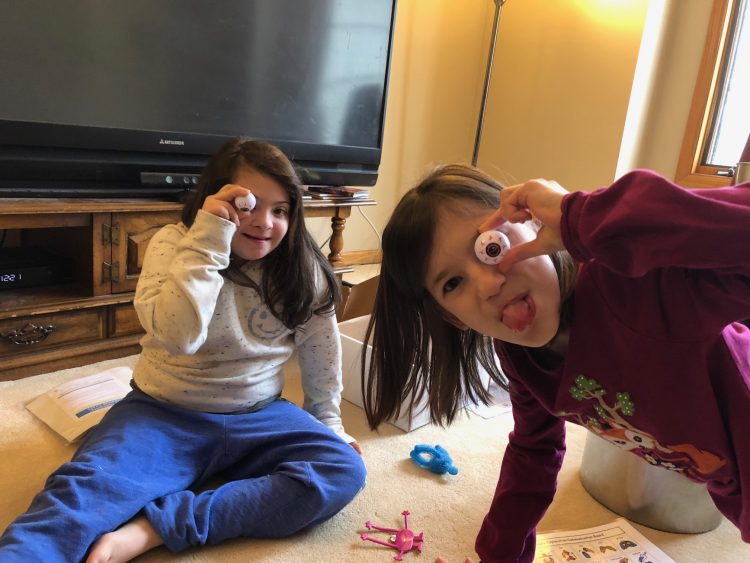 The eyeballs have different colors, so we sorted them according to color.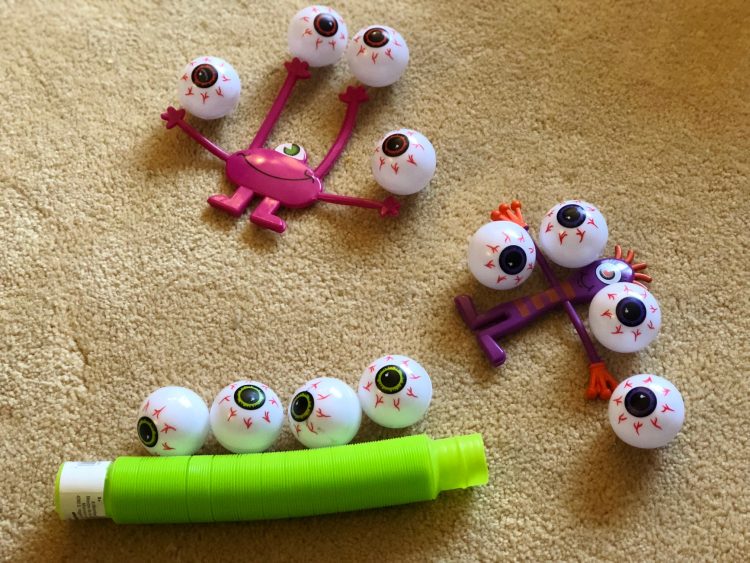 We also fed them to the monster cup (fine motor skills) to see how many eyeballs fit in and then counted them.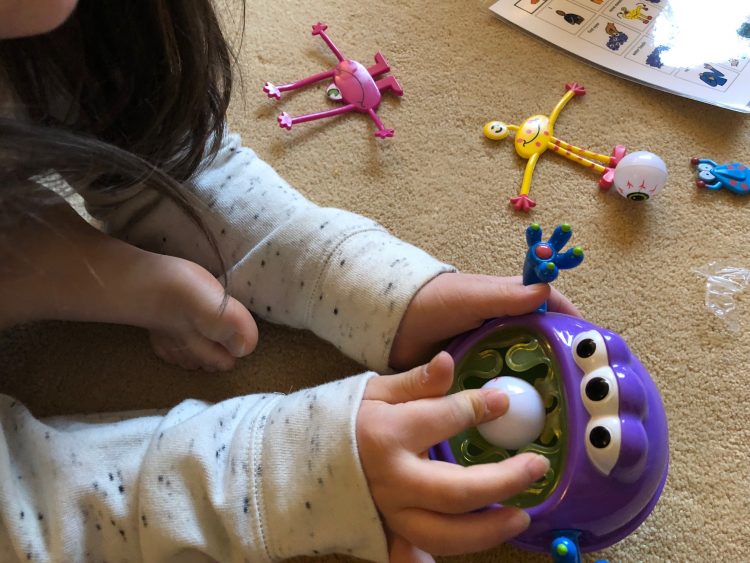 Without a doubt, the water beads were the favorite! Just watching them expand was fun.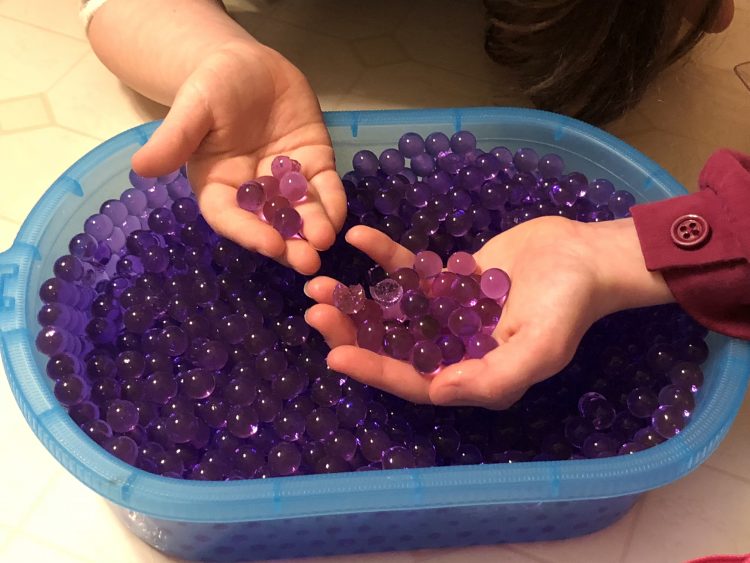 Once they were ready, we used the scoop to get them sorted into two bins.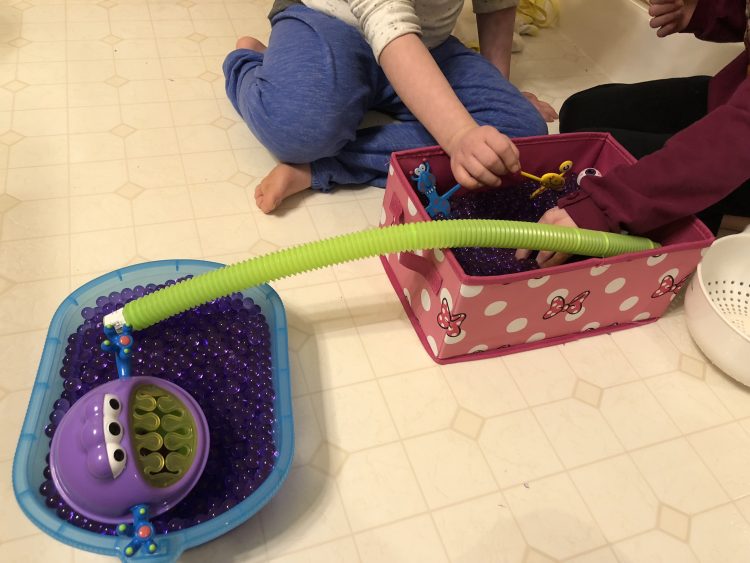 We hid the monster eyes and the monsters in them. The girls even hid their own small toys in the beads. We worked on fine motors skills, getting the beads to go down the "twisty tube" and fed them to the monster.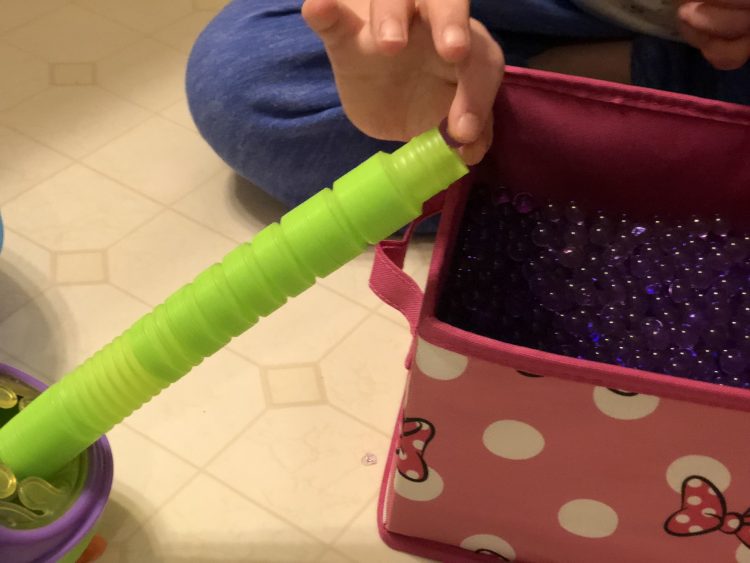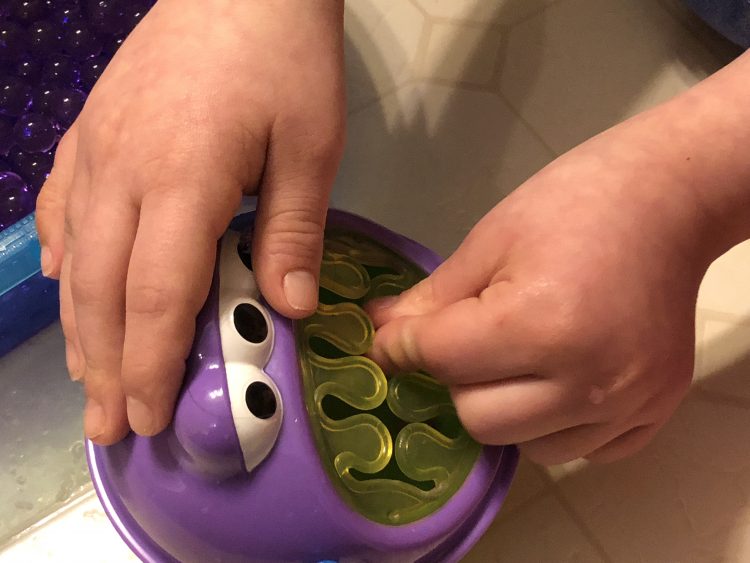 Even the Barbies came out so my girls played with this activity for a little over two hours. Then I had them clean up and find all the beads on the bathroom floor (more fine motor skills, ha!)
Each activity includes an "all done" card available for kids to use whenever they want to be done.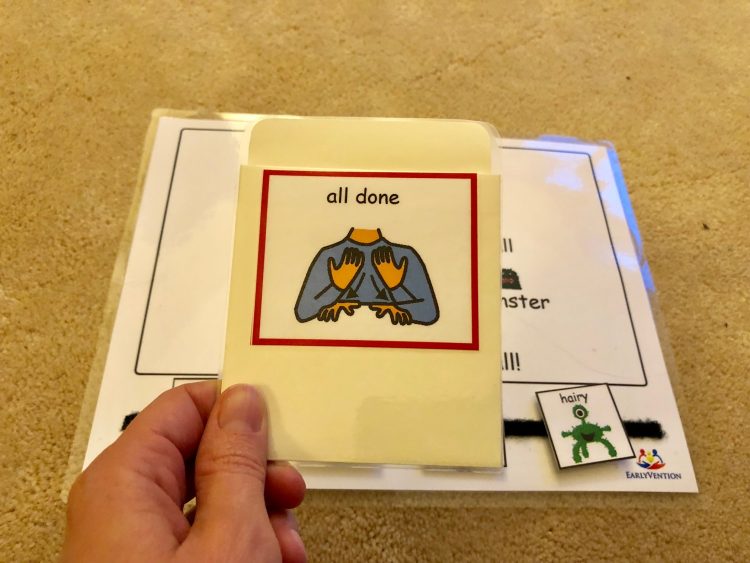 Final Thoughts
I am a big fan of these EarlyVention subscription kits. As a matter of fact, I liked it so much I asked if the waiver my girls get in our state would cover the cost. I was really excited when they said they would approve it. Therapists and educators understand the long hours it would take to put this together, and they see great value in what it offers. Without waiver coverage, the entire kit costs $74.95 which includes shipping, handling and taxes. There is also an option to only purchase the sensory exploration activity box for $39.95.
My daughter with Down syndrome who is 10 said, "I love the monsters. Thumbs up."
My daughter with cerebral palsy who is 11 said, "On a scale from one to 10, I would actually give it a seven or eight. I actually wanted to play with the toys."
There is one more thing I love about this company, and it is what they call their "ecosystem of impact." EarlyVention works with adults with disabilities who volunteer to cut, laminate and pack the kits. While they work on vocational skills, they, in turn, provide the materials for the children who need them.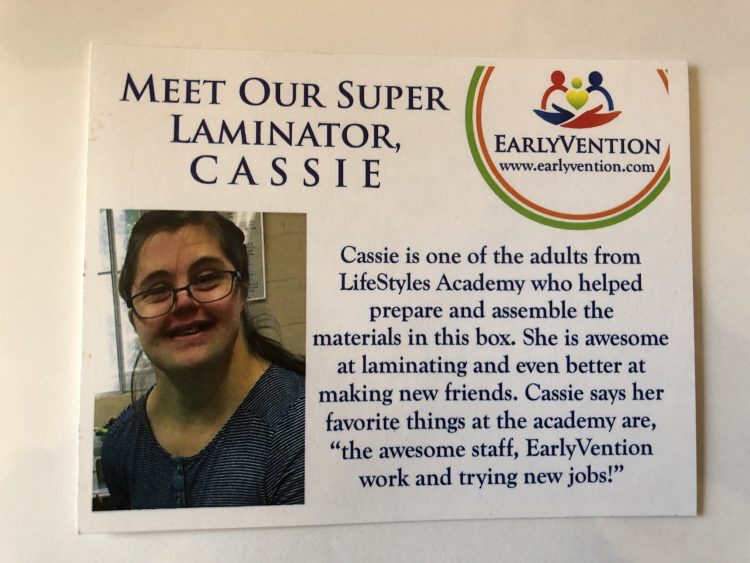 Those interested in learning more can visit the EarlyVention site.
Originally published: April 18, 2018