Here's How These Parents Adapt Easter Egg-Hunts for Their Kids With Disabilities
---
The first time we tried doing an Easter egg hunt, we failed to plan for making adaptations for my child who has a physical disability. Thankfully, my sister had color-coded eggs for all three of my girls. It turned out to be a great help, as my oldest could have easily found all the eggs on her own.
Once my oldest found her eggs, she was happy to help her youngest sister, who has Down syndrome. The rest of us took turns carrying my child with mobility issues, hoping she didn't feel cheated out by being taken to the eggs, rather than her having the freedom to move around and look for herself.
Lesson learned.
The following year, my mother hid Easter baskets for each girl, which worked better than an egg hunt.
Three years ago, when we found out two of my girls have severe food sensitivities, my mother adapted by getting eggs with $1 coins inside. Thank you, Grandma! Now it is an Easter tradition to get $1 coins in their eggs, and color-coding is still helpful.
As a side note, I just realized my mother has been the one to lead the Easter festivities for my girls. I am so thankful for my mother.
I know there are other creative ways I could make adaptations for each one of my kids to fit their abilities better, especially now that they are all pre-teens (and care more about those $1 coins).
We reached out to our Mighty parents and asked, "How do you adapt activities for your child so they can fully participate?"
We hope their responses give you new ideas:
1. "We tie balloons to the eggs so my son, who's in a wheelchair, can participate in the egg hunt just like the other kids or use tape to tape the plastic eggs to the wall inside the house." — Krystal M.
2. "We do an egg hunt for our son at our house. We just put them on the grass and let him pick them up. None of the local egg hunts are really equipped for children like my son. It's not really the children I'm concerned about, they are fine, it's the parents that ruin the egg hunt, if that makes sense!" — Stephanie D.
3. "[We have] eggs that chirp for our visually impaired daughter." — Jenn T.
4. "We color code eggs so the other family members' kids don't unfairly take all the eggs since they are able to navigate the area easier." — Jessica G.
5. "Eggs in easier reach. My son has a hard time walking due to his malformed pelvis and falls a lot so if there were eggs closer it wouldn't be so hard for him to get to them without having to try and walk far." — Randi W.
6. "My daughter is visually impaired along with other disabilities. She's almost 22 and when she was little people weren't as sensitive as they are now. Here are a few ideas for visually impaired: place lights that blink in [the eggs], this is really great for night time hunts that can be fun. If you can find something that beeps would be helpful too. The brighter the colors the better. She would get a one-minute head-start when with her cousins." — Rhea C.
7. "[We] attach baskets to the sides of her walker so she can collect eggs with other children. This has been such a huge help over the years." — Glenda M.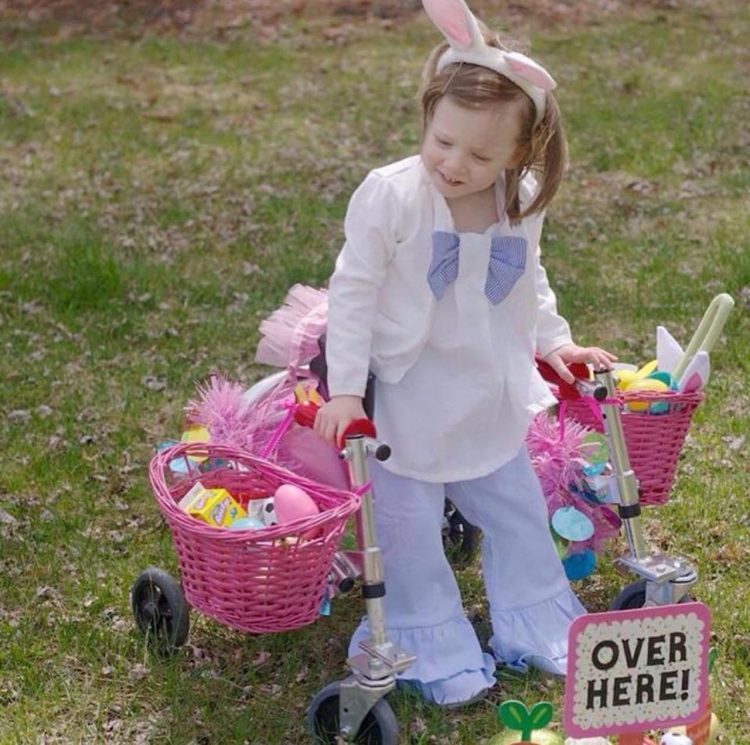 9. "I get some balloons, blow the balloons up, tie them to stakes around the yard and place the treat around the stake, that way my daughter can see where her 'treats' are and we can stroll over to them. Treat is either some kind of light-up toy, anything sensory since we don't eat candy or chocolate, PJs, hair accessories, bracelets, beads whatever I can find at Target. I wrap it all in colored cellophane. She loves the crinkle sound and texture." — Jackie L.
10. "The night before Easter is magical: we plant Jelly beans (not too many, last year we did seven). Then after he goes to sleep, I go out there and stick lollypops in the ground. If you do it, wait till you see their face. You can get some cute lollypops at a dollar store." — Wendy S.
11. "We do beeping egg hunts for my blind kids. We dye eggs (yes, blind kids dye eggs, too) using the bag of rice method (food coloring and rice in a bag, add egg, close, and shake)." — Beth S.
12. "I arranged for a surprise egg drop in our yard to be revealed on Easter Sunday. I contacted the woman arranging it and asked for her to use non-edible treats in the eggs. I knew this would be more expensive than candy, so I offered to provide treat fillings (stickers, figurines, trinkets) for half the eggs. This way she still makes money and half his eggs will be a surprise even to me." — Stephanie H.
13. "My son, who is 3, does picture matches for his egg hunt, instead of written clues. He can still participate with his sister, at his level. I believe in meeting our kids where they are at in each stage of life so they feel included and find joy in activities." – Amanda M.
14. "We went to a 'Special Needs Easter Egg Hunt' this past weekend. They had beeping eggs for those with visual impairment, magnetic eggs with long magnetic poles for kiddos in wheelchairs, and sensory friendly egg hunts where things were quiet." — Shannon M.
15. "The church by us is going to tie some of the eggs to balloons along the sidewalk so my son who's in a wheelchair can just grab the balloon to pick up his eggs. I can't tell you how much that means to us that they planned to include him." — Kristen W.
16. "Balloons attached to the eggs. We always attend our church Easter egg hunts and last year I was worried because our daughter graduated to an older group to hunt with. But my church folk were amazing and had an area with balloons that was strictly for her. They made an announcement asking everyone to leave that section alone, that they were intended for a specific person and that person knew who they were. She loved it and we didn't have to worry about whether or not she was fast enough to get an egg." — Crystal M.
17. "We always appreciate a separate area or something extra to help find the eggs. Even at 11 years old, our daughter just gets trampled at any large egg-hunt and ends up with just an egg or two. We love doing egg hunts with the younger kids, but it's often not allowed, or we get a lot of unwelcome comments about her being there." — Kimber R.
18. "We put fake tea-lights in plastic eggs and turn out the lights. The eggs have stickers or such in them and it is fun for them to search in the dark!" — Robin L.
19. "We gave our kids separate rooms to hunt in and hid their eggs at their level. That way there was no competition for eggs between them and no rush to keep up." — Misty M.
20. "This year we purchased a set of giant eggs at Hobby Lobby (huge, the largest is basically the size of a basketball) and are filling them with Easter grass and small toys and fun sensory items. He can then have his own mini sensory egg hunt as he hunts for the small items in his giant eggs. Junior uses a wheelchair and his health often prevents him from going out and participating in any regular Easter activities. This way he can enjoy some Easter fun regardless of how he is feeling." — Heidi T.
21. "Traditional egg dye kits do not work for our son. This year, we used the Eggmazing Egg Decorator, and it worked extremely well for our son." — Allison B.
22. "We hide eggs at wheelchair level so our son can reach them or tie balloons to the eggs for our son to lift them up. Beware of the wind if you use the balloon method because the balloons can easily become tangled." — Allison B.
23. "This year we are doing a scavenger hunt. Each egg will have a treat and a clue to where the next egg is. At the end is the Easter basket!" — Toby J.
24. "Our church gives kids who are in wheelchairs extended hand grabbers and we have a sensory friendly area for kids with disabilities. There are hundreds of kids who come, so we found it best to have a separate area for kids with disabilities if the parents wanted to. We have eggs that vibrate and make sounds for kids with visual impairments, eggs that light up enough to see in the evening when we do it, textured eggs and a buddy for each kid. It's gone over very well with the community since starting it a couple years ago. We also hold it in the fenced-in playground in case we have kids who are prone to wandering or bolting because our church sits right next to a busy highway. The general area where the rest of the kids are is in a huge field that is very close to the bypass (church is on a corner lot) and it's not fenced at all, so we wanted to keep kids as safe as possible but still have fun." — Sarah B.
25. "Growing up, Easter egg hunts weren't something we did in my family — we just had a basket of treats appear at our place at breakfast. However, we had lots of church-related traditions (sunrise service, pancake breakfast, etc.) In raising my autistic 6-year-old daughter, I am trying to be very open-minded about what traditions we try to adapt. She doesn't like candy but loves the plastic eggs, so I just get those out for her to play with every so often throughout the year. Sometimes I put small toys in them, sometimes Cheerios. She loves the outdoors but not big public outdoor events, so we'll probably look for a quiet outdoor service somewhere. She's not an early riser though, so we may not be able to find one that isn't a 'sunrise' service. If we can take her someplace outdoors and let her run around without fear of running into other kids, I think that will be a happy day for her. I also like stocking up after Easter on chocolate eggs that have toys in them. Throughout the year, they make good treats to bring out when she has other kids over for one-on-one play dates. The other child gets the chocolate and she gets the toy!" — Naomi V.
26. "Once my son with Down syndrome could read his name, I wrote names on equal numbers of plastic eggs for each of my kids. If you found an egg without your name on it, you had to leave it alone. That way, my son was able to find just as many eggs as his sisters, although it may have taken him a little longer." — Mary R.
27. "One adaptation we are making is to zip-tie colorful dollar store baskets to a lattice fence at various heights and fill the baskets with filler and eggs." — Marla B.
How do you adapt Easter activities for your kids? Let us know in the comments.
Image courtesy of Glenda McCoy.