Why Does the News Media Keep Using the Term 'Wheelchair-Bound?'
---
Terms like "wheelchair-bound" and "confined to a wheelchair" are outdated and ableist ways of describing wheelchair users, yet we continue to see this language repeated in the media. This usage hurts the disabled community because it continues the stereotype that mobility tools are burdensome and limiting. Tools like wheelchairs actually provide access to greater independence and mobility.  Fortunately, there are many ways to build awareness, like wheelchair dance groups, awareness campaigns, and sharing personal stories about how wheelchairs have helped to encourage more independence for their users. Despite the amazing work to raise awareness, people with disabilities are still being reduced to their mobility device for "clickbait" in the media.
Very recently, explosive political news came out of Israel and the Gaza strip, news of life and death.  Stories of these events could surely stand on their own, yet here is the text from a social media post from my favorite news source, "When Reuters photographer Ibraheem Abu Mustafa set off to cover the protests in Gaza on Monday morning he came across a wheelchair-bound acquaintance. "Today, this morning, I said 'Hi' to a man," he recalls. "By the end of the day I was at his funeral." The article itself repeated that line in the its opening. The wheelchair user being described here is no longer living and his legacy is now to be reduced to being called bound to his wheelchair. Obviously, the context of this man's life and death is complicated and rife with political turmoil, yet the focus is the wheelchair, which is not actually part of the story. So why say it?
I gave the publication the benefit of the doubt and attempted a correction through the proper channels.  I contacted them with this brief message:
Wheelchair User: People use wheelchairs for independent mobility. Do not use "confined to a wheelchair" or "wheelchair-bound." Please update the article and Facebook post by correcting to "wheelchair user." Thank you.
I cited AP style just as a reference, and I was optimistic that things would be sorted out quickly.  I was pleased to receive a prompt and personalized response, but very disappointed by what it read: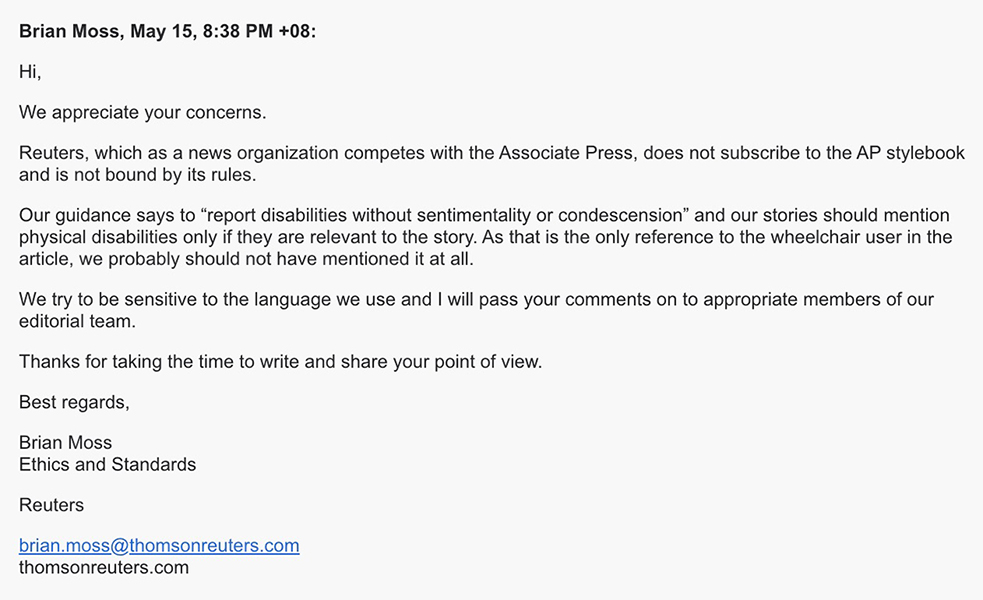 The publication's Ethics and Standards department acknowledges that even referencing the wheelchair was not necessary to the story and therefore does not meet their own guidelines.  The politely worded message goes on to say that my comments will be passed along, but the article remains as it is.
In this particular case, I suggest that the article highlights the death of a so-called "wheelchair-bound acquaintance" to garner a stronger emotional response for the purposes of getting increased views of the article.
I challenge this publication and others to never use wheelchair users as props, click-bait, or objects of pity and to consistently use inclusive language when describing people with disabilities. When describing wheelchair users, please include a backstory or explain how being disabled has impacted the person's life and the story.  For example, another article from the same publication, that unfortunately still calls him "wheelchair-bound," includes the man's name, Ibrahim Abu Thurayeh, explains he is an amputee, and describes some of the very relevant background.
For all of the readers out there, I encourage you to write in to the editors when you see ableist language. We live in a world where news is often about great tragedy and highly politicized topics, and that can make it feel like there are bigger things to worry about than what language we use to discuss people with disabilities. It's all important — this is not a zero-sum game. We can use inclusive language while sharing stories about world events, and the world will be better for it.
Getty image by Stockbyte.