U.K. Mom of a Child With a Disability Finds 'Hurtful' Note on Car
---
Sometimes the news isn't as straightforward as it's made to seem. Ellen Stumbo, The Mighty's Parenting Editor, explains what to keep in mind if you see this topic or similar stories in your newsfeed. This is The Mighty Takeaway.
On Tuesday, Emma Doherty drove her son to the hospital and used accessible parking. When she returned, she found a hurtful note left on her car after a stranger saw her carrying her child into the hospital.
The note read: "You lazy conning b*tch. You did not have a disabled person with you! These spaces are reserved for people who need them!!!"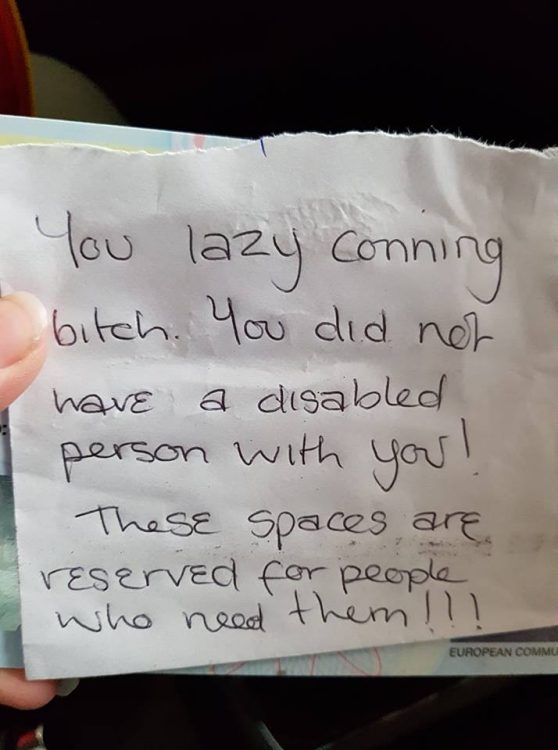 Doherty, a single mother in Greater Manchester, England, posted the note on Facebook, adding, "How dare you ever accuse anyone of not needing a disabled badge without knowing."
Doherty went on to explain that her son has a terminal condition and has spent half of his life in the intensive care unit where he has had more than 15 surgeries. She wrote:
The reason I didn't get his wheelchair out was because I was running late because my son who had a MRI scan CT scan and a dye for heart function yesterday only got discharged late and was back in this morning, so carried him in. But for your information not everyone who holds a blue badge needs to have a wheelchair!
There's a reason Doherty's post has been shared more than 31,000 times. Unfortunately, her experience is not an isolated one.
My daughter, who is 12 and has cerebral palsy, has had a placard since she was 4 years old. Her doctor suggested we apply for one due to her disability. She uses a wheelchair, a walker and sometimes when she has energy, she walks independently.
There have been a few times when strangers have made comments or gestures about us using accessible parking. I confess, following those responses, I've had moments where I prefer my daughter use her wheelchair — as if I have to justify why we park where we park. "See, we really do need this spot!"
I should not have to justify why we park where we park. She has a placard for a reason, and we don't owe anyone any explanations. But it is intimidating and hurtful when people make assumptions or flip you off when you take the spot your child needs.
I wish more people understood that accessibility placards are not just for adults. Children need them, too.
I also wish people recognize the truth in Doherty's message: Not all disabilities are visible.
Next time you see someone parking in an accessible spot who doesn't look like they "need" it, I want you to consider the following before leaving a note. 
Obtaining a handicap placard requires an application and a doctor's signature. It is a process.
When you see a parent park in an accessible parking spot, even if their kids are running around or look "healthy" to you, it does not mean the parent or the child is not disabled. Some people do not use wheelchairs full-time. If you see someone walking into a store, it does not mean their condition is not significant enough to warrant having accessible parking. There are many chronic illnesses and medical conditions that make these placards a necessity.
If you see someone park in an accessible spot, please assume need. Remember, you do not know the story behind the blue placard.
Getty image by leah613
Note image via Facebook
Originally published: August 20, 2018