'Happy Face' Film Shows the Humanity and Humor of Life With Facial Differences
---
Lauren Appelbaum is the communications director of RespectAbility, a nonprofit organization fighting stigmas and advancing opportunities for people with disabilities.
At its heart, "Happy Face" is a film about a teenage boy, Stan (Robin L'Houmeau), attempting to reconnect with his mother who is dying from cancer. His mother, who often manipulates Stan, feels a sense a loss of self-worth when she loses her beauty due to cancer treatments. In a misguided attempt to learn how she feels, Stan deforms his face with bandages and joins a therapy workshop for patients with facial differences.
While the film, which screened at the 2019 Slamdance Film Festival, shines a spotlight on the lives of many individuals with facial differences, Stan's relationship with his mother remains a major theme – making this a film not about disability or just for people with disabilities but a film about important family dynamics that is relatable to everyone.
Stan's bandages are a metaphor for his own pain and confusion over how to react to his mother's declining health. When he is discovered for being a handsome individual with no facial scarring, he convinces the group members to let him help them face their fears beyond the physical issues. Yet Stan is not allowing himself to do the same. Ultimately, his new support group helps him do so.
Ensuring an Accurate Portrayal
When films include characters with disabilities, often it is in the pity framework, showing people with disabilities as victims, or showcasing them as angels, the director Alexandre Franchi said in an interview during Slamdance. Yet, people with disabilities can be – and are – every type of person.
"We wanted to show our facially diverse characters as themselves – assholes, generous, petty, funny, cruel, kind, brilliant, 'stupid.' Just like you and me. Just like the rest of humanity!" Franchi stated. "Happy Face was crafted to be a shock therapy for audiences. As you watch the movie, you're not a spectator of a story about diversity, you're actually living a change."
"One of the genius levels of this film around diversity is people who look different are truly human," said David Roche who plays Otis. Roche is a pioneer of disability culture and an inspirational humorist. His facial difference is a vascular malformation, present at birth. In addition, his face was altered by surgeries and extensive radiation therapy performed when he was an infant as the doctors wrongly believed his condition was cancerous.
The issues of being afraid to look at someone different from yourself is common – whether through racism or ableism. The film challenges viewers to acknowledge the human behind the difference.
"'Happy Face' is full of humanity and laden with strange yet wonderful humor. The themes of identity, community and human connection permeate the group of real people telling their stories truthfully," said Jana Winternitz, Slamdance Film Festival Programmer.
True Inclusion of Disability Through Authentic Casting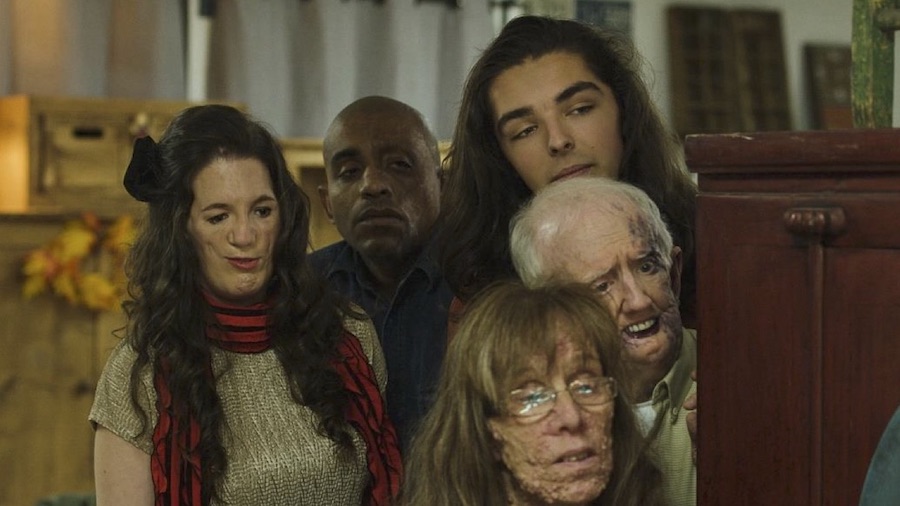 The cast is composed of individuals with real facial differences. This is important as actors without disabilities play more than 95 percent of all characters with disabilities on television, and the numbers are comparable in film. The film is shot with no SFX, theatrical makeup or filters.
"From a moral and philosophical standpoint, it was never a question for us to cast seasoned actors and put makeup or prosthetics on them to 'represent' various forms of disfigurement," stated Franchi. "From the beginning, we set out to cast real people to play these characters. In addition to telling an emotionally-charged and singular story, one of the goals of the film is to challenge audiences by putting them in front of their own perceptual biases regarding physical appearance. The film will hopefully nudge viewers to see 'the person behind the face.'"
Joëlle Bourjolly, an award-winning Haitian-American writer and producer, wrote the script for "Happy Face," a process that took 15 years.
"As we matured and infused our life experiences into the story, the film deepened," she said. "When real people came into it, the story changed."
The characters' performances stem from the actors' real-life experiences, with Franchi and Bourjolly incorporating their stories into the film. The actors, however, are playing a fictionalized version of themselves with characters who have some form of facial difference, through accident, disease or genetics."
Filming took its own course," added E.R. Ruiz, who played Jocko. "We kept it organic." Ruiz, an American actor best known as "Gillon" from the FX original series "Sons of Anarchy," sustained third degree burns from a house fire caused by his little brother playing with matches.
By making the creative choice to use real people with actual facial differences and incorporating their personal journeys, the filmmakers add authenticity to the film.
Personal Story for Director Alexandre Franchi
Franchi grew up with a single mother who battled breast cancer for many years. Like Stan's mother in "Happy Face," Franchi's mother, who worked in the cosmetics industry, "defined herself by perfect looks."
Losing her left breast, she felt was no longer a woman and had lost her femininity. "Losing her looks made her lose definition of self," Franchi explained.
A few years later, when the cancer returned in her brain and lungs, Franchi's mother was left bald, gaunt and emaciated following treatment. Franchi noticed how people looking at her found her "disgusting" and often would use excuses to not have friends at the house and be out with her in public, which made him feel guilty. "I hated society for being superficial."
When Franchi was diagnosed with bone cancer eight years ago, his hospital stay brought back the memories of his mother's last few months of her life. After recovering, he made "Happy Face" his first priority. He wanted to say, "screw you to the world."
"The more I came to understand who I was, then 'Happy Face' came to be."
Looking Toward the Future
It is important to Franchi that people do not see "Happy Face" out of pity. If the audience reactions at Slamdance are any indication, he does not need to worry about that. Slamdance audiences were treated to an emotional rollercoaster ride – an entertaining story for all.
A Los Angeles-based audience will next have the opportunity to experience the thrills of "Happy Face." The Slamdance Cinema Club, presented by ArcLight Cinemas, is a monthly screening series of independent films. Its April presentation is of "Happy Face" – on April 9 at ArcLight Cinemas Hollywood.
In terms of accessibility, Arclight Cinemas offers a physical accessible space for wheelchair users as well as others with mobility impairments. In addition, it offers the capability to offer assistive listening headsets and closed-caption devices for all digital movies with closed captioning available.
Ahead of this screening, Franchi has been attempting to secure funding to ensure more accessibility features are available – including closed-captioning and audio description. His goal is to ensure both for the film in as quick of a timeframe as possible, which ultimately is dependent on funding.
"Happy Face" also has been selected for the 20th Annual Newport Beach Film Festival, April 25 – May 2.
Happy Face (2018) Directed by Alexandre Franchi. Written by Joelle Bourjolly and Alexandre Franchi. Starring Robin L'Houmeau, Debbie Lynch-White, David Roche, E.R. Ruiz, Alison Midstokke, Cyndy Nicholsen and Noémie Kocher.